The town of West Yellowstone, acting as the gateway for the west entrance, is the "main" (most popular) entrance to Yellowstone National Park.
As a result, there are plenty of hotels, eateries, and shops. Additionally, West Yellowstone features the closest airport to the park itself. I've stayed in town many times during my two years of working in the park.
In this article, I'll dive into everything you'd ever need to know about visiting the west entrance. If you're looking for information on the other park gates, check out my main mega guide.
Let's jump in!
Getting to West Yellowstone
Proximity to Highways
West Yellowstone sits in a large, flat valley on the west side of the park at the intersection of highway 20 and 191.
Coming from the south, you'll take the Idaho Falls exit off of I-15. From there, you'll drive up highway 20 for about two hours before reaching the town
Coming from Montana, West Yellowstone sits about 1.5 hours away from the Bozeman, MT exit of I-90.
Road Conditions
Road conditions are generally good regardless of which direction you're coming from. Hwy 20 from Idaho is mostly flat, but has some minor curvy bits as you approach the town, but nothing dangerous.
Hwy 191, coming down from Montana, passes by the Big Sky ski resort. There's a few sections of the road that have some steep curves, but it's largely a pretty relaxed and beautiful drive. No hairpin turns or deadly drop-offs here.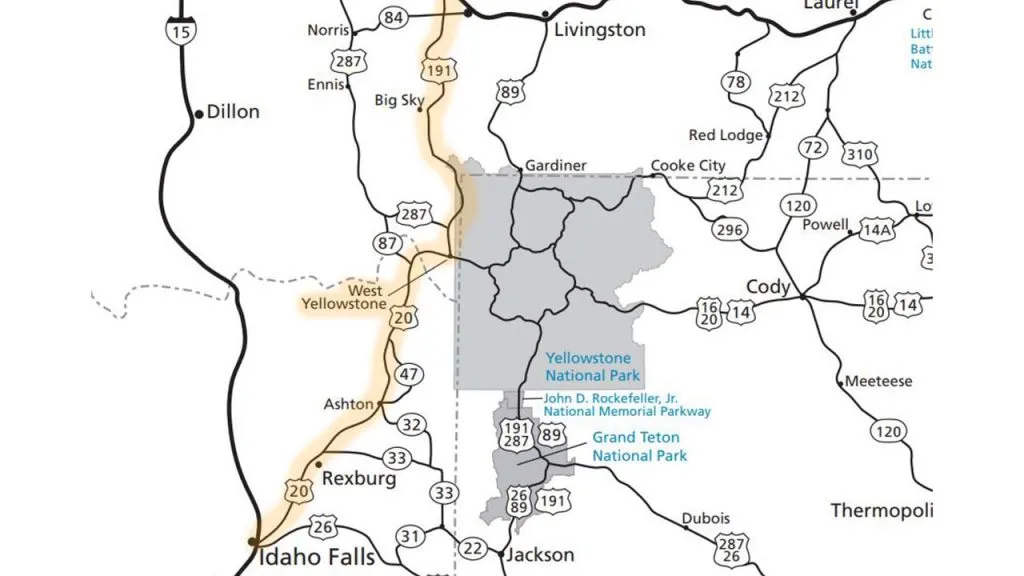 Places to Stay in West Yellowstone
Lodging & Hotels
Lodging at the west entrance is versatile and affordable. Some of the old motels are pretty run down and questionable, but there's plenty of options that are cheap yet still clean.
Below I'll list a few of my favorite (aka clean) hotels in town by order of budget. Hotels near and in Yellowstone tend to be quite expensive, so prepare for sticker shock. Also, do note that prices fluctuate and can change like crazy throughout the season.
Low Budget
Three Bear Lodge – a typical motel-type lodge that's centered perfectly in downtown, walking distance to restaurants and is known for being cleaner than most its neighbors
Al's Westward Ho Motel – looks ugly on the outside, but it's clean and probably one of the cheapest options in town (well, the cheapest option that doesn't include complimentary bedbugs)
Hibernation Station – super cute (small) cabins that offer rustic charm for a pretty respectable price
Mid Budget
Kelly Inn – a bit generic, but offers clean rooms, pool, and decent (for a hotel) complimentary breakfast
Crosswinds Inn – surprisingly good free breakfast, clean, and in a walkable location to the rest of town
Gray Wolf Inn – a pretty typical Marriott-esque hotel with a great cleanliness record along with a nice pool
High Budget
The Adventure Inn – pricey, but features incredibly cute rustic decor!
Explorer Cabins – upscale standalone cabins that are connected to the Gray Wolf Inn (pool access)
Golden Stone Inn – a small but fancy hotel that's probably one of the nicest options in town
There's more hotels than that, but these are the only ones I've heard good things about (from friends and fellow travelers). If these prices are waaaay to high for you (as they are for me), I'd suggest camping. Speaking of which…
Camping (Free & Paid)
West Yellowstone itself, in addition to the surrounding area, offers plenty of camping options for all sorts of campers.
RV parks, improved campgrounds, rustic wild camping, you name it.
RV Parks
If you're in the market for an RV park, I'd suggest Yellowstone Grizzly over all other options. They've been great and I've never met anyone who had complaints.
Otherwise, there's plenty of other options both in and outside of town. Fox Den, Fort Jax, and Buffalo Crossing are just a few others to check out.
Rustic Campsites
If you're more of a rustic camper and don't need amenities, there's plenty of options for cheaper sites outside of town.
The National Forest Service offers a few improved, but still largely rustic campsites along the shores of Hebgen Lake. Additionally, I've stayed at a few places further up the road near Big Sky.
Check out recreation.gov and see what's open. Some sites are reserved online while some are on a first come/first serve basis (cash only).
If you're really willing to rough it out, there's plenty of opportunities for free campsites as well. I'd suggest checking out my free camping guide as it's way to much of a rabbit hole to get into here.
Proximity to Park Attractions
Hot Springs & Geysers
Proximity to the park is where the west entrance really shines.
The gate itself is at the edge of town and, from there, it's only a 45 minute drive to Old Faithful, plus most other geyser basins in the park. Make sure to check out Midway Geyser Basin to see the iconic Grand Prismatic!
The west entrance is the best place to stay if you want the quickest possible access to thermal features (Old Faithful, geysers, etc.).
Swimming
For avid swimmers, the stunning (and warm) Firehole River is about 30 minutes from town just past Madison Campground. See my awesome Yellowstone swimming guide for more info. 🙂
It's a large stretch of river that's heated by natural hot springs and, in most areas, safe to swim in. Check out the Firehole Canyon road on the way down to Old Faithful!
Popularity & Crowds
For the aforementioned reasons, however, the west entrance is by far the most busy. During peak season, lodging will often be heavily booked, and the park gate itself will be swamped.
I've had a few instances where I've gotten stuck at the gate for upwards of an hour. If you're staying at the west entrance, I'd highly suggest getting into the park either by 7am or sometime after 11am to avoid long lines.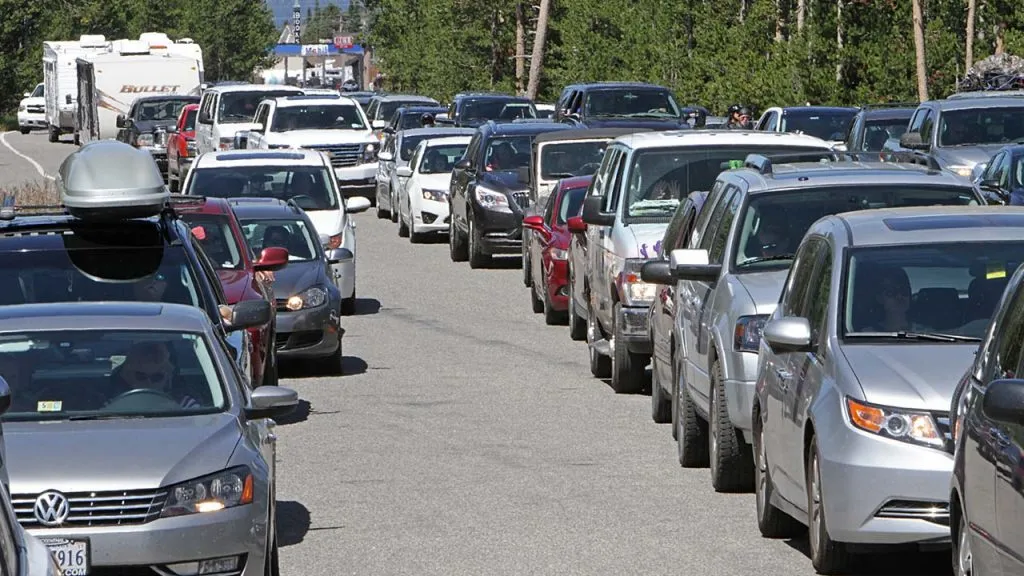 Restaurants in West Yellowstone
Next up, I'd like to list some of the best restaurants. This isn't a definitive list, but just my personal favorites. I'll try to give a bit of a price range for each place as well.
Breakfast
Book Peddler & Coffee Bar
This one hits my list purely for the vibe. It's a small, small hipster-y café jammed into the back of a big book store.
Bibliotastic atmosphere aside, the food is actually affordable whilst tasting delicious. A large breakfast sandwich will run about $9 while a breakfast burrito will run you about $10.
Yogi's Waffle & Grill
Unlike the last place, there's nothing unique or crazy about Yogi's. It's just a small restaurant with really great food.
A breakfast waffle (bacon, egg, and cheese) will run you about $11 while a breakfast sandwich is about $10. When you're done, check out the bakery next door for dessert. 🙂
Lunch/Casual
Wild West Pizzeria
Who doesn't love pizza? It's delicious and a good way to get a lot of calories for cheap. Wild West Pizzeria offers a chill laid-back atmosphere and often features live musicians or a DJ.
Pizza is a bit pricey, usually around $20ish for a 12 inch, but you're paying both the tourist tax and a bit of a premium for the nice vibe.
Pete's Rocky Mountain Pizza
The cheaper pizza place. Atmosphere isn't as awesome, but it's still a great place to eat. When my family visited, we all ate here and splitting a few pizzas was much cheaper than some of town's alternatives.
To give you an idea of cost: a normal large cheese pizza will run $16. A large hawaiian (where my pineapple lovers at?) will run about $21.
Firehole BBQ
As the name implies, it's a BBQ place! Situated in a small red building, it features both indoor and outdoor seating and a limited but dialed-in menu of meat concoctions.
A full rack of ribs will set you back $30, while a sandwich will run around $10.
Las Palmitas
I have a soft spot for Las Palmitas. I honestly don't even think the food is very good, but it's super cute. Situated in an old blue bus, you actually step inside the "vehicle" to order, and then eat your food outside on picnic benches.
Like I said, the food isn't exceptional, but I think it's worth stopping there as the whole ordering-in-a-bus experience is quite neat.
Fancy Dinners
Madison Crossing Lounge
I'm usually not a big fan of bars (I don't drink), but this place is cute. It's an old schoolhouse that was converted into a nice gastropub that looks like it belongs directly in a gentrified urban neighborhood.
Food is pricey, again, but you get what you pay for. If you're grabbing a burger (usually around $17), I'd highly suggest grabbing the huckleberry burger. If you've never had huckleberry before, it's a religious experience.
To give a better idea of the prices: an 8oz steak runs $24 while seared salmon will set you back $32.
The Buffalo Bar
This place has slot machines and a bar, so it's really not my usual pick, but the food is so damn good. It's like a casino, sports bar, and taxidermy shop rolled into one weird mix. If you're into football, it's the only place in town (to my knowledge) that plays every Sunday NFL game.
Fancier food options include buffalo steak for $25 or beef ribeye for $33. For a more budget friendly and casual option they serve some (seriously amazing) burgers for around $16.
Grocery Stores
There's a few "grocery stores" in West Yellowstone, but you'll be paying the tourist tax at each of them.
That being said, "Market Place" and "Food Roundup" are the most "normal" (aka not extremely overpriced) places to get groceries/snacks in town.
I'd suggest bringing your own snacks before coming here, otherwise you'll be paying at least a bit of a premium.
Things to Do in West Yellowstone
Museums
Grizzly & Wolf Center
The west entrance offers two cool museums. First, the Grizzly & Wolf Center offers plenty of information on, well, Yellowstone's grizzlies and wolves.
The inside portion is a typical museum, with plaques, history, diagrams, all that sort of thing.
Outside is a zoo section. Now, I'm usually not a fan of zoos (ethical reasons), but from what I've read, it seems like this place is alright. Their bears are rescues, known as "nuisance bears" that would otherwise be killed by the park service.
While I don't support zoos generally, it's good to see that the bears here were rescued from being killed off.
When I last checked, adults were $15 and kids were $10.
Museum of the Yellowstone
The only other museum in town is the "Museum of the Yellowstone" and, frankly, the one I was much more interested in.
It covers mostly all of Yellowstone's tourism history, explaining the role of railroad companies and even touches on the evolution of how we travel (from horses to cars, for example).
Maybe it's because I'm a history fanatic, but I thought it was super cool and I'd highly suggest any fellow history nerds to check it out. Adults are $10 and kids (up to 18) are free!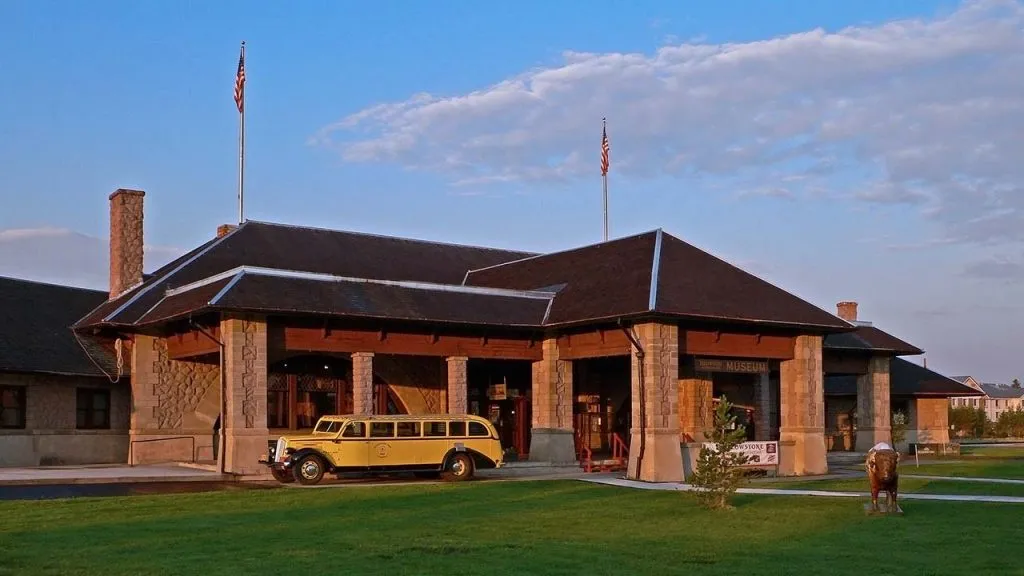 Other Random Stuff
Imax Theatre
West Yellowstone features, oddly enough, an IMAX theatre with a gigantic screen. Not exactly what you'd expect to see in a national park gateway town.
It features normal movies along with special Yellowstone-themed films. Frankly, I'd rather just go into the park and see everything with my own eyes, but I'd imagine the theatre would be a great option for families with kids (it has a gift shop).
Zipline/Adventure Park
There's also a ziplining adventure park type thing in town. I haven't personally been there, but my family hit it up when they were visiting me.
It looks like they have a bunch of climbing stuff in addition to, well, ziplining. $79 is the cost for a full day.
Not my thing for sure, but I can again see the appeal for families with kids.
Tour Companies
Tour companies are not my thing. I generally don't plan and dislike being on rails (so to speak) when traveling. Still, tour companies can show you places and experiences that you might not stumble upon yourself.
Yellowstone Vacation Tours is a company based in town that offers all sorts of big bus tours in the summer and snowmobile tours in the winter. Expect high costs, however.
Besides that, Yellowstone Alpen Guides offer similar tours, and there's a few fishing guides in town as well.
Conclusion
The west entrance is pretty neat in my opinion. It's the best starting point for most travelers as it both allows for quick access to geysers along with (relatively) affordable lodging.
That being said, the other 4 park entrances have plenty to offer as well, so make sure to check out my articles on the other park entrances! Thanks for reading. 🙂
If this article was helpful, consider subscribing to my email list to catch all of my future posts! <3