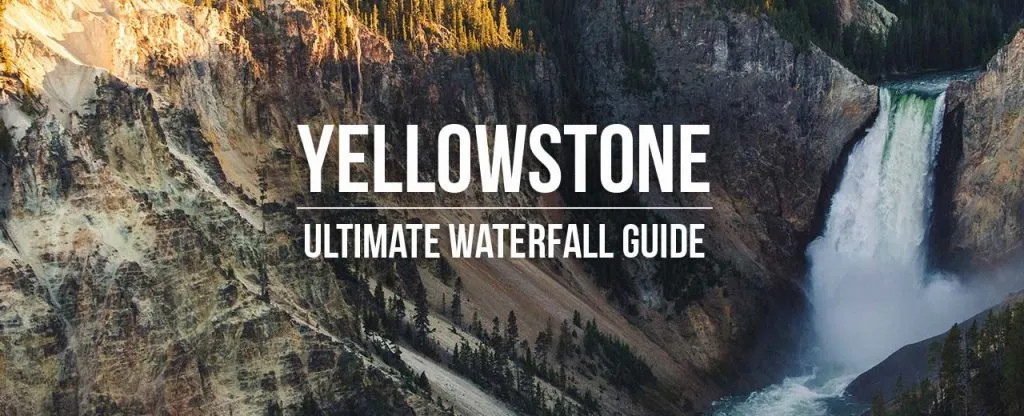 Yellowstone is a wonderland of waterfalls, from the lesser known Dunanda Falls to the iconic Lower Falls of the Yellowstone River.
Waterfalls are, by far, my favorite natural feature. The deafening roar and the sense of beauty and power are, in my opinion, unmatched by anything else.
"There's no better place to find yourself than sitting by a waterfall and listening to its music."

– Roland R Kemler
This article isn't an exhaustive list, but my personal favorites, with plenty of pictures and directions on how to find them.
Some are roadside, easily accessible by car, and some are multi-mile long hikes. Remember that these will be better earlier in the season before all the winter snowmelt is gone.
Anywho, let's jump into the list!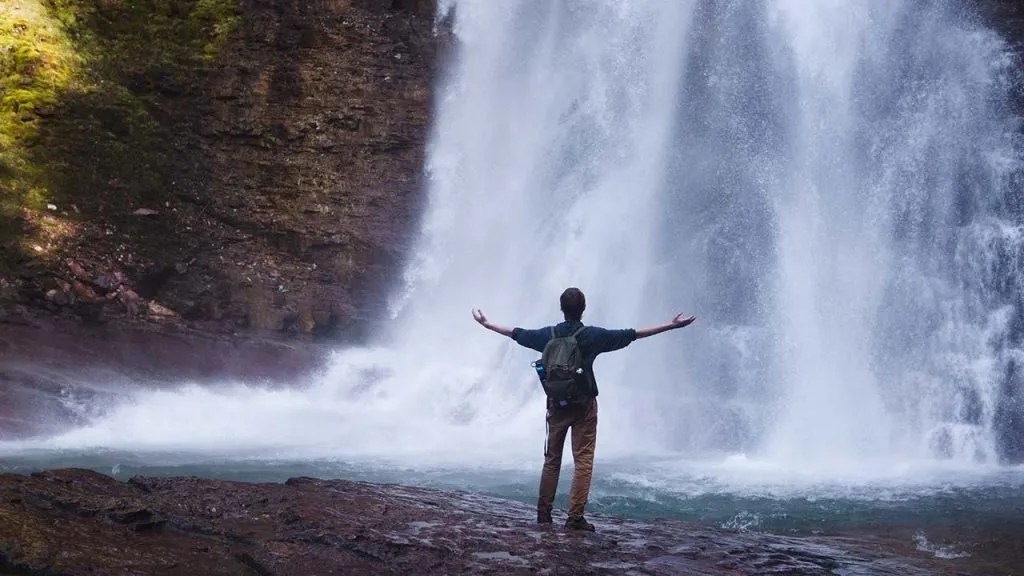 Easily Accessible Waterfalls (by car)
First up, let's talk about the easily accessible waterfalls, whether they be roadside or just a short walk away.
While these falls are gorgeous, and still some of my favorites, they can get quite crowded as they're easily accessible.
For peace and tranquility, you'll have to look in the backcountry, which is the next section.
Lower & Upper Falls of the Yellowstone River
South Side of the Canyon
Being the most iconic falls in the park, these have to come first on my list. Not only are they beautiful, they are also readily accessible by car.
Starting on the south side of the canyon, the first stop is the "Upper Falls View" area. It, hence the name, offers a nice view of the smaller Upper Falls.
For an incredible view of the larger Lower Falls, continue to the north side of that same parking lot and go down Uncle Tom's trail.
While the staircase is steep, it's not technically challenging or dangerous. At the bottom, you'll find an incredible view looking up at the Lower Falls, the closest you can get to the base.
Further east is the stunning Artist Point, a large lookout just a short walk from the parking lot. This is the most photographed angle of the falls, and for good reason. My personal favorite spot.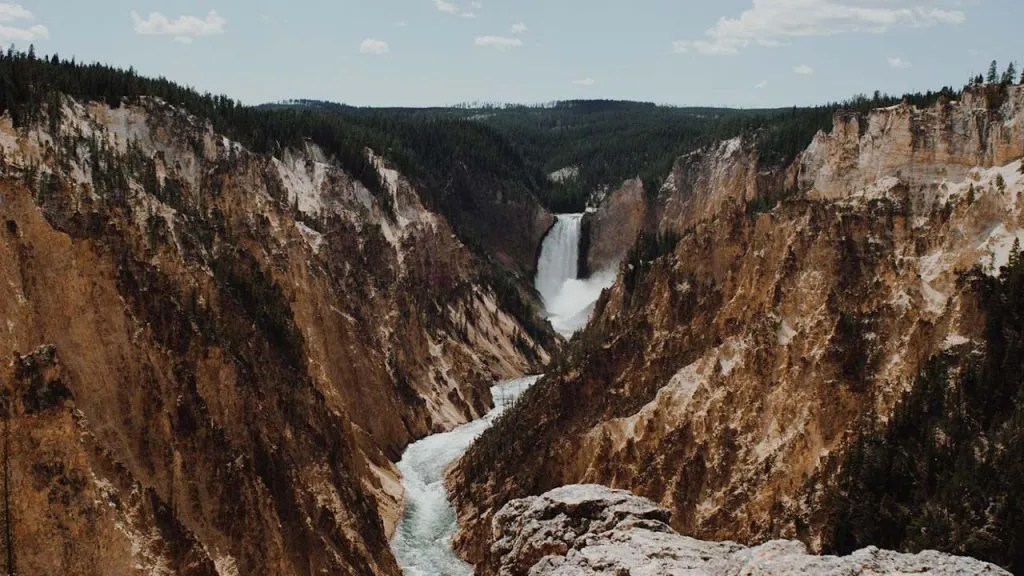 North Side of the Canyon
On the north side of the canyon, the brink of the lower waterfall is viewable at the appropriately named "Brink of the Lower Falls" parking area.
Continuing east, Lookout point offers an incredible view, showcasing the waterfall in its entirety. For a different, less crowded view, hike down the very short trail to the lower Lookout Point.
Further east lies a section called Inspiration Point. Although you unfortunately cannot see the waterfalls from here, it offers a nice view of the fierce river snaking through the canyon. Definitely worth a stop.
Tower Fall
Tower Fall is another easily accessible waterfall. It's situated in the north/northeast section of the park in the aptly named Tower-Roosevelt area.
While easily viewable from a car, there's a short but steep trail that goes down to the base of the falls themselves.
While the waterfall may not be as impressive as some others, it's still quite cool to see it framed by the massive rock spires around the top.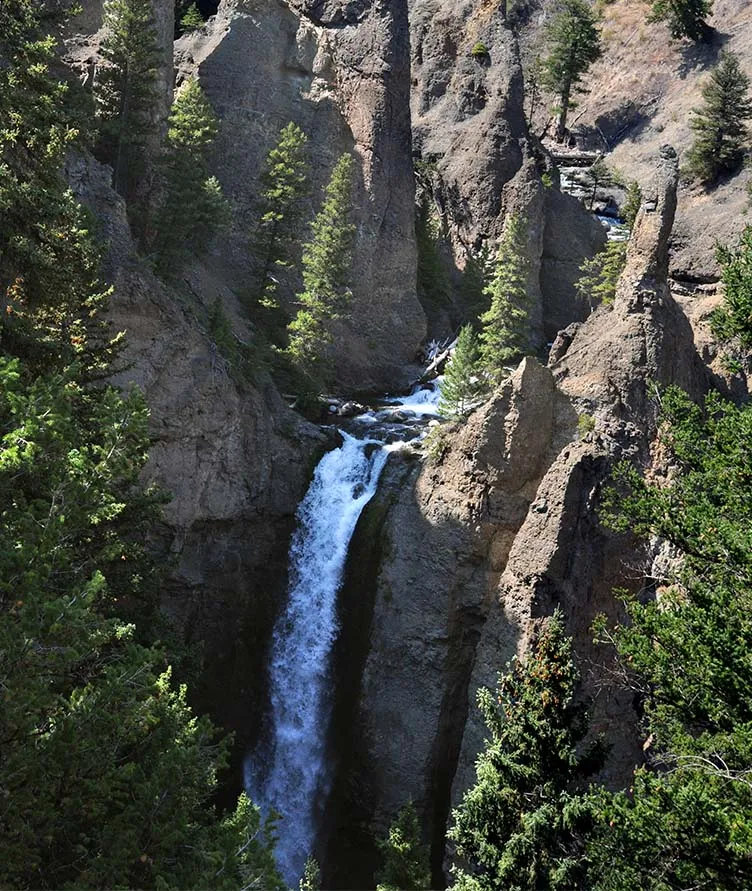 Undine Falls
Undine Falls is another easily accessible waterfall, although it's not well known. Situated in the northern range of the park between Mammoth and Tower, it plunges around 100ft into Lava Creek.
The falls are viewable in all their glory right from the highway, but there's also an easy 1.8 mile (roundtrip) trail that goes down to the base.
Rustic Falls
Rustic Falls are also easily viewable from the highway, situated right between Mammoth and Norris.
It's a cascading type of waterfall that starts small and then spreads out, spilling gently down into Glen Creek.
While you can see it from the parking area, the best view is by walking down the road a bit. Just be careful for traffic.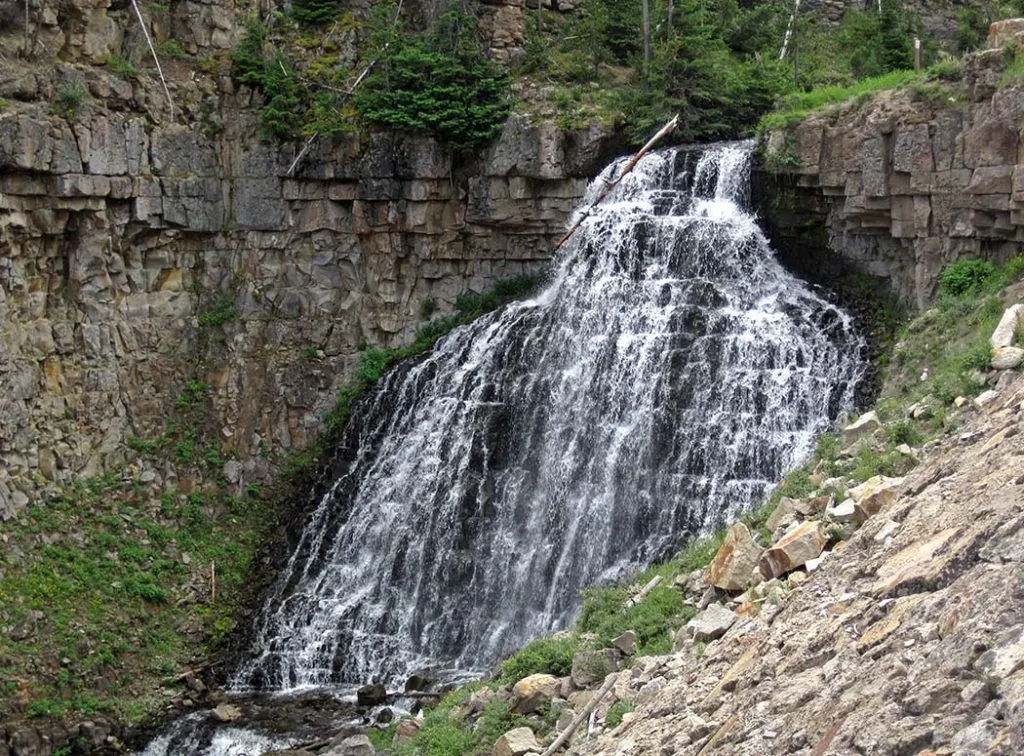 Wraith Falls
Wraith Falls, yet another waterfall located near the north side of the park, gets its name from the thin curtain of water that it puts out.
In early summer, it spreads out over the rock due to the snowmelt. By late summer, it's nearly all but dried up.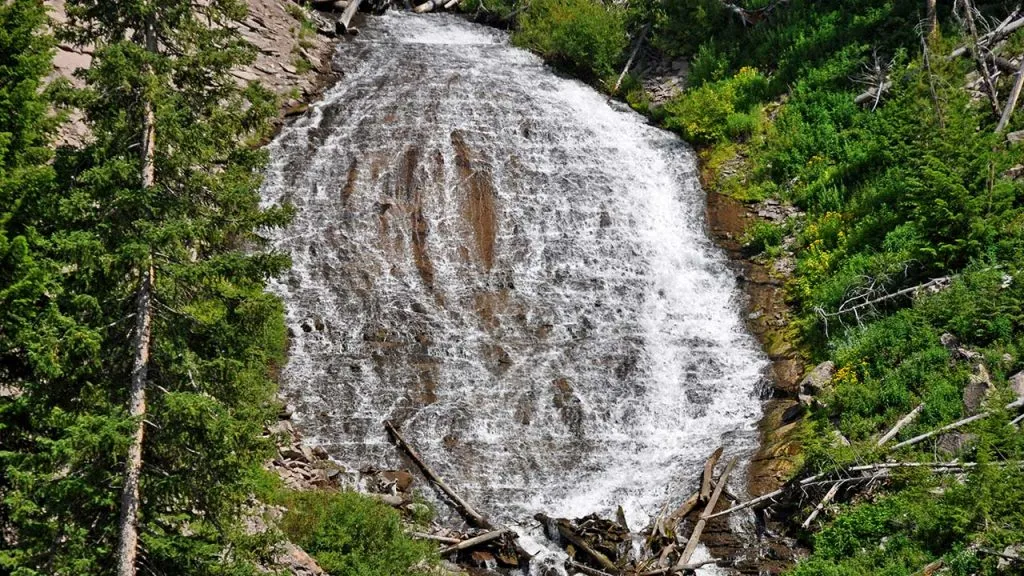 Gibbon Falls
Gibbon Falls is yet another easily accessible waterfall. Similar to the previous waterfall, it starts small and then fans out before crashing down into the Gibbon River.
While it's easily viewable from the highway, I'd suggest doing the half-mile hike down to the base of it to really capture the full scale.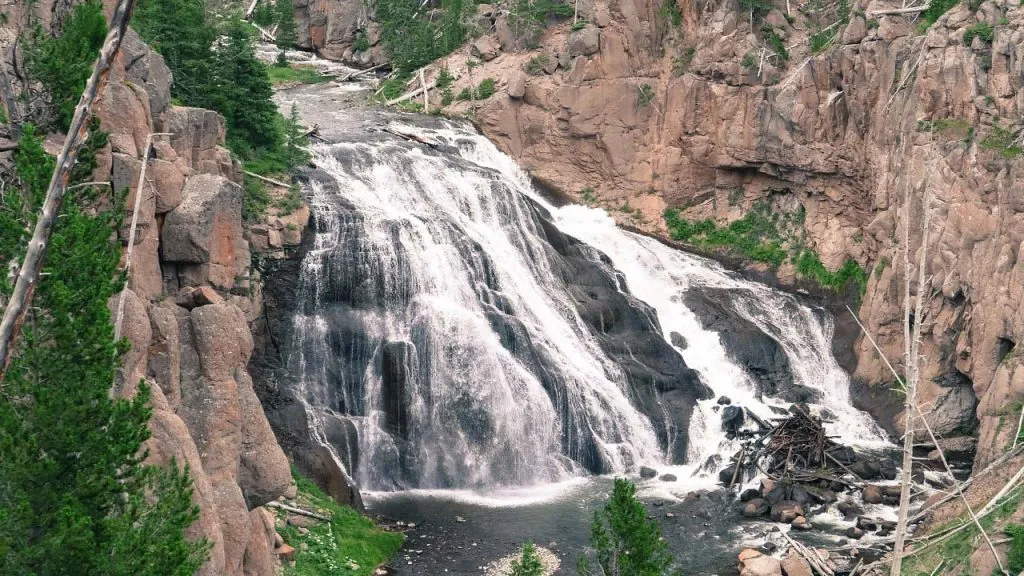 Kepler Cascades
While not quite a huge waterfall in itself, Kepler Cascades are a series of smaller falls that makes up a large, whitewater-type section of the Firehole River.
From the parking lot, it's a very short and quick walk over to the viewing point of the falls.
To the southeast, the Lone Star parking lot has a very small, rustic trail that also offers a decent view.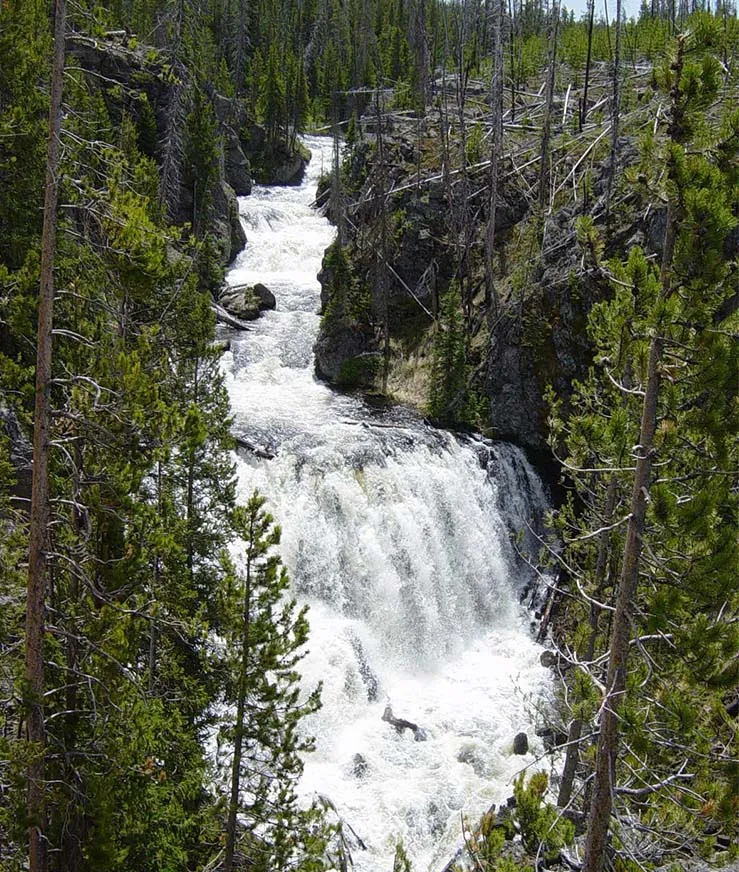 Lewis Falls
The first time I saw Lewis Falls took me by surprise. I was driving down to Grand Teton for the first time and then suddenly there was a massive waterfall on my right side.
It's not tall, but it's extremely wide and easily accessible. You can view it from the bridge, or hike over to the base of it on the shoreline.
---
Backcountry Waterfalls (hiking only)
Next up, we'll talk about my favorite type of waterfalls: the ones that are hard to get to.
Sure, it may be nice to park, take some pictures, and then dip out, but it can't compare to slogging through the mountains all day and then rewarding yourself by relaxing at the base of a roaring waterfall.
Again, this is not an exhaustive list (there's too many), just a list of my favorites.
Mystic Falls
A double waterfall that cascades into the Little Firehole River. There's some toasty thermal run-off that you have to watch out for. You won't get burned, but it's important to not damage the thermal features.
It's a pretty simple 2.4 mile round-trip to the falls and back, but Biscuit Basin Overlook can be added on for only an extra 1.5 miles.
The overlook offers a nice view of Biscuit Basin and even all the way out to Old Faithful. It's a decently steep hike but nothing a hobbyist hiker couldn't handle.
Osprey Falls
Osprey Falls, although not a continuous drop, cascades and pivots 150 feet down a rocky cliff before tumbling into the Gardiner River below.
Just a quick drive from the north entrance, it's accessible with a 6 mile round-trip hike via the old Bunsen Peak Road (now a maintenance road). While not a technically challenging hike, it's still a bit of a distance, and also drops 700 feet (in other words, you have to climb 700 feet back out), so come prepared.
This hike can be bundled in with Bunsen Peak, so you can hit the summit and climb down to the waterfall before looping back to the trailhead.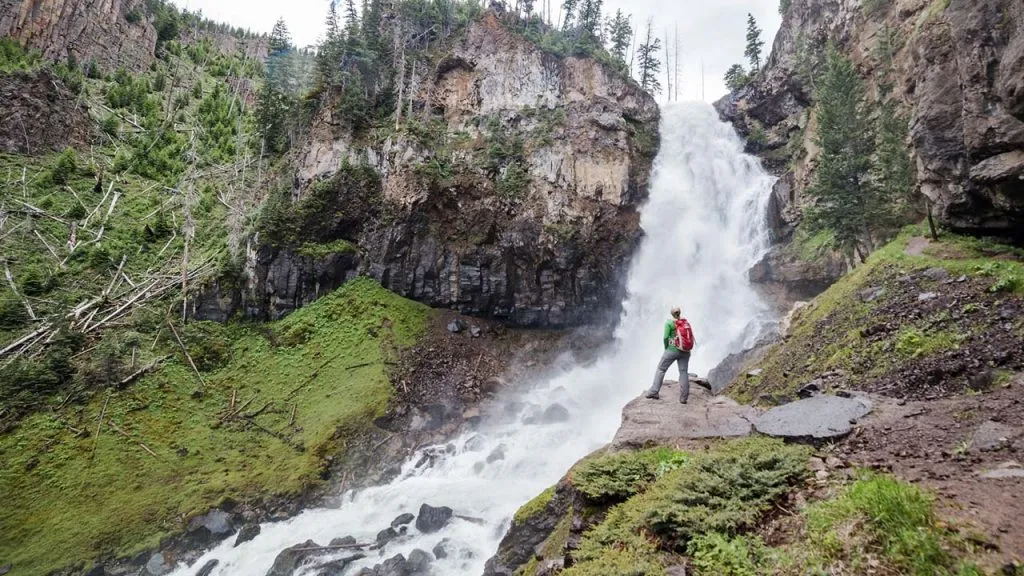 Union Falls
Union Falls is a pretty tough hike. For starters, it's located down Grassy Lake Rd (near the south entrance) which is a rough road no matter what the season is.
Then, you hike 15 miles (round-trip), ford a large river, climb almost 2000 feet in elevation gain and then, optionally, hike an extra mile to a nearby hot spring pool. This is an extremely long hike and can be challenging or downright dangerous if you're not prepared.
Hike with a group if possible, bring extra food and water, plus a change of shoes. Make sure to take a dip in the (somewhat hot) spring at the end! Coolest backcountry waterfall in the park, in my opinion.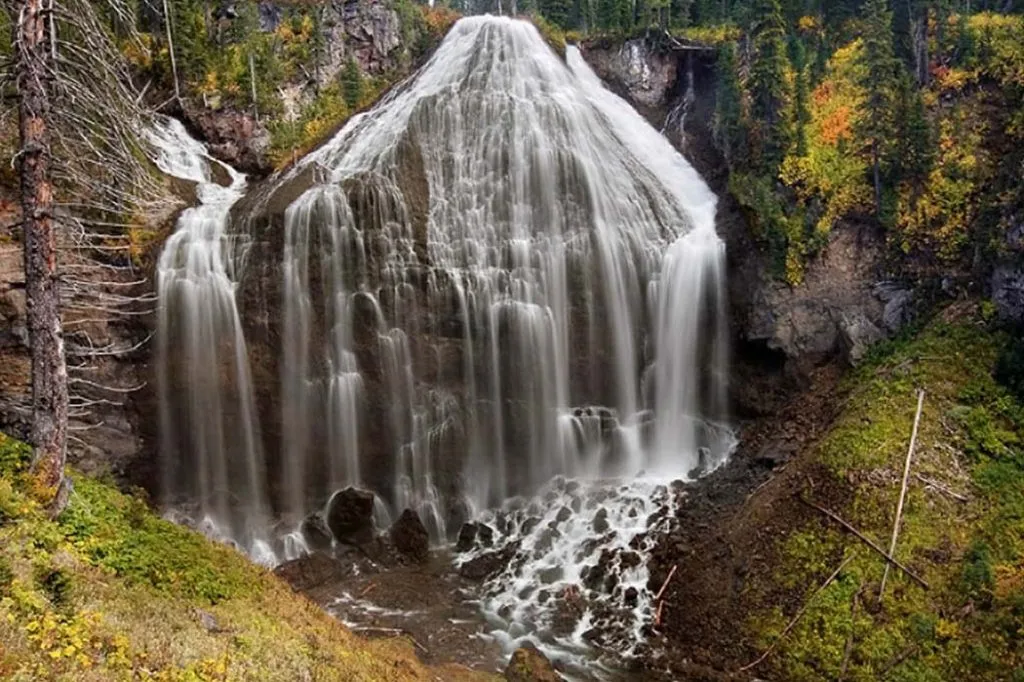 Dunanda Falls
Dunanda Falls is a similar situation. It's a large waterfall, though perhaps not quite as grand as Union Falls. What makes it challenging is that it's so isolated. To get there, you have to enter the park not from a specific gate, but just a random road in eastern Idaho. (1.5 hours from the actual west entrance)
When you're finally there, it's a 17 mile hike. Thankfully, although it's quite long, it isn't challenging. Totaling to 826 elevation gain (a lot of up and down), it's easily doable as a day-hike for most adventurers.
At the base of the massive falls, you'll find a series of hot spring pools. Nothing quite beats the feeling of chilling in a hot spring while getting blasted with cold waterfall spray. Another one of the coolest falls in the park, highly recommended if you can get over to the area.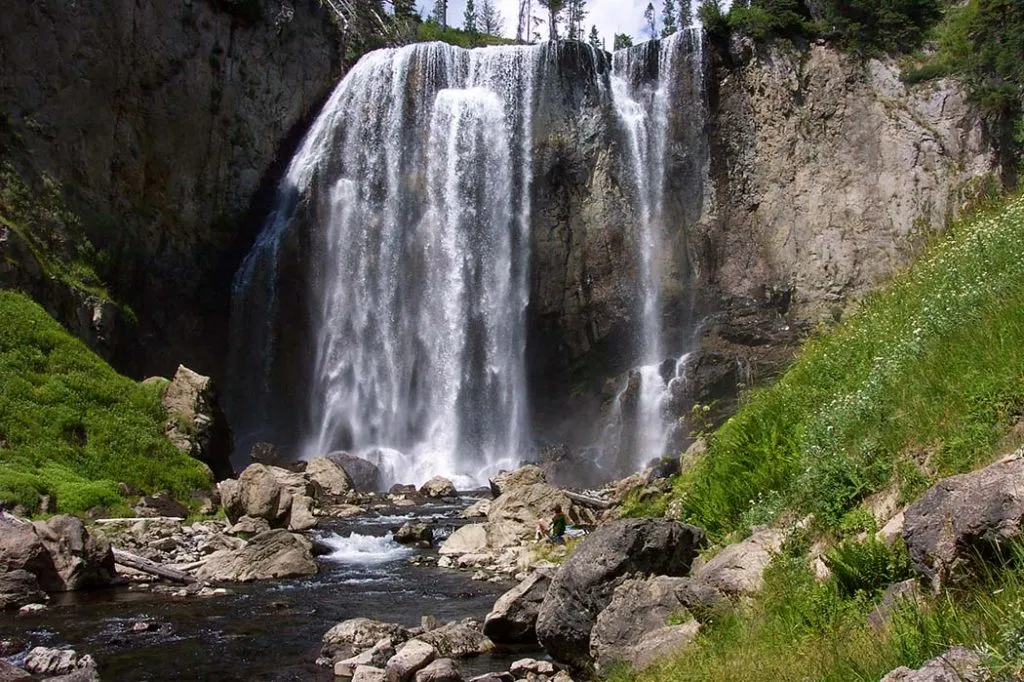 Honorable Mentions (Outside the Park)
Hidden Falls (Grand Teton)
This one is in the neighboring Grand Teton National Park, about an hour away from the south gate of Yellowstone.
The trail itself is quite easy, and you can take a boat ferry that crosses the beautiful Jenny Lake, offering a panoramic view of the Teton Range.
If you're a waterfall enthusiast and are passing through the Tetons, I'd stop for this one. Just expect crowds. A good stop if you're coming from the south entrance.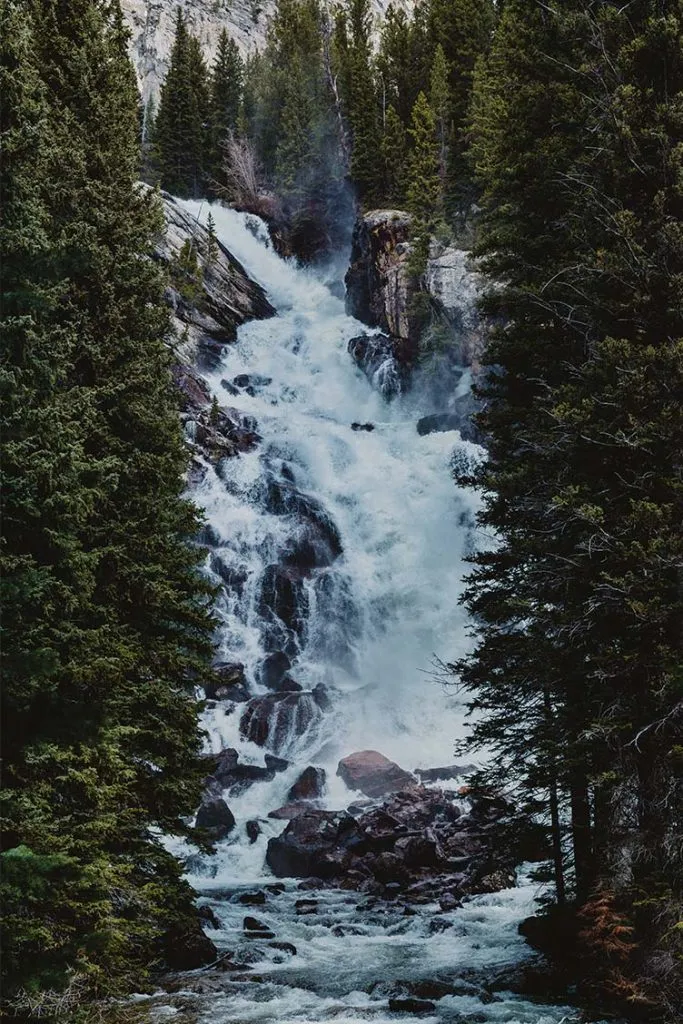 Ousel Falls (Big Sky, MT)
Another gorgeous waterfall near the park is Ousel Falls. This is situated in Big Sky, MT, which is less than an hour north of the west entrance. While I'd never recommend anyone to actually visit Big Sky (it's an overpriced ski town), the waterfall is a great place to stop if you're passing through.
A reasonably easy 1.5 mile hike takes you down through a small canyon until it ends at the base of a beautiful waterfall. It's not huge, but it's framed perfectly by the surrounding canyon and features dramatic rocks.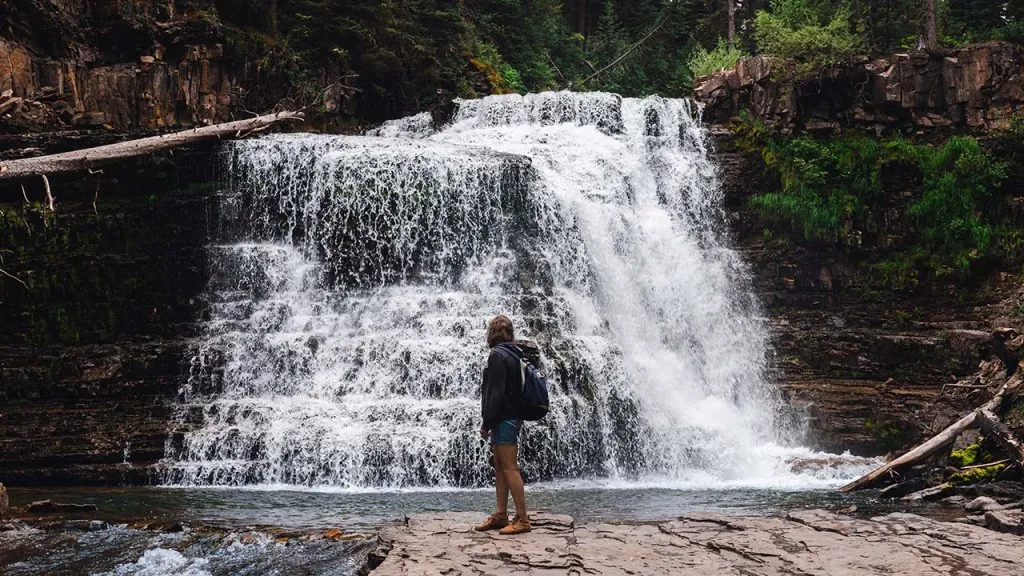 Conclusion
Like I said, these are just my favorite waterfalls in the park. If you're looking for a more exhaustive list, definitely check out my friends over at World of Waterfalls. Their quest in life is to visit every waterfall in existence, so they're the go-to for anything related to waterfalls.
If you want to take in and learn anything and everything related to Yellowstone, go check out my main mega-guide.
Thanks for reading. 🙂 – Chance