Yellowstone is a magical place filled with huge geysers, bubbling hot springs, and more (safe) swimming holes than you'd expect.
I've worked in and around the park for 2 years, and in this article I'd like to sum up some of my "hottest" spots (see what I did there?). This isn't an exhaustive list, but just my personal suggestions. 🙂
Let's (metaphorically) dive in!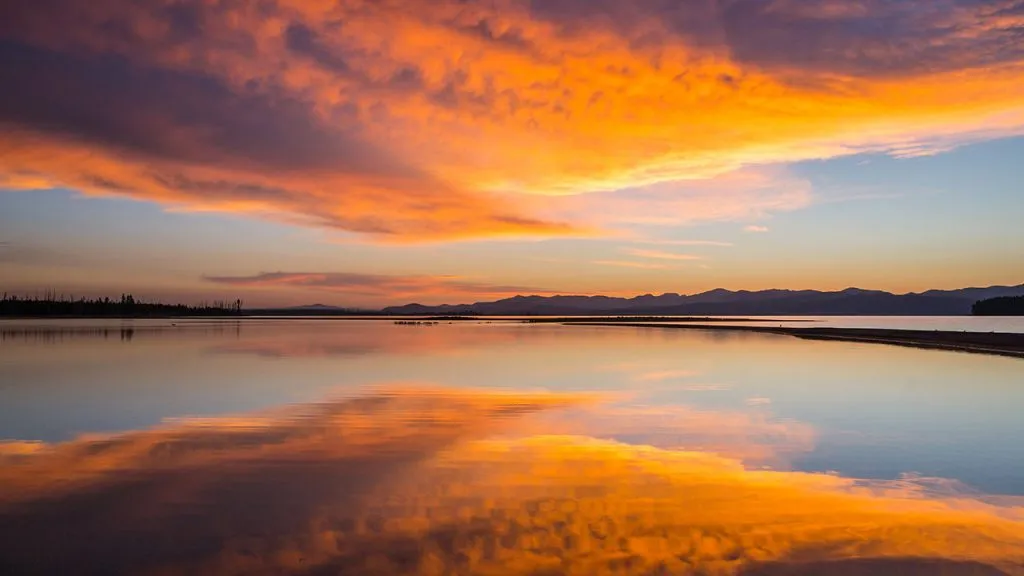 Initial Notes & Precautions
Can you actually swim in Yellowstone?
So can you even swim in Yellowstone? The short answer is yes. The long answer is: it's pretty limited.
Although there are many rivers, lakes, and springs in the park, it's very important to note that the vast majority of the waters are incredibly dangerous.
It goes without saying but do not swim directly in hot springs and don't jump into geysers. A good rule of thumb is to not attempt to swim somewhere unless you explicitly know it's both legal and safe (whether that be by researching online or, better yet, asking a park ranger).
Use Common Sense
Otherwise, just use common sense. If the water is boiling hot, don't get into it. On the flipside, if the water is icy cold, exercise caution. A lot of Yellowstone's waterways are fed by snowmelt runoff and can often be colder, faster and ultimately deadlier than you'd expect.
Multiple tourists unfortunately die from both drowning and hypothermia in our national parks every year, both of which are easily avoidable.
Common sense applies to wildlife and ecological impact as well.
Nasty Bacteria
Another note to be aware of is the presence of organisms that can be life-threatening. Many of Yellowstone's stunning hot springs get their vibrant colors due to the bacteria living in the waters. These guys, despite creating beautiful wonders of nature, can potentially be deadly to humans.
The park service recommends avoiding swallowing water or submerging your head/nose completely. I've followed this advice religiously and, knock on wood, I'm still going.
Expect Potential Closures
During COVID-19, many designated swimming areas were closed due to overcrowding. The park service does offer status updates on their website, but I'm not sure how up to date they are.
That being said, even if official swimming holes are closed, many of the "unofficial" areas should be unaffected.
Wear Water Shoes
Rivers and lakes in Yellowstone are incredibly rocky. I made the mistake of going barefoot my first few times swimming and it was painful.
I ended up using basic shower sandals and, while not perfect, they did the trick.
Anyways, enough with the boring rules and precautions, let's get into the fun stuff!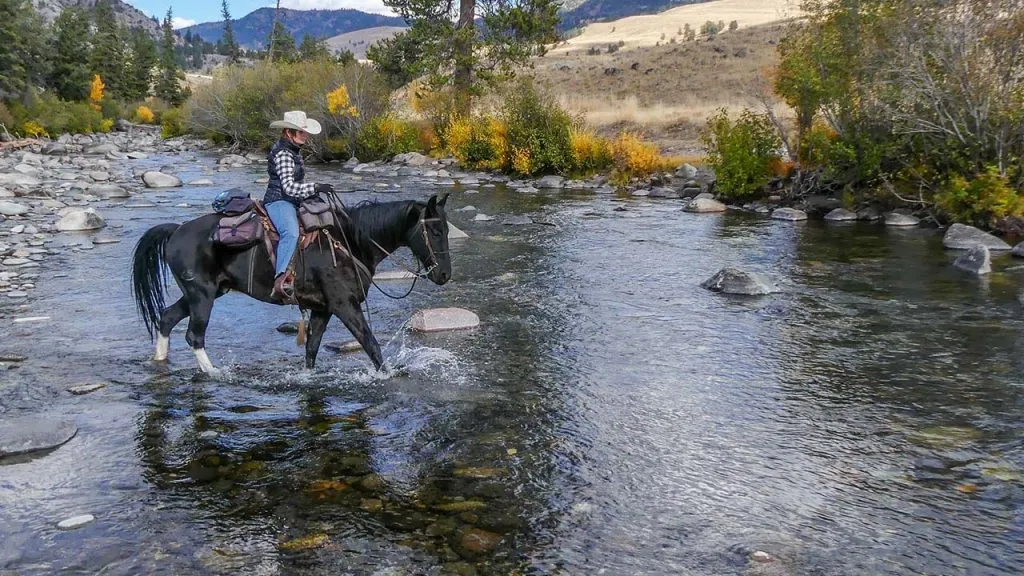 ---
Designated Swimming Areas in Yellowstone
The park service has allocated two specific areas to be "official" swimming holes.
These are, as previously mentioned, often subject to closures due to snowmelt and, ahem, global health events.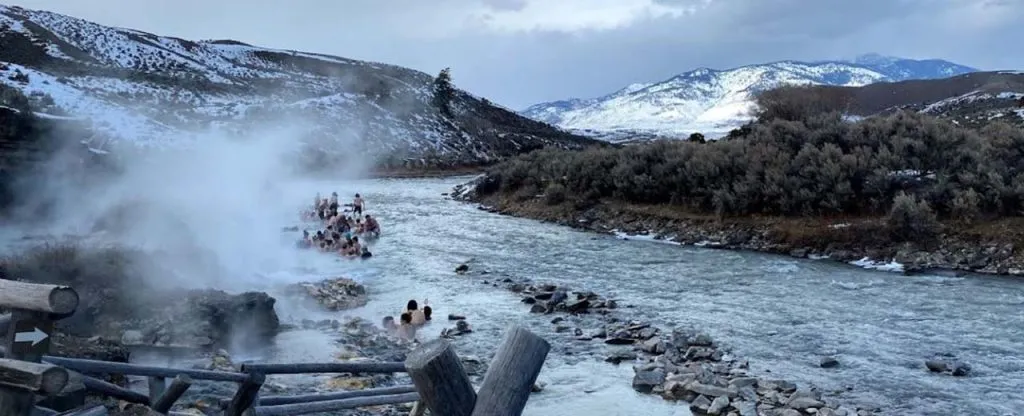 The Boiling River
Getting There
First up on our list, we have the Boiling River. Located right on the northern border of the park, the Boiling River is a small hot spring that feeds into the much larger Gardner River.
On each side of the highway there are two parking lots. You can park at either, and then you'll follow a well maintained gravel trail about half a mile down the river until you get to the springs themselves.
Seasonal Hours and Restrictions
Due to heavy spring snowmelt, this section of the river is generally open only for a short time in late summer into early autumn. It closes at night, generally around 8pm.
As for restrictions, the park service does not allow: food, drink or alcohol. No soaps and no plastic containers. Pretty standard stuff to keep our hot springs clean.

Where to Soak
The Hot Springs
As previously stated, soaking isn't allowed at the actual source of the hot spring, but it is allowed slightly downstream in the Gardner River itself.
It's pretty hard to miss this area if you keep following the trail. There should be plenty of signs telling you where you can and cannot swim.
Due to the rapidly flowing river, it's tough to find a consistent spot. Expect to shuffle around a lot until you find an area that's the perfect blend of heat and cold!
Near the Parking Lot
If you don't care about heat, or just want a shorter walk, the larger parking lot offers easy access to a normal, colder part of the river.
While not fed directly by hot springs, this part of the river is a 30 second walk from the parking lot and features a small beach. A good option for those with mobility issues.
---
The Firehole River
The Firehole River swimming area is the other official spot in the park. It should be noted that, despite the spicy sounding name, it's not actually hot. Expect more swimming pool-type temperatures.
Getting There
For those staying in West Yellowstone, this will be the closest official swimming spot.
The Firehole River swimming area is down a sideroad called Firehole Canyon Rd (also an incredible drive on its own).
Near the end of this short drive, you'll see signs at the top of a cliff pointing out the swimming area. The parking situation is primarily roadside, but I haven't had any issues finding spots in the past, just expect it to be a little tight.
From there, it's a short (but steep) walk down a staircase until you get to a large pool of water.
Seasonal Hours and Restriction
The Firehole swimming area, much like the Boiling River, is seasonal.
Heavy snowmelt often closes it down in the spring, and as such is only open in late summer going into autumn.
The park service explicitly forbids cliff jumping.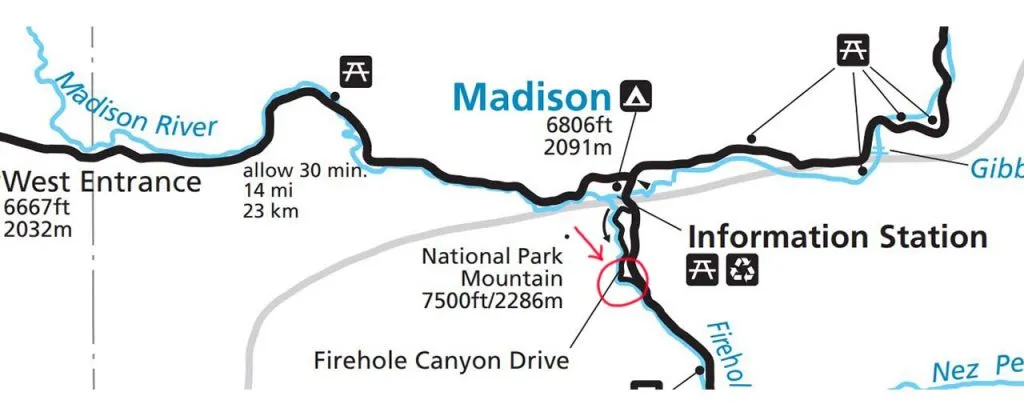 Where to Swim
The Main "Beach"
Coming down from the staircase, you'll stumble upon a small beach area. This spot offers a nice place to just chill out and lounge under some of the small but shady tress.
Otherwise, hop into the water! It's a large cove that's boxed in with big trees and cliffs. The water is a bit chilly but feels refreshing, and the surrounding cliffs really add to the epic vibe.
Downstream to Another Cove
In addition to the beach, you can keep swimming a bit more east through a small rocky canyon.
After passing through the canyon, you'll stumble upon another large cove with a rocky beach, though often much less busy than the main, more accessible beach.
This is a great way to kinda get away from the crowds, and swimming through the canyon is an epic experience! Just make sure not to go too far, as eventually you'll run into Firehole Falls!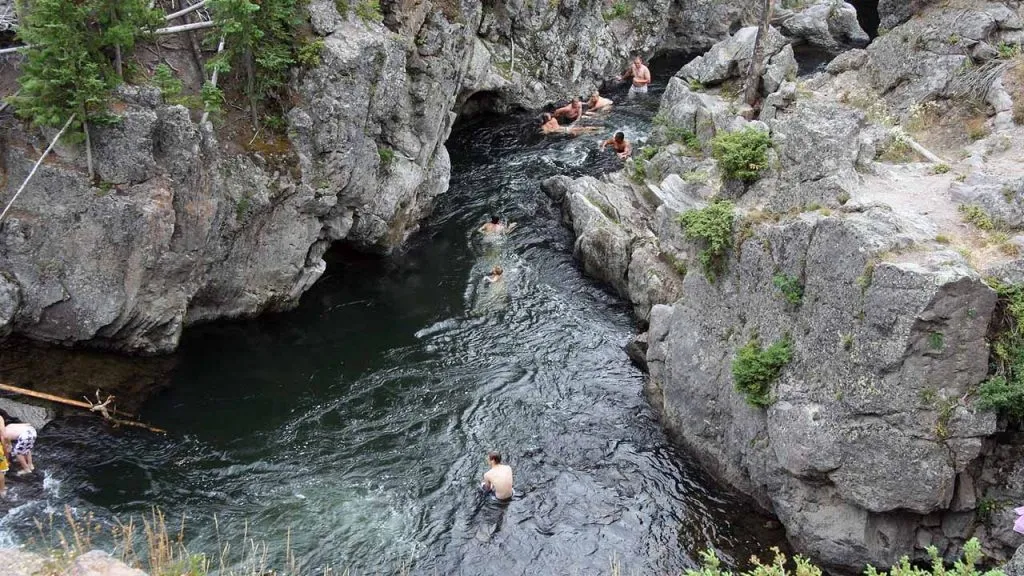 ---
Unofficial Swimming Areas in Yellowstone
Aside from the two previously mentioned "official" areas, Yellowstone has PLENTY of unofficial places to swim that are both safe and legal.
Below I'll list a few of my absolute favorite spots. Stay tuned to the end for a lesser known backcountry hot spring. 🙂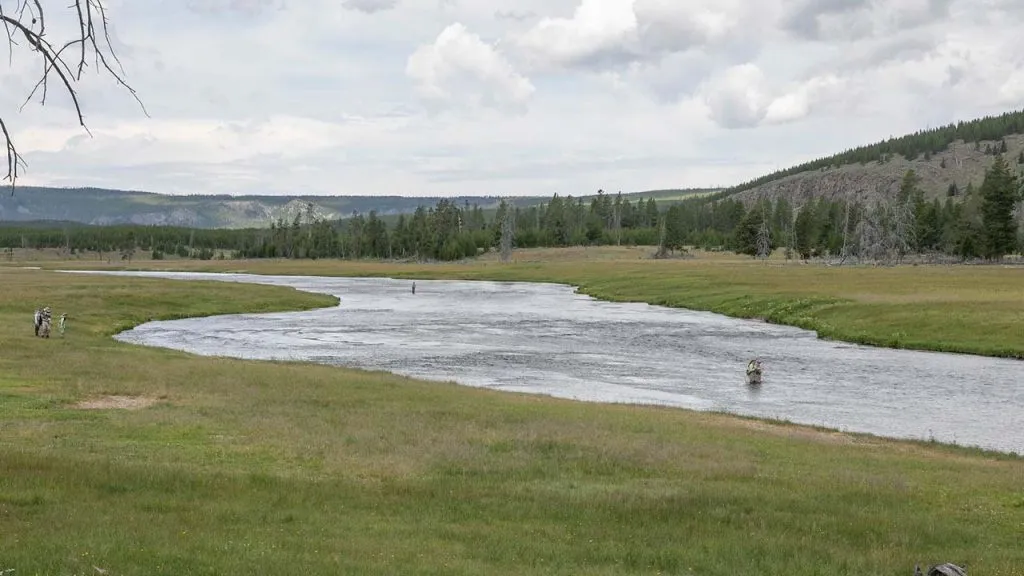 South of Firehole Falls
Getting There
Not to be confused with the prior Firehole swimming area, this is another section of the river further downstream from the falls.
Just south of Firehole Falls, there's a section of the river that loops around a small island. Near this is a parking lot, just where the road angles a bit (I'll include a map).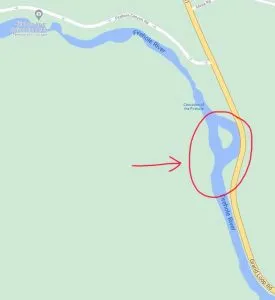 Hours and Restrictions
As this is not a designated area, there's technically no seasonal hours or closures. That being said, during spring, the river is likely swift and cold.
I'd suggest only swimming here if it's warm, mid-summer, and you see a lot of others doing the same.
Where to Swim
Anywhere! Just above the parking lot, near the island in the river is my favorite spot.
It's generally a bit warmer (I assume there's hot spring runoff nearby) and the island makes a cool little spot to have a picnic.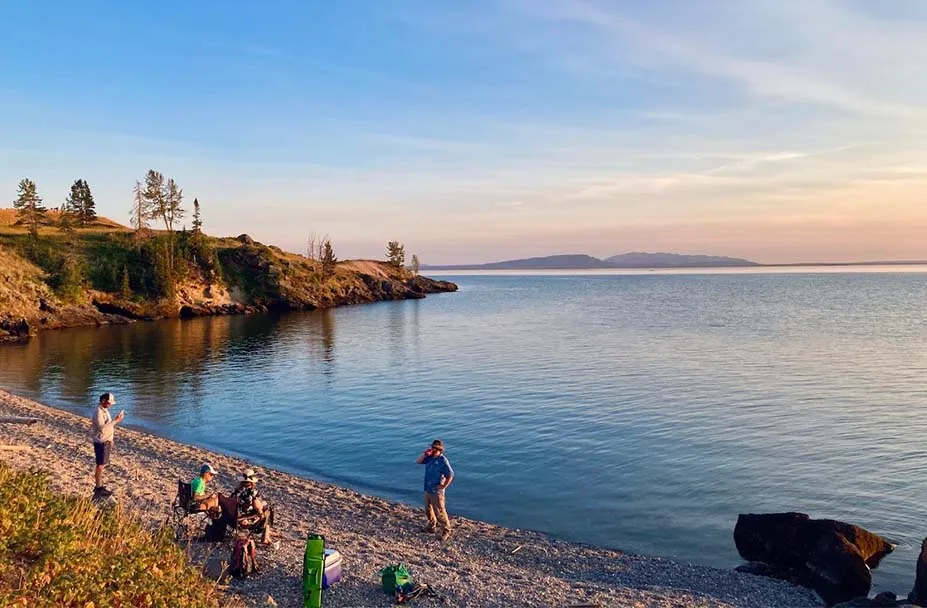 Can you swim in Yellowstone Lake? Kinda…
Yellowstone Lake is another one of my favorite spots. It's not for the faint of heart though, as the average temperature, even in the summer, runs around 41 degrees (5 celsius).
That being said, if you want to pretend to be a polar bear, the lake itself is an awesome place to take a dip.
Safety
As stated, Yellowstone Lake is incredibly cold. Use extreme caution, as hypothermia and exhaustion can set in quicker than you'd expect. At a 40 degree (4 celcius) water temp, the average person will pass out within minutes, especially if the air temperature outside is cold as well.
For this reason, I'd only recommend swimming in the lake in short bursts. On hot days, I always loved taking a dip for a few minutes, chilling on the beach for a while, and then jumping back in.
In addition to the cold, the lake has it's own tidal patterns and large waves, so it's important to not swim out very far.
Where to Swim
You can technically swim anywhere in the lake, but my favorite spot is Sedge Bay.
It's a large parking area along the East Entrance Road. Easily accessible by car, and it features a nearly mile long rocky beach with sweeping views of the lake and distant mountains.
---
Dunanda Falls Hot Springs
This is arguably the most epic (swimmable) hot spring in the entire park as it's the only place you can legally swim in a hot spring.
A brutal but doable 17-mile roundtrip hike takes you to a large group of hot springs located at the base of a gigantic waterfall.
Getting There
Getting there isn't easy. In addition to the 17-mile hike, the Dunanda Falls trailhead is located in the southwest corner of the park, a very isolated location that's quite time consuming to get to.
To get there, you start at the Bechler Ranger Station, a 1.5 hour drive from the west entrance. From there, it's a rather flat but long hike through Yellowstone's stunning backcountry.
Safety
It goes without saying that long hikes are inherently harder. This shouldn't be attempted if you're out of shape or unprepared for the backcountry.
Always bring more water and food then you'll think you need. Bring bear spray. Hike as a group if possible.
This is an incredible hike with an incredible payoff, but you have to be prepared.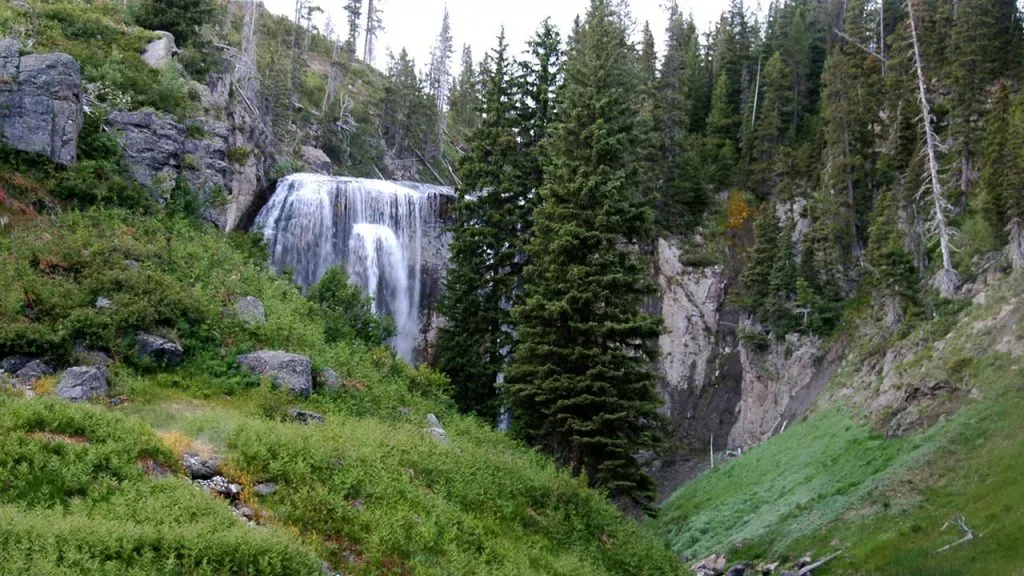 Is it worth the hike?
If you want to (legally) swim in hot springs and don't mind aching the next day, then yes. Dunanda Falls is the best way to get a peaceful and quiet hot springs experience.
Sure, there's other commercialized hot springs within a few hours drive of the park, but this is one of the few places that you can fully immerse yourself in a true wild hot spring. It's epic.
Interested in more waterfalls?
If you're a waterfall fanatic like myself, you might be interested in my Yellowstone waterfalls guide. In that article, I go into more detail on this particular hike (Dunanda Falls) along with another hot springs/waterfall combo.
Check it out. 🙂
---
Honorable Mention
Grand Teton National Park
Finally, I want to give a special shoutout to Grand Teton National Park, the neighboring park just south of Yellowstone. If you want good swimming, that's really the place to go.
Virtually every lake in the Tetons is swimmable and some are even decently warm!
I'll eventually write a Grand Teton swimming guide in the future, but you really can't go wrong with any of the lakes in the valley.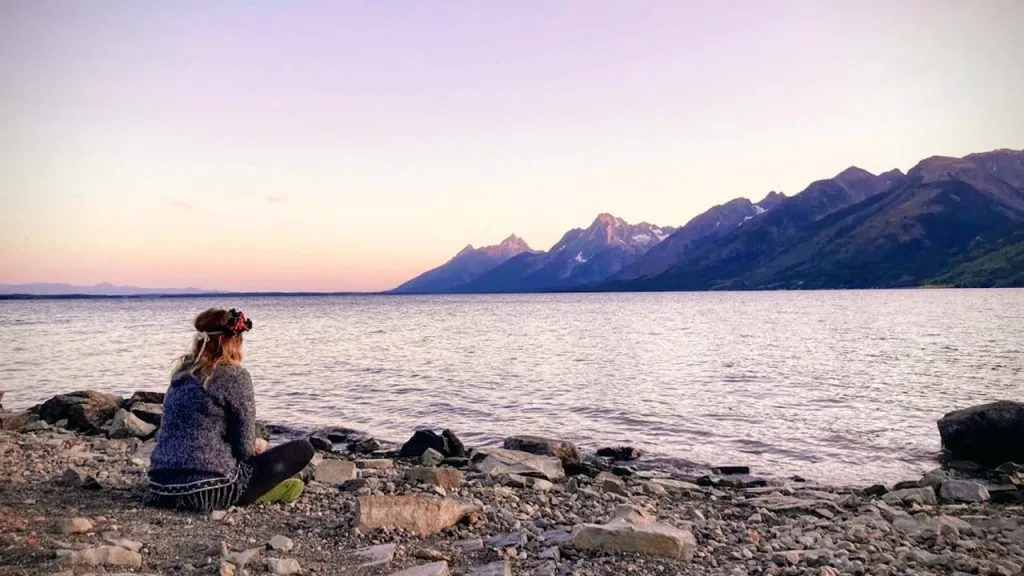 ---
Conclusion
So yeah, although swimming is fairly limited in Yellowstone, there's still plenty of a great spots to check out! Hopefully this article gave you a good jumping-off point for exploring some of the gorgeous rivers and lakes in this beautiful park. 🙂
Looking for more Yellowstone insight? I have a massive article detailing the strengths and weaknesses of each entrance along with a guide for those looking to visit on a budget.
Thanks for reading, I hope you enjoyed!
If you'd like updates from me for future articles (grandiose guides and epic tales of adventures), subscribe to my email list!