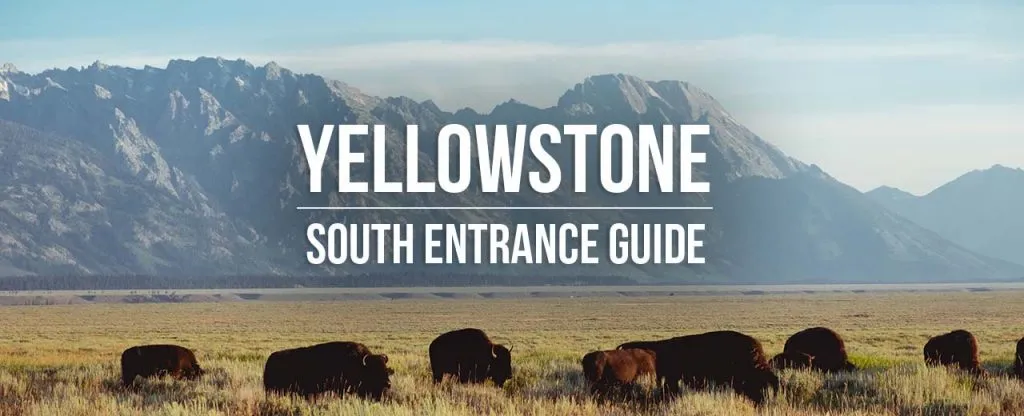 If you've been considering which Yellowstone entrance to take, you've probably noticed the south gate. It connects to the neighboring Grand Teton National Park (which I'd highly suggest visiting) and thus doesn't really have any amenities right at the gate.
Instead, the closest town will be Jackson, WY, an expensive ski town over an hour south of the gate.
For this reason, I'll be making this article a bit more short, as Jackson falls squarely into Grand Teton territory, which I plan to write about (and link to!) eventually. If you're looking for (very detailed) info on the other entrances, make sure to check out my main entrance guide.
In any case, let's hop in!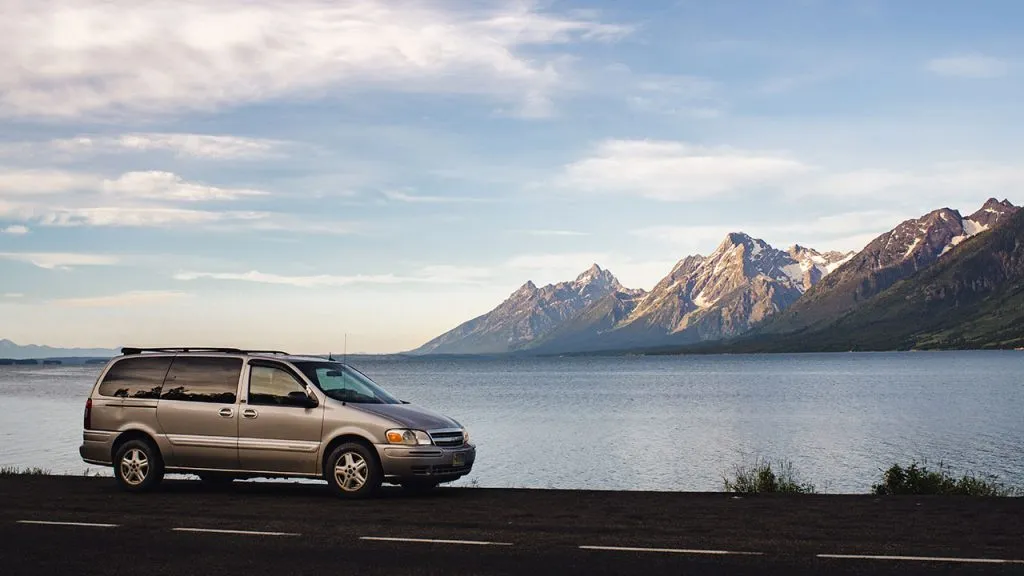 Checking out Grand Teton…
As stated, Grand Teton is the neighboring national park. While a separate entity from Yellowstone, it is absolutely worth the visit. Huge mountain vistas, swimmable lakes and wildlife aplenty make it easy to fall in love with.
I'd only suggest taking Yellowstone's south entrance if you're going to bundling a visit to the Tetons in with it.
Getting There
Proximity to Highways
Again, the south gate is a bit of a weird case as it essentially just connects straight to another national park.
As such, the gateway town of Jackson is about 2 hours from the interstate (I-15 in Idaho) and the gate itself is about 3 hours away.
Of course, you can also approach Jackson/south gate from other parts of Wyoming using classic two-lane US highways.
Road Conditions
Getting to Jackson or the south gate can get a little more questionable depending on the season.
Coming from the east, Highway 26 crests over Togwotee Pass, a high elevation mountain pass that is well maintained but has some steep grades. Use caution in the off-season as it usually gets snow even in May and early October. Views of the Teton Range are spectacular.
Coming from the south is another series of smaller mountain passes and valleys. None are particularly scary.
From the west (from I-15), you'd cross over Teton Pass. It's very well maintained but there's quite a few tight turns and steep grades. Snow can cause issues depending on the time of year.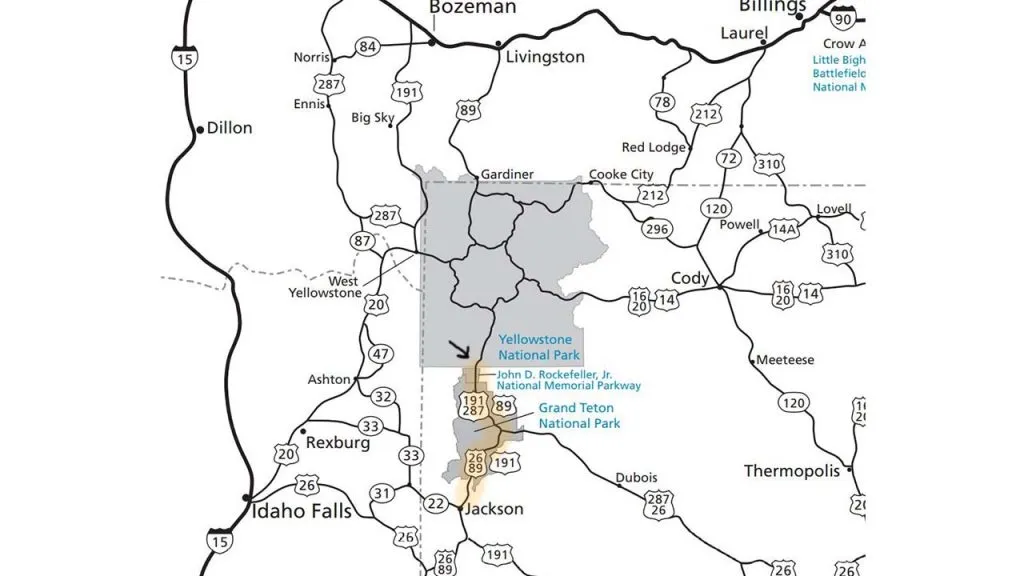 Places to Stay
Lodging & Hotels
As for lodging, I intend to write more when I make my future Grand Teton series of guides. I'll sum it up a bit here.
Try to get a room at Flagg Ranch as it's right on the border, but it will likely be expensive and/or fully booked.
Otherwise, a good budget spot would be the Hatchet Resort. It's located just east of Moran Junction (again, near the Tetons, not Yellowstone).
If all else fails and you still want to go through the south entrance, you'll have to stay in the town of Jackson. I worked in the Tetons for a season and rarely saw anything drop below $200 in town. Great place to go though if you want (very) luxurious accommodations, I'm just too broke to afford it. 🙂
Camping (Free & Paid)
Camping is also sparse near the south gate. Immediately outside the entrance is, again, Flagg Ranch. They often have a campsite or two open, so I'd check there first.
You could also try to get a campsite at Lizard Creek or Colter Bay, but both are also likely to be booked as they are in the park.
If that fails, drive south, and then east when you hit Moran Junction (in Grand Teton). There's a lot of independent campgrounds along Highway 26.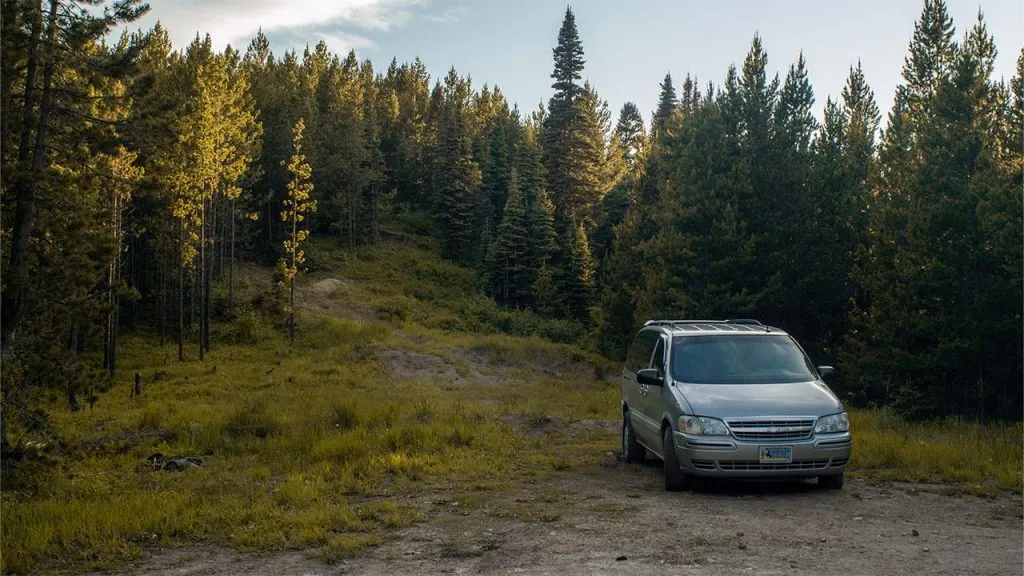 Proximity to Park Attractions
Although the south gate itself is decently close to major attractions, the accomodations and amenities aren't.
Unless you get lucky, you'll likely be staying down in or around Jackson. Jackson is over an hour from the south gate, and then Old Faithful is an additional hour from there.
Like I said, I'd avoid the south entrance unless you're also planning to visit Grand Teton (which you should!).
Popularity & Crowds
The town of Jackson is insanely busy. I worked in Grand Teton in 2021 and always dreaded having to go to town. During peak season, expect a 1 mile backup to get into town from the west and north, almost non-existent parking in downtown, and overinflated hotel prices.
Jackson is great for shopping and restaurants, but I avoid it like the plague otherwise.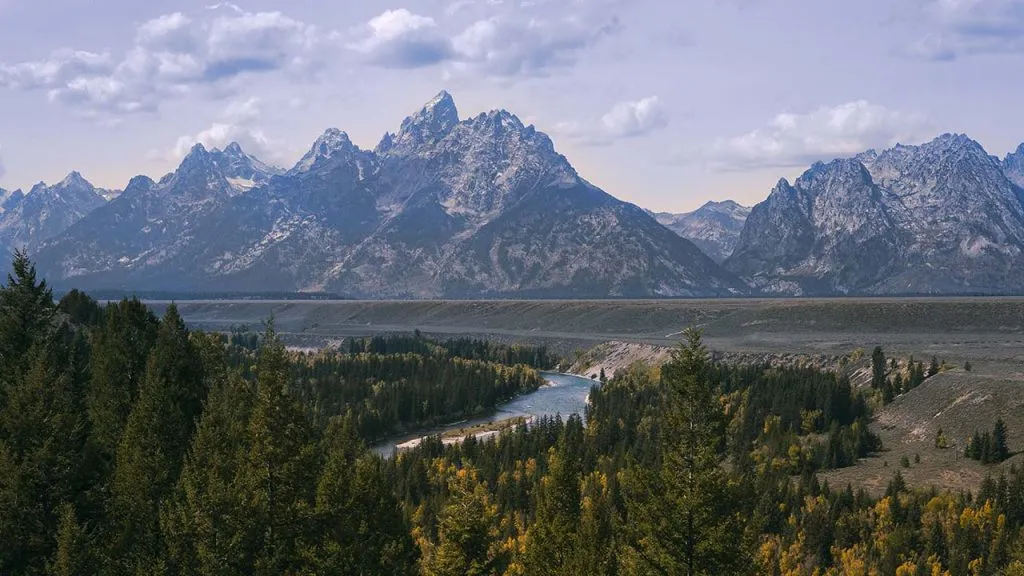 Groceries & Restaurants
Speaking of which, Jackson has a couple grocery stores. Albertsons and Smiths are both on the west side of town by the highway and offer typical, normally priced food.
As for restaurants, I'd suggest checking out Fiesta Mexican Restaurant. It's in an industrial side of town, so it's largely free of tourists. Portion sizes are gigantic and prices are really reasonable.
Otherwise, if you're passing through Grand Teton, stop in at Signal Mountain Lodge (a few minutes west of Jackson Lake Junction) for dinner! The nachos are (locally) famous and it's just a great place to eat. Tell 'em I say hi. 🙂
Things to Do in Town
Museums
Right outside of town, just as you pass the 1-mile long southbound traffic back up, you'll find the stunning National Museum of Wildlife Art built into the hillside.
It, hence the name, features wildlife art in the form of paintings, sculptures, etc. Quite a cool place, and worth a stop if you've got some time to burn.
Explore the Tetons!
My biggest advice for things to do in Jackson is to get out of town and just go explore the Tetons!
Keep following Highway 89 north until you hit the Moran Junction, then enter the park and do a loop back down south through Inner Park Rd.
Or, if you're going straight up to Yellowstone, take the first left into the park towards the Moose entrance gate. Drive up Inner Park Rd and it'll eventually end about 30 minutes from the south gate of Yellowstone. There's plenty of signage to help you navigate.
Make sure to stop at Signal Mountain, Jenny Lake, Snake River Overlook, and all the other amazing photo stops!
Conclusion
So yeah, the south entrance acts mostly as a gateway to and from the neighboring Grand Teton National Park. If you're dead set on visiting only Yellowstone, just avoid the south entrance.
However, I'd highly highly recommend bundling in a visit to the Tetons, even if it's just for a day. In the future, I'll be writing a mega guide on Grand Teton (I worked there for a year) so keep an eye out for that.
In the mean time, if you're looking for more info on the other entrances, make sure to check out my main Yellowstone entrance guide. Thanks for reading. 🙂
Like I said, I plan on writing a massive Grand Teton guide that'll also cover the amenities of the south entrance. If you don't want to miss it, consider signing up for my email list! <3