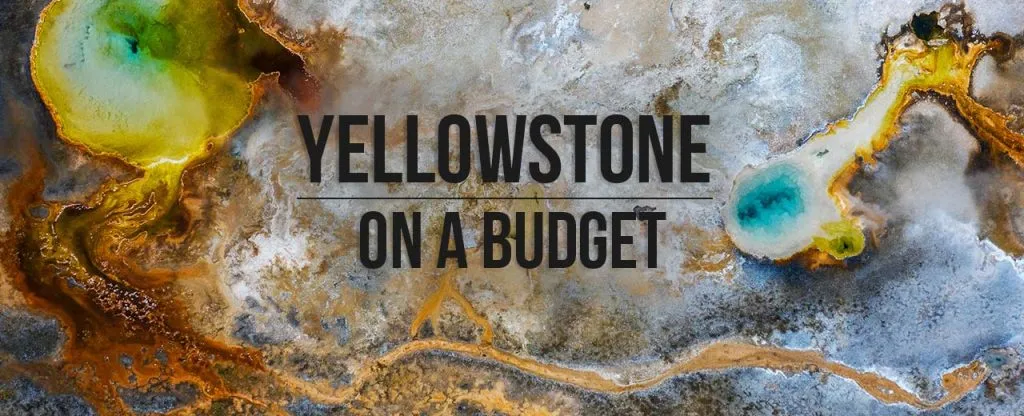 Marvelous mudpots, grandiose geysers, fearsome fumeroles, terrific travertine terraces and, of course, glorious hot springs. Yellowstone, founded in 1872 as the worlds first national park, is a wonderland of natural beauty and is home to half of Earth's hydrothermal features.
I first visited Yellowstone a few years ago, headed out there on a whim after scoring a seasonal summer job outside the east gate. I knew very little about the place, but was exciting to add another location to my ever-growing list of national parks.
That summer, using my seasonal workplace as a "home base", I (van) camped and explored all over the Greater Yellowstone Ecosystem every single weekend, checking out a new and marvelous part of the park on every trip. The year after, I came back again as a tourist.
Visiting the world's first national park doesn't need to be expensive. In this article, I want to go into depth about how you can visit Yellowstone on a budget. You may have to poop in a bucket some nights, skip showers for a few days at a time, and survive off a camp stove, but it's entirely possible to explore America's Wonderland (the park's old nickname) without breaking the bank.
Let's jump on in!
What's the cheapest time to visit?
So what's the cheapest time to visit Yellowstone? Anytime during the off-season, which I define as: May, early June, late September, and early October.
During those times, some services (and roads, on occasion) may be closed, but the peace (and price) of the park can't be beat. Check out the official park roads page to see what's open.
Getting to Yellowstone (on a budget)
Getting to Yellowstone is where things start to get complicated. The simple truth is that Yellowstone is incredibly isolated.
There's plenty of airports to fly into (namely West Yellowstone, Jackson, Cody, and Bozeman being the closest), but then you'll need to get a car. There's virtually no way to do Yellowstone without a vehicle unless you're OK with hitchhiking everywhere. This means you have to rent a car, and that can REALLY add up in price.
Due to that, I'd highly recommend driving yourself if possible. From my home city of Milwaukee, it's about a 21 hour drive. That's quite a long distance, but the money you save on car rentals will allow you to stay even longer and stretch your budget out even more.
If you're in a time crunch, fly, but expect to pay a lot on a rental. If you have time to kill, drive. It's fun, and you save money both in car rental fees and lodging (more information on car camping later in the article).
Which entrances to visit?
If you've done any research into Yellowstone, you've seen that there's five different entrances. They are all geographically different with varying levels of amenities. I have another article that goes into vastly more detail on the specific entrances but I'll quickly sum them up below. Do note that Yellowstone is a MASSIVE park, so there's a lot of drive time between the different gates.
West Entrance (West Yellowstone, MT)
The west side is the "main" (busiest) entrance, featuring a small town called West Yellowstone. The town itself has a variety of lower budget hotels and some cheap, decent options for food.
While the town, in my opinion, is a little drab, it's a great place to base yourself, as it's the closest entrance to many of the major attractions such as Old Faithful and most other geyser basins.
North Entrance (Gardiner, MT)
Next up is the north entrance. The gateway town here is called Gardiner, an old railway town that quickly grew up into a basecamp for park explorers. Nowadays, it's a quaint little town nestled between mountains, straddling the massive (and beautiful) Yellowstone River.
Accommodations and dining range from reasonable to expensive, and there's plenty of free camping nearby (more on that later). This is a great spot to chill for a few days if you're looking to explore the Mammoth Hot Springs area of the park.
Northeast Entrance (Cooke City, MT)
The northeast entrance is a little more low key, being the least trafficked side of the park. The town is Cooke City, an old mining town that never quite capitalized on the level of tourism as other gateway towns have done. It's got a few options for lodging, some decent restaurants, and a couple gas stations. The surrounding area is very rustic and it offers easy access to Lamar Valley for wildlife watching.
Going east (the opposite way of Yellowstone) out of town leads you to the breathtaking Beartooth Highway. It's an often overlooked scenic drive, but it's genuinely one of the most stunning places I've ever been. I would highly suggest spending a day or two camping around the Beartooth Range (more details on camping later).
East Entrance (Cody, WY)
The east entrance, while quite isolated itself, is a one hour drive from the town of Cody, WY. Cody is a very large town (by Wyoming standards) that features all sorts of lodging options, some great restaurants, and a fantastic museum.
The drive from Cody to the east entrance is incredible. The highway snakes through the Wapiti Valley, following the violent Shoshone river. Theodore Roosevelt himself claimed this highway was, "the fifty most beautiful miles in America,". I would highly recommend spending a couple days out near the east entrance.
South Entrance (Jackson, WY)
The south entrance is rather unique as it connects to Grand Teton National Park (also worth a visit). There's virtually nothing in terms of amenities outside the south gate, but the town of Jackson is about one hour further to the south.
Jackson and the south gate fall squarely under "Grand Teton" territory as far as I'm concerned, so I won't be touching on the south entrance much in this article.
How cheap can it actually be?
These articles that claim you can travel on a "budget" are always hit or miss since everyone's financial situation is different. I'm not going to tell you that it's possibly to spend $5 a day and survive here. When you're on vacation in a tourist-heavy location, you're going to be paying a lot for the privilege.
That being said, it can be cheap. If you camp (tent or car) every day, cook your own food using a propane stove, shower at campgrounds or in the river (use eco friendly soap), it can be ridiculously affordable. If you treat yourself to a cheap hotel every few days and go out to eat on occasion, you'll spend more. It all depends on your tolerance for discomfort and "roughing it".
During my summer in Yellowstone, I camped for free every weekend (dispersed camping in the nearby National Forests) and made meals on my camp stove. My $1200 minivan wasn't a five-star hotel, but it had a bed, heat, and 4wd to get way up those rustic Forest Service roads.
The only fixed, unavoidable cost is the park entrance fee. It's $35 for a week, but it's worth spending $80 to get the "America the Beautiful" pass that allows access into ANY national park, forest, etc. This allows you to visit the neighboring Grand Teton along with any other beautiful locations on your roadtrip back home.
Again, your budget is largely individual and also what you make of it. If you live far away, you'll pay more in gas to get here. If you want a more comfortable experience, you'll pay more for hotels. Do remember, going to Yellowstone is often a once-in-a-lifetime trip, so there's nothing wrong with pushing your budget a bit. 🙂
Lodging in/around Yellowstone on a Budget
All right, let's talk about lodging and camping, as everyone needs a place to spend the night. The most important thing to note is that your chances of getting any sort of accommodation in the park itself is incredibly slim. Hotels are usually booked nearly a year in advance and, to top it off, are extremely expensive.
Thus, you'll have to look at camping (also usually booked in the park) and lodging in the gateway towns. In this section, I'll break down all the lodging options, price ranges, and general availability.
As for camping, I do have an article that goes MUCH more in depth on free campsites, but I'll list a few of my favorite free or cheap spots for each entrance gate below.
Cheap/Free Camping (Tent or Car)
In the Park
As stated prior, even campgrounds are generally booked up far in advance in the park itself. That being said, if you're planning for a future trip, you may be able to set up a pretty decent itinerary.
Campgrounds are managed and booked by the parks concessionaire (here's their website). In-park sites, even during the off-season, are usually booked at least a month out, so make sure to keep an eye on when they open up the bookings for the year. Sites range from anywhere between $25-$80 USD, offering anything from tent sites to 30′ RV pull-throughs.
Many of the campgrounds offer showers (noted below) even for non-campground guests. In 2021, however, every campground banned non-guests from using the showers. As of time of writing, I'm unsure if this will still be the case in following years.
Bridge Bay Campground
Bridge Bay Campground, located near the shore of Yellowstone Lake, offers 432 sites, flush toilets, potable water, and easy access to the beautiful alpine lakeshore.
Nearby attractions include the gorgeous Lake Yellowstone Hotel (very historic), the lake itself, a multitude of hikes, and relatively quick access to Hayden Valley for early morning wildlife viewing.
Canyon Campground
Canyon Campground, aptly named due to its proximity to the Grand Canyon of Yellowstone, offers 273 sites, showers and flush toilets. It's proximity to various attractions makes it an excellent basecamp.
Canyon Village itself offers restaurants and general stores. The nearby Grand Canyon of the Yellowstone is stunning. A massive river cuts through the canyon, cascading down the 108 feet tall waterfall called Upper Falls.
Canyon Campground is also close to Dunraven Pass, allowing easy access to the Tower Falls/Roosevelt area and Mt Washburn, two other iconic Yellowstone spots. (note: Dunraven Pass has been closed for two years due to construction, as of time of writing I'm not sure what the status is)
Grant Village Campground
Grant Village Campground, located on the western end of the lake, offers 430 sites with flush toilets, plenty of showers, and easy access to a bunch of geyser basins.
Explore the nearby West Thumb geyser basin, where bubbling pools meet the crystalline waves of Yellowstone Lake. A bit further south is the Continental Divide itself and some gorgeous waterfalls.
Madison Campground
Madison Campground, located near the park's western entrance, offers 278 sites with flush toilets but no showers. Out of all campgrounds in the park itself, Madison arguably has the best location.
It's minutes from Old Faithful, and less than a 30 minute drive to the town of West Yellowstone for any sort of shopping needs. For one of the most beautiful natural features you'll ever see in your life, this campground is just a few minutes away from Grand Prismatic, the legendary rainbow hot spring.
Camping at the West Entrance
If all the campgrounds in the park are booked (and that is likely the case), then you have to start looking outside near the entrance gates. West Yellowstone (west entrance) doesn't have any easily accessible free areas, as far as I know, but they do have some really cheap options.
In the town itself, there's a couple RV campgrounds, namely the KOA and "Yellowstone Grizzly RV Park". Both are solid options if you're looking for an affordable place to camp in town itself.
Otherwise, the surrounded national forest is rife with cheap campgrounds. To the northwest, there are two: Rainbow Point and Lonesomehurst, both on beautiful Hebgen Lake. Being in the national forest, these are owned by the US Forest Service and are booked through a website called recreation.gov.
These campgrounds are popular, but nowhere near as busy as the park. I've snagged same-day reservations many times in these Forest Service campgrounds. There's also a few more nice ones as you drive further north towards the Big Sky ski resort. Oftentimes, these Forest Service campgrounds run less than $25 a night.
Camping at the North Entrance
The north entrance is where it gets interesting. There are some cheap camping options in town such as the "Rocky Mountain RV Park", but what makes Gardiner unique is that there's plenty of free camping if you're willing to rough it.
A lot of the land northeast of Gardiner is public, and some of it allows camping (this is known as "dispersed camping", which is another very long article I'll write eventually). There's not really any particular spots, but a lot of it is on "Jardine Road" going up the mountains outside of town.
After a couple miles of driving down this well-maintained gravel road, you'll start to spot vans, trucks and RVs parked in pull offs. As silly as it sounds, this is one of my best ways of finding free camping. If there's a lot of campers parked there and it's not an official campground, it's very likely both free AND legal. Pull up next to them and get some sleep. As a bonus, the town is still a short drive away for bathroom breaks, snacks, etc.
My camping guide has plenty more information that couldn't fit in here.
Camping at the East Entrance
The east entrance offers anywhere from RV campgrounds to rustic tent sites. The town of Cody itself has plenty of RV campgrounds (I've stayed at Ponderosa a few times) all in close proximity to grocery stores, restaurants, touristy stuff, etc.
Driving west through the incredible Wapiti Valley (again, Teddy's "fifty most beautiful miles in America.") brings you to many Forest Service campgrounds. These hover around $20 and are either on a first-come-first-serve basis or are bookable via the aforementioned recreation.gov.
I personally love camping outside the east entrance. It's very quiet, affordable, and there's very few tourists ambling around. Bonus points if you can snag a spot on the stunning Shoshone River itself.
Camping at the Northeast Entrance
The northeast entrance is the least busy, but that also means there's plenty of opportunities to sleep in the woods. Right outside of town, there's a few campgrounds that are, again, reserved through recreation.gov.
Keep driving east, however, and you'll end up near the Beartooth Highway. Not only is this an unbelievably stunning drive, there's also about a dozen campsites going all the way up the pass. Once again, they are Forest Service sites that are cheap and generally open, bookable online or on a first-come-first-serve basis.
The northeast entrance, while very isolated, is a great way to escape the crowds and enjoy the silence of nature. Again, check out my free camping guide for more info.
Camping at the South Entrance
The south entrance is a bit of a special case. As I mentioned prior, this is getting more into the territory of Grand Teton, which is an entirely separate subject. There is a large campground at Flagg Ranch, just outside the gate, but it's usually heavily booked, even in the off-season.
Proceeding west of Flagg Ranch, down "Grassy Lake Rd" offers some free options, but it's an incredibly rough road. 4wd, good tires, and high clearance are pretty much required.
Driving an hour south takes you to the city of Jackson, which is an upscale ski town that lacks almost any reasonably priced options.
Hotels in Gateway Towns
While I'll always suggest roughing it, there are some affordable options in the gateway towns. I've never stayed at some of them, so I'm largely going off recommendations from fellow travelers and the places I've stopped in at (or in other words, stole their wifi). I'll link to my specific entrance guides below (those articles go into more detail).
At the west entrance, hotels tend to trend around $160. The Gray Wolf Inn and the Hibernation Station are usually a bit cheaper and have high ratings.
At the north entrance, you'll find a few reasonable options, such as the Park Hotel, Absaroka Lodge, and Ridgeline. These are all around $120 in the off-season.
As for the northeast entrance, you won't find many options since there's not much there. However, I have friends who have liked High Country Motel (usually less than $150 during peak season). Just avoid Soda Butte Lodge.
Cody, at the east entrance, is a gem for affordable lodging. Higher population and a lot of competition mean good prices for us frugal travelers. Lots of good options here: Big Bear Motel, Legacy Inn, Antlers Inn, and the Irma Hotel (built by Buffalo Bill). These all tend to hover around $100 during the off-season and are great places. Pahaska Tepee Resort, while a bit outdated, is cheap and located right outside the gate itself.
For visitors of the south entrance, again, you'd be looking at Jackson, WY. Jackson is incredibly expensive, and there's no affordable (or available) lodging near the south gate itself.
---
---
Food & Drink
Next up, we'll talk about the other essential: sustenance.
Yellowstone, at all the major touristy stops, has plenty of food options. However, these are generally takeout only, overpriced, poor quality, and suffer from understaffing and overcrowding. Grabbing a $12 sandwich at Old Faithful will do in a pinch, but if there's better alternatives, it's not worth it.
You can bring snacks, cook meals yourself on a camp stove, or fatten up in the gateway towns before exploring.
Cook or Bring Food for Yourself
My favorite way to save money while on the road is to just cook stuff for myself. My second purchase (first, the bed) for my crappy old campervan was a portable stove. I've always used this popular and generic two-burner stove from Coleman. Couple that with a random camp kitchen set and some spices and you've got yourself a mobile kitchen.
Soups reheat in the camp stove nicely, as does ramen (get the fancy stuff). My girlfriend has also made oatmeal on it, although that was quite a pain to clean afterwards. Other than cooking, just grab snacks. Clif bars for energy, trail mix is always a great option, and even fresh fruits if you can eat them before they spoil.
Yellowstone has tons of picnic areas, which are small campground-like pull offs with tables, garbage cans and pit toilets. Some are tucked in the woods, some overlook epic vistas. Remember to leave no trace, pack out anything you bring in, and don't leave any food laying around for wildlife.
Restaurants in the Gateway Towns
Besides cooking for yourself, the various gateway towns offer a nice variety of affordable food options. I have a more thorough list in my park entrances articles, but I'll make a shortlist here of places I have personally tried.
At the west entrance, Bear Country Bakery is a great place to get breakfast foods and baked goods. Las Palmitas, a taco shop located in a bus next door, offers cheap prices and a great atmosphere, but their food is average at best. Subway, to be honest, is boring but it is a lot of calories for your dollar…
At the north entrance, I'd suggest Yellowstone Pizza Company. It wasn't the greatest pizza on earth, but it was a lot of food for what I paid and it tasted pretty damn good. Mountain Tacos, a small taco/burrito shop on the west side of town, is also an awesome option.
The east entrance is where I've tried the most. Michael's Tacos is AMAZING and won't break the bank, great service and fantastic food. The Breadboard is a drive through breakfast joint, just located in a tiny shack with great sandwiches and reasonable prices. Finally, if you're looking to treat yourself, The Station is an awesome crepe restaurant situated in an old gas station. Epic atmosphere and great crepes.
As for the other two entrances, there's not much I can recommend. I haven't tried anything at the northeast side (there's not much there) and the south entrance, again, doesn't have anything until you push down through Grand Teton.
Where to get water?
Finally, where the heck do you get water? I'd suggest getting a giant jug, whether that be the plastic kind (you can use it for a while) or a nice reusable one. I used mine for drinking, hand washing, cooking and cleaning pots/utensils. Every morning, I'd fill it up at a business or a hotel.
Speaking of which, there's plenty of places with free water in and around Yellowstone. For starters, most of the hotspots in the park have typical water bottle filling stations. You'll generally find them in the hotel lobbies or stores.
Outside the park, you'll find water stations in rec centers (as is the case in Cody) and hotels. Otherwise, plenty of restaurants will gladly refill a bottle for you if you're not afraid to ask.
Cheap/Free Activities in Yellowstone
So, now you know the ins and outs of actually surviving in Yellowstone, so what do you do and what to do you see?
Yellowstone is huge. I don't feel as if I thoroughly explored it despite spending an entire summer season working there. The nice thing is, once you pay the park entrance fee, everything in the park itself is free.
Check out Thermal Features
The biggest reason most tourists visit Yellowstone are the incredible, world-famous thermal features.
First off, Old Faithful is iconic, but there's way more to see than just the famous geyser itself. Old Faithful is situated in an area known as the Upper Geyser Basin over 100 other geysers, hot springs, and fumaroles. I'd highly recommend taking a hike around the entire boardwalk. Morning Glory Pool and the Observation Overlook (a small, easy hike) are my two favorite parts of the Old Faithful area.
Second, Grand Prismatic. It's a 300-ft wide natural hot spring that, due to the heat-loving bacteria, features a massive range of rainbow colors. It's a quick walk from the parking lot, but you can also hike the longer overlook trail (starting at the Fairy Falls parking area) to get a birds-eye view of this incredible wonder of nature.
Other than those two, just explore! Norris geyser basin, West Thumb basin, Black Sand, Biscuit Basin and Mammoth are all incredible spots to check out as well. Make sure to check out the Canyon area as well. Yellowstone is simply a wonderland of geysers and hot springs no matter where you go!
Looking for the "hottest" swimming spots in Yellowstone? Check out my favorite swimming spots!
Hike (part of) the 900 Miles of Trails
The park, thanks in part to its huge scale, features around 900 miles of official hiking trails. These range from easy jaunts through the woods to extreme mountain summits.
For waterfall enthusiasts, I'd suggest checking out my favorite Yellowstone waterfalls. Special mention to the iconic Lower & Upper Falls of the Yellowstone River.
For fellow alpine enthusiasts, I'd highly recommend either Avalanche Peak or Bunsen Peak. Both, while being incredibly steep, are not technically challenging. With enough water and patience, most hikers should be able to make it to the summits.
The park has such a wide range of hikes for all skill levels, and there's no way I could sum it all up without making this article massive.
Enjoy the Stargazing
Yellowstone, being a national park far away from civilization, suffers from very little light population. As a result, the night sky is abound with stars and, if you squint a little, you can faintly see the Milky Way.
For the best celestial viewing, get far away from the main touristy spots (away from lights). I'm a big fan of Sylvan Pass near the east entrance. The photo below was taken close by.
Hunt for Some Wildlife
No, not that kind of hunt. Drive (or hike) around and try to find some wildlife! Yellowstone is home to about 5000 bison, around 700 bears, plenty of elk, and even some wolves.
Hayden Valley, connecting the Lake area with Canyon Village, is the go-to spot for bison. Herds wander through the grassy plains and, occasionally, across the road. There's plenty of easily accessible pull-offs and parking lots, just don't be surprised if you get stuck in traffic (in other words, a bison jam!).
Lamar Valley sits in the northeastern part of the park. Being a bit more isolated, it sees less tourists but just as many animals. Bison tend to roam this area, and the local wolf packs sometimes come out to hunt. If you're (extremely) lucky, you may get to see them feasting on a fresh kill!
As for bears, you just have to get lucky. The east entrance, especially in the National Forest, has plenty. Bears are often timid and avoid roads.
Explore the Gateway Towns
If you're looking to get a taste of more civilization, the gateway towns offer plenty to do. West Yellowstone, Gardiner, and Cooke City offer a lot of typical tourist shops, selling t-shirts, stickers, and hoodies. Cody has a few higher-end, "authentic" western outfitters.
Each town is rife with history. Cooke City was an old mining town while Gardiner was the original gateway to Yellowstone. West Yellowstone has a neat train museum while Cody offers the incredible Buffalo Bill Museum, which is a must-see if you have a full-day to spend inside.
Majestic Mountains to the South
Finally, also consider a visit Grand Teton National Park, a majestic mountain range just out the south entrance. It features some of the most amazing mountains on earth, plenty of free camping, a multitude of (swimmable!) lakes, and plenty of wildlife.
In the future, I'll be writing a whole separate series of guides for the Tetons, as I worked there for a summer as well. It holds a very special place in my heart.
Final Notes
Want to live in the park for free? Work there!
The final thing I want to mention is that the best way to visit Yellowstone on a budget is to just work there! It's easier than you'd expect to get a job working for the concessionaires (the companies that run services).
The work is generally thankless and the pay sucks, but you're providing three meals a day and a (very) cheap place to live, whether that be in the national park or just outside of it.
I can't fit all the ins and outs of seasonal park work here, so I'd suggest reading this guide to national park work that my girlfriend wrote. It's a wealth of knowledge and has all the information you'll ever need if you're interested in working in a national park.
Conclusion
That about sums up this article. Hopefully I've shown you that visiting the world's first national park doesn't need to break the bank. If you're willing to rough it a bit and be uncomfortable, it's relatively affordable!
Looking for some catch-all information? Check out my main mega guide.
This is my first article on this site, but I've got many more planned. Guides that go more in-depth about specific parts of Yellowstone, international travel and even just my personal musings and adventures. If you want to follow along, sign up for my email list below!
Thanks for reading! 🙂 – Chance