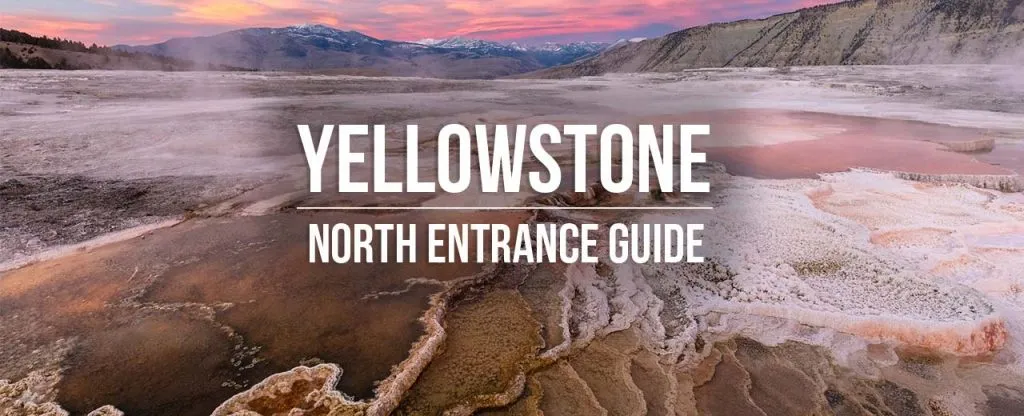 Yellowstone's north entrance is serviced by the gateway town of Gardiner, MT. Originally founded as a small hunting camp, the village quickly grew to serve soldiers, miners, and early tourists.
Straddling the mighty Yellowstone River, Gardiner offers plenty of lodging and food options whilst being close to major park attractions.
I've worked in the park for two years, so in this article I'll share all my information and tips/tricks about the north entrance. If you're looking for info on the other park entrances, check out my main guide. 🙂
Let's dive in!
Where is it?
Getting to Gardiner
The town of Gardiner sits in a large valley about an hour south of I-90 (via Livingston, MT).
Although fairly isolated (as are all of Yellowstone's entrances), it's still reasonably close to a major interstate highway, unlike the other gateway towns.
Road Conditions
The road to Gardiner follows an old railroad line that used to be the main gateway for tourists, miners, and supplies to enter the park.
Today, Highway 89 snakes gently through the valley, avoiding any sort of crazy heights or twisty-turns. As a matter of fact, it's one of the only two entrances open during the winter, if that says anything about how safe the road is.
Places to Stay in Gardiner
Lodging & Hotels
Gardiner, despite being one of the smaller towns, offers a limited set of really nice lodging. Although there are a few sketchy motels, most lodges at the north entrance are clean and affordable.
Below I'll list a few of my favorites. It won't be an exhaustive list by any means, just ones that I have experience with or have heard great things about. Keep in mind that any hotel near Yellowstone will be expensive, and prices also vary wildly throughout the season.
Low Budget
Yellowstone Big Rock Inn – it may look a bit generic, but has a great reputation for cleanliness along with views of the surrounding mountains
Absaroka Lodge – some dated rooms, but clean and certain units offer awesome views of the Yellowstone River
Mid Budget
Riverside Cottages – as the name implies, these are small but mega-cute cottages overlooking the Yellowstone River
Village Inn & Suites – generic name aside, this hotel is clean and offers a small pool and complimentary breakfast
Ridgeline Hotel – nothing special or unique about this one, just clean, spacious, and relatively affordable
High Budget
Park Hotel Yellowstone – a small converted 1902 house offering fancy western-themed rooms with views of the mountains
The Roosevelt – a newer hotel that looks vintage, has nice rooms, good views, and a warm vibe
Dreamcatcher Tipi Hotel – incredibly expensive, but pretty much the fanciest glamping you'll ever see
As I said prior, most of the hotels around Gardiner are pricey. If you're willing to rough it, you can save a lot of money by camping. Speaking of which…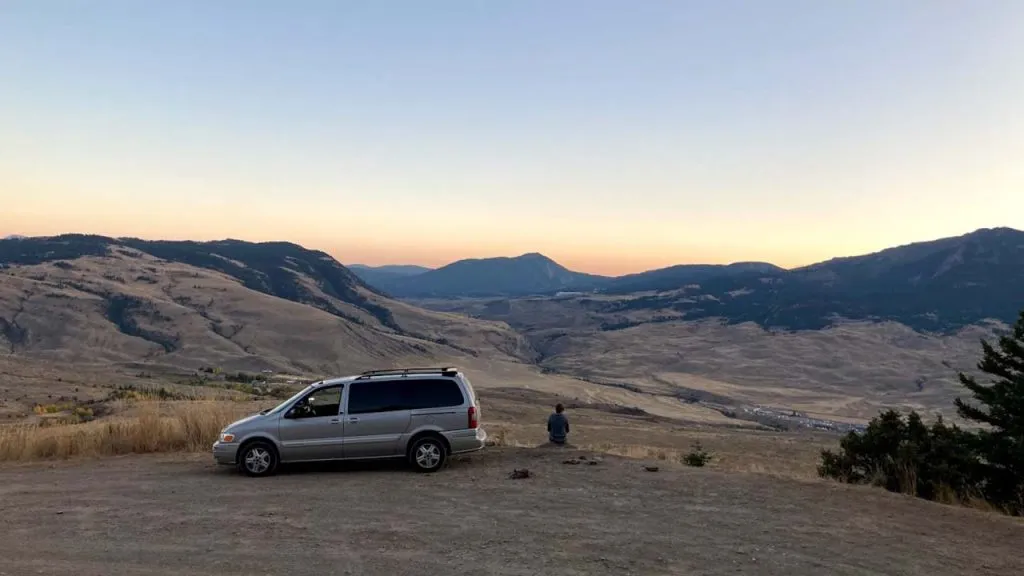 Camping (Free & Paid)
Paid Camping
There are a few RV sites in and around Gardiner.
My personal suggestions would be either Rocky Mountain RV Park or Yellowstone RV Park (on the west side of town).
Free Camping
Free camping, however, is where the north entrance really shines. The foothills/mountains to the east and north of town are mostly public land that allows dispersed (rustic) camping.
I've gotten sweeping views of the Gardiner Valley for completely free that no hotel could hope to offer. It's a lot of information to go over, so check out my dedicated free camping guide if you're interested in roughing it for a couple days.
Proximity to Park Attractions
Thermal Features
Mammoth Hot Springs, being right inside the north gate, is only a few minutes from Gardiner. It's worth checking out, and I'd highly suggest wandering the boardwalks along the Upper Terrace.
For history fans, Mammoth used to be a military base and many of the building you see today are from that time period.
Waterfalls
My fellow waterfall enthusiasts will love the north entrance. You're just a short drive from some amazing cascades such as Rustic Falls and Undine Falls. Canyon Village, known for it's iconic Lower Falls, is about an hour past the gate.
Check out my favorite Yellowstone waterfalls article for more information and specific spots to check out.
Hiking
The north entrance is a hiker's paradise. My favorite go-to in the area is Bunsen Peak, a short summit that ends with sweeping views in all directions. A bit more mileage can be added on to get to Osprey Falls.
For something a lot more extreme, check out Electric Peak. It's a brutal 20 mile roundtrip with over 5000 feet of elevation gain, but the views at the top are pretty much unmatched. Definitely not recommended for casual hikers.
Popularity & Crowds
Due to offering such close proximity to a lot of attractions, the north entrance can also be pretty overcrowded.
The same advice applies: get in line for the entrance early (before 7am) and expect lodging to be booked heavily in peak season.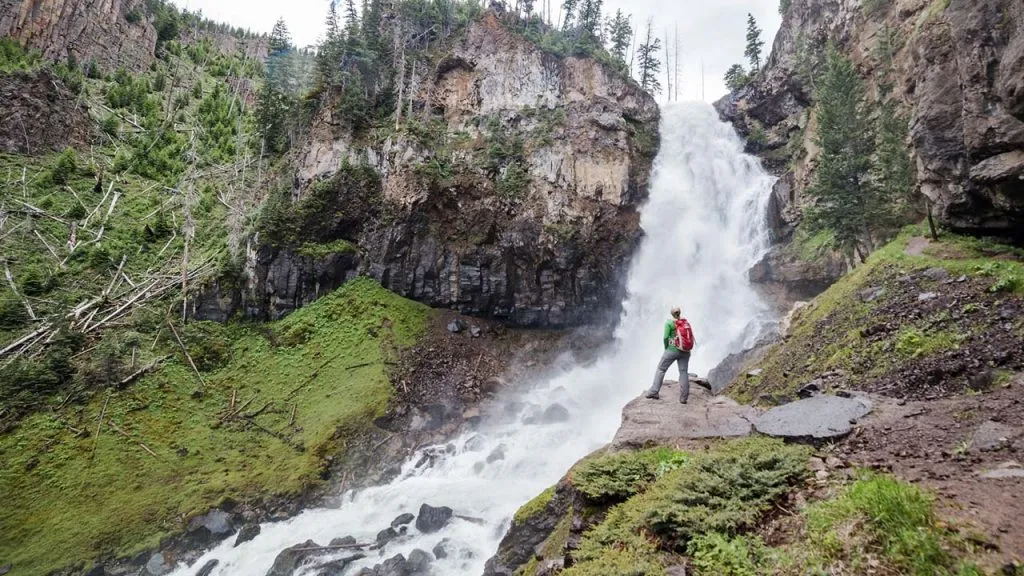 Restaurants in Gardiner
Next up, I'll list a few of (my personal) favorite restaurants. There's plenty of options though, so don't take my list as fact! I'll also try to summarize the average prices of each place.
Breakfast
Tumbleweed Bookstore & Cafe
Tumbleweed tops my list purely for the good vibes. It's a small wooden building that houses a bookstore and cafe inside! Chilling outside on the patio is a great way to start the day, and their food is pretty reasonably priced.
A standard egg, cheese and ham breakfast sandwich will set you back $4.50, while a breakfast burrito starts at $5. They also serve sandwiches for lunch and dinner!
Wonderland Cafe
Next up is the Wonderland Cafe, a small restaurant tucked inside a hotel. While they're not a strictly breakfast-based restaurant, they offer a large selection of baked goods (anywhere from $3+).
For lunch and dinner, they have fully fleshed out menus.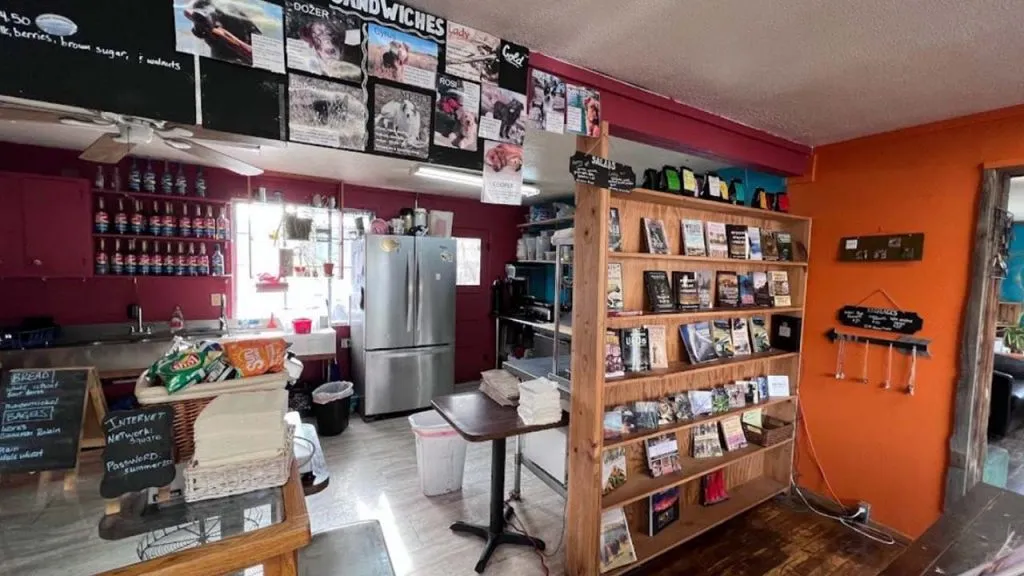 Lunch & Dinner
Mountain Tacos
If you've read any of my other posts, you know I love a good taco, and (hence the name) that's what Mountain Tacos provides.
A "taco plate" will run $11.50, while a burrito will cost you about $13.50. It's a little pricier than some other spots in town, but portion sizes are large and the food is delicious. Well worth it.
The Corral
If you're a burger fan, The Corral is a great option. It's a pretty typical burger joint that seems to cater more towards families, but they've got some tasty food.
A bison burger will set you back about $17, while a side of jalapeno poppers costs about $10.
Yellowstone Pizza Company
If you're looking for pizza, the aptly named Yellowstone Pizza Company is the place to go.
I've only stopped in once, but I loved their "Narcissus" pizza (vegetarian pesto-based pie). If I remember correctly, it ran me about $19.
Groceries
If you're looking to save some money, "Gardiner Market" is the only grocery store that serves the town. It's a little pricey, but nothing too out of the ordinary.
I'd suggest stopping at a grocery store off the interstate before making the trek down to Yellowstone, as you'll pay a lot less if you're closer to "normal" civilization.
Things to Do in Gardiner
Museums
While there aren't any museums in the town itself, the Albright Visitor Center is a quick hop over in Mammoth.
It's a museum dedicated to Yellowstone's wildlife and geothermal history situated in a 1909 army building. Pretty neat, and I'd suggest checking it out when you're in Mammoth proper.
Additionally, check out the Roosevelt Arch. It's the original 1903 park entrance and is situated right out of town. Architectural impressiveness aside, it's a nice reminder that Yellowstone wouldn't be what it is today without the effort of early conservationists like Roosevelt himself.
Tour Companies
Although I avoid any sort of "park tour" type companies, there's some awesome rafting guides in town.
Flying Pig Adventures offers rafting trips, horseback riding, and fly fishing. Prices are honestly somewhat reasonable too, as I don't believe their tours go into the park itself.
Other
Another fun thing in town is the elk rut! Each fall, usually starting in September, elk fight for mates across much of the Greater Yellowstone region.
While the bulk of this happens in Mammoth nearby, I've seen elk duking it out in the streets of Gardiner.
It's incredibly cool to see them right in town, but remember to stay at least 25 yards away.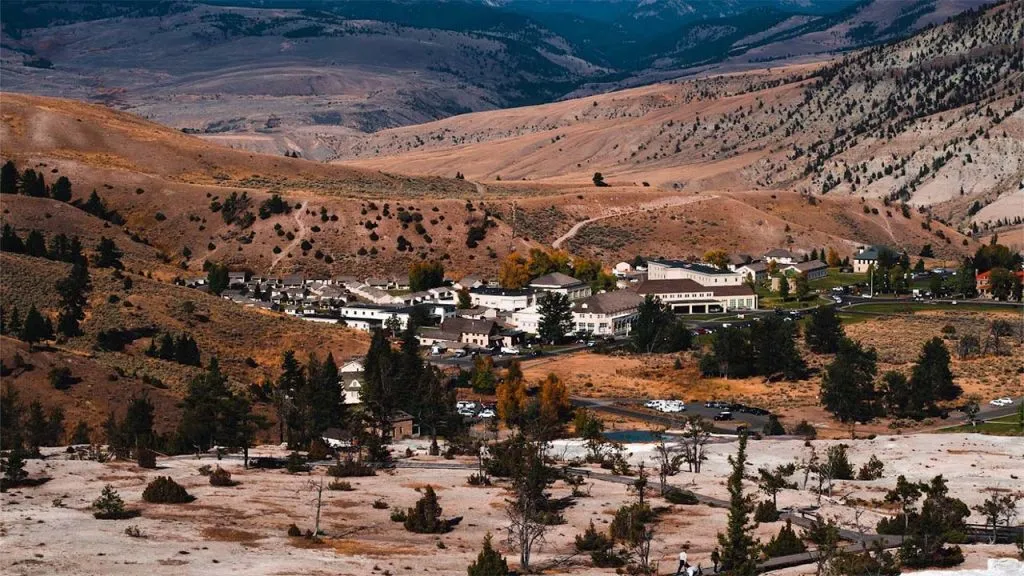 Conclusion
That's about all you need to know about the north entrance! If you're looking for the park's best hiking and waterfalls, I think Gardiner is the place to start.
Feel free to put any additional questions you might have below and I'll do my best to answer them! Otherwise, if you're looking for more information on the other entrances, check out my huge main guide. Thanks for reading! 🙂
If this post was helpful, consider subscribing to my email list to stay up to date on all my future adventures and travel guides!