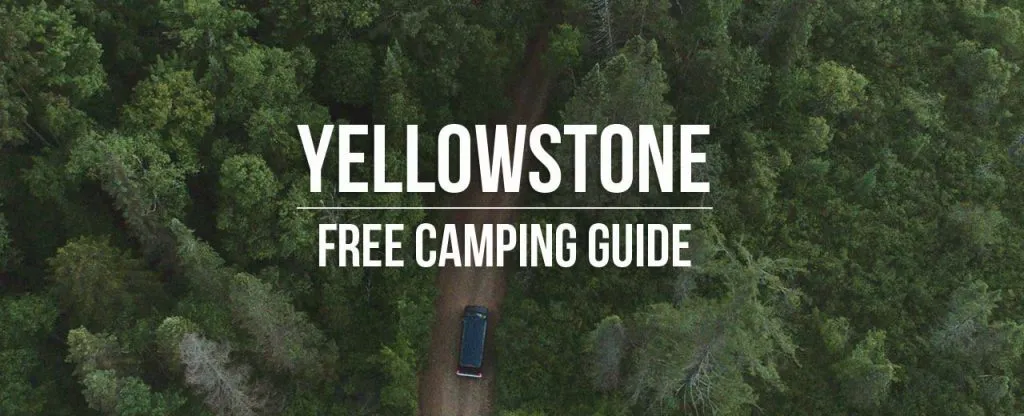 Visiting Yellowstone but don't want to shell out an arm and a leg to afford any sort of hotel? Camping outside the various entrances will be your best bet.
I worked in Yellowstone for a summer, and camped for free nearly every single weekend. Perhaps you found this article through Google or through my Yellowstone master guide.
In this post, I'll go over some of my favorite free spots, and then give you the tools you need to find your own.
The first section will cover my favorite spots for each entrance, and then the second section will be a quick overview on how to find your own.
Let's jump into it!

My Favorite Free Camping Spots
So, first up, I'll list a few of my top spots for each gate. These are known as "dispersed camping" areas, meaning roadside camping is legal and free.
This article is mostly aimed at car camping, but there's nothing stopping you from plopping down a tent in these areas.
It's very important to note that these spots may not exist anymore or the rules may have changed. Some roads likely require 4wd and/or high ground clearance.
Seek them out and camp at your own risk. Use common sense, if your vehicle can't make it, turn around.
At the bottom of each of these sections, I'll include a map or two with the locations highlighted. You should be able to use Google Maps to locate all of these.
Dispersed Camping is the term given to camping in the United States on public land other than in designated campsites.
West Entrance (West Yellowstone, MT)
None of the west entrance campsites will be particularly scenic, given the area's flat geography, but they're free, legal and close to town.
On the south end of town, there are two forest roads that, after a certain point, allow free camping anywhere along the road. I've camped down here before and simply pulled off to the side the best I could. On Google Maps they are labeled as "FS 1700/Plateau Rd" and "FS 1737/Park Edge Rd".
Going out of town to the west, you'll find a few more dirt and gravel roads snaking off through the woods. There are two options here as well. First, you can follow "FS6958/Whiskey Springs Rd". This one doesn't allow camping for about half of it, but the latter half does. I've highlighted the particular stretch of road on the map below.
The other option is following Yellowstone Avenue until it turns into Old Airport Rd. Eventually, it'll branch south and turn into "FS478/S Fork Rd". Nearly the entire stretch of this road allows free, dispersed camping.
Looking for the best food in West Yellowstone or just things to do? Check out my west entrance guide.
North Entrance (Gardiner, MT)
Next up, we have the northern entrance. There's a wealth of free and beautiful campsites around here. There's plenty of spots that have sweeping views of the Gardiner Valley, offering views of the town, river, and, in some spots, even Mammoth Hot Springs.
The most easily accessible location would be a small patch of gravel just up "NF493/Jardine Rd". This goes northeast out of town and, while gravel, is very well maintained and should be easily passable in any sort of car. There's a tiny stretch (highlighted on the map below) where roadside camping is legal. You should see plenty of other vans/campers there. Just pull up next to them and get some sleep.
There's a lot of different roads that connect to Jardine Rd. Going north from Eagle Creek, you'll find a snaking gravel road ("NF3243" that leads up a mountain. Most of it allows free camping (highlighted below) but do be warned that it's got some rough terrain. Views are fantastic though!
Finally, there's one more road called "Travertine Rd" that branches off outside of town. This will eventually turn into "FS1701", a gravel road that leads up the foothills of Sheep Mountain.
My crappy old minivan struggled a bit on the way up, but it was passable and absolutely worth it. You'll pass an old quarry littered with graffiti and, if you keep driving, you'll stumble upon sweeping views of the valley and plenty of space.
Make sure to check out my main guide if you're looking for the best food in Gardiner!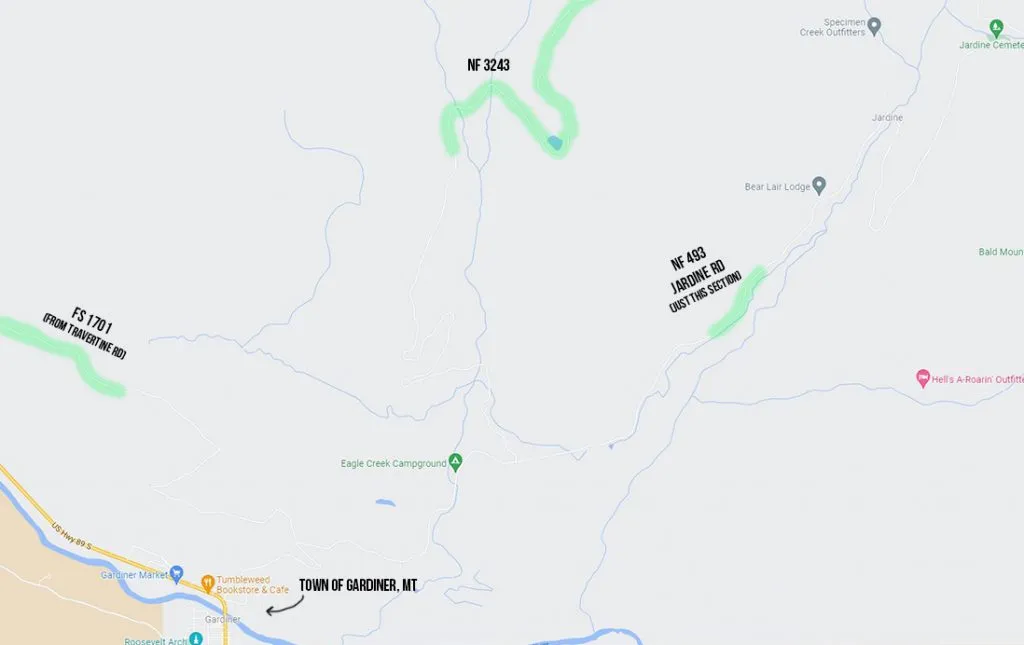 Northeast Entrance (Cooke City, MT)
The northeast entrance is a paradise for free camping. Pretty much any road going up the mountain north of town is legal to camp on. Most of the roads are rough though, and 4wd or at least solid ground clearance is suggested.
About 45 minutes east of town is where it gets interesting, however, as that's where the Beartooth Highway begins. Although it goes in the opposite direction of Yellowstone, it's one of the most stunning drives I've ever done. The highway crests over 10000 foot peaks and skirts massive cliffs.
"FS130" leads to the gorgeous "Lily Lake" and camping is allowed along any pullouts on the road. "FS118" snakes through the south foothills of the range, offering sweeping views of the nearby dramatic mountains.
"FS142" has a few gravel pulloffs and features an observation tower/lookout point at the summit. Should be easily accessible in most cars.
Just south of Island Lake (highly suggest swimming there, by the way), "FS149" leads to two other lakes that both allow free camping nearly up to the shorelines (if you can find an open spot).
Again, the Beartooth Highway is somewhat far from the park, but it's worth a day of exploring, especially since the camping is incredible.
Read more about the Beartooth Highway in my northeast entrance guide.

East Entrance (Cody, WY)
The area around Cody, while somewhat commercialized, still offers some free camping, especially on BLM land (Bureau of Land Management).
Directly outside of the west side of town, you'll find a road called "Spirit Mountain Rd". While you won't see street signs, it shows up on Google Maps.
The entire way up allows free camping, but I'd suggest stopping in one of the huge gravel pull offs near the base of it. My minivan didn't have any issues.
Otherwise, the rest of the spots you'll be looking at are down the N Fork Hwy headed towards the park. Teddy Roosevelt himself called this road the "fifty most beautiful miles in America,".
The first location is right by the Red Barn Convenience Store (it's literally in a red barn). Go up "Green Creek Rd" until you eventually drive over a gate-type thing. At that point you'll be back in the National Forest (highlighted on the map below), and there's a few really nice, clear pull-offs with sweeping views of the Wapiti Valley. Use caution if it's muddy (firsthand experience…).
Next up is "Sweetwater Creek Rd" that runs north out of the Wapiti Campground. The bridge here is oftentimes closed, making it inaccessible, but if it's open, you'll have a nice forested setting with a few creeks. A bit of a rough road, however.
Besides that, the east entrance lacks any other free camping (as far as I'm aware), but there are plenty of cheap paid campsites along the N Fork Hwy.
Despite the pitiful lack of free camping, the east entrance offers a LOT of cool stuff to do.

South Entrance (Grand Teton Area)
The south entrance butts up right against Grand Teton National Park, so there's not a lot of options immediately outside the gate. That being said, there is one area called "Grassy Lake Rd". It's a VERY rough road, requiring 4wd and high clearance, but there's a lot of solid free options.
Despite a few paid primitive campgrounds, the area on the northwest side of the reservoir features a giant gravel lot that allows free camping.
Again, Grassy Lake Rd is very rough and shouldn't be attempted in a typical small passenger car. Also, as this is situated between two national parks, it's often quite busy.
I'd avoid trying to camp near the south entrance. However, there's some solid spots if you keep driving about an hour more to the south, but I'll be covering those in my future Grand Teton series (hint: check out the Hatchet Resort area east of Grand Teton).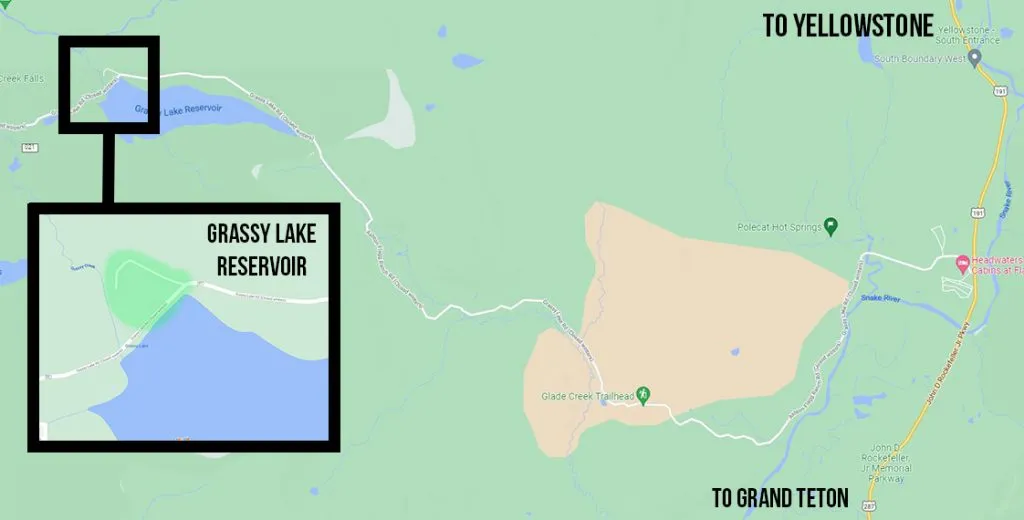 ---
Find Your Own Spots
I actually have entire entire article dedicated to dispersed camping that will give you MUCH more information, but I'll sum it up here really quick.
There are a couple primary ways you can find your own spots. First, just simply consult the internet. Check out apps like TheDyrt or, my favorite, freecampsites.net.
Keep in mind that campsites listed on the internet will often by overcrowded and overtouristed, that's where "finding your own unique spots" comes in.
Second, to find your own unique spots, you'll have to study US Forest Service maps. That is an incredibly complicated subject to dive into here, so I'll once again refer you to my much more in-depth dispersed camping guide.
Check out that guide and it'll give you all the information you'll ever need, it even uses a Yellowstone-specific example! 🙂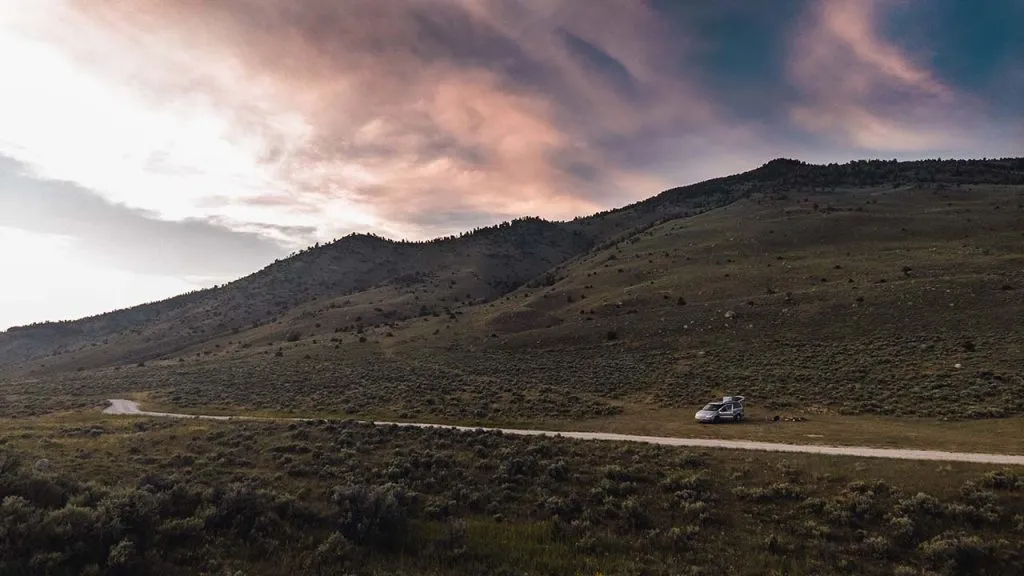 Conclusion
That wraps up this article. Hopefully this gave you some good information about good places to stay and, more importantly, how to find a good campsite by yourself!
Have fun out there and be safe. For additional reading, check out my main Yellowstone guide for everything Yellowstone or my more budget focused guide.
Thanks for reading. 🙂 – Chance