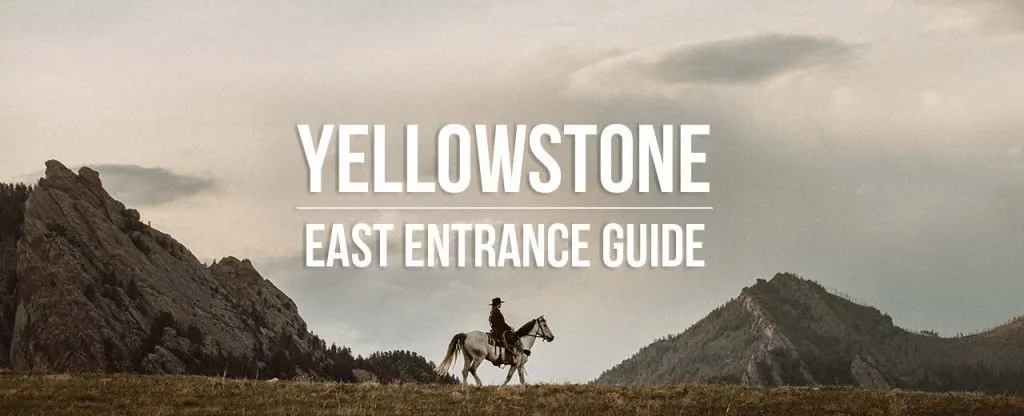 Today, we'll be looking at the east entrance of Yellowstone. The entrance itself is rather isolated as the gateway town of Cody, WY is about an hour away.
Cody, named after the famous Buffalo Bill Cody, is a large town (by Wyoming standards) that has plenty of shopping, hotels, museums, and food.
I spent an entire summer working at the east gate, so Cody is the town I'm most familiar with. As a result, this article is going to be HUGE. Also, as an additional note before we start, make sure to check out my guide to all entrances if you're interested in any other park gates.
In any case, let's jump into it!
Where is Cody, WY?
Proximity to Highways
Cody is only about an hour and a half from I-90 (again, the Laurel, MT corridor) but much further away from any other interstate. The Buffalo, WY section of I-90 is about 3 hours away.
I-15 (at Idaho Falls in east Idaho) is about 5 hours to the west, passing through the park itself. Finally, I-80 is over 4 hours south, accessible at either Rawlins or Rock Springs.
Still, Cody is at the intersection of many classic two-lane US highways, namely 14 and 120. For this reason, it's still easy enough to get to town (and the entrance gate).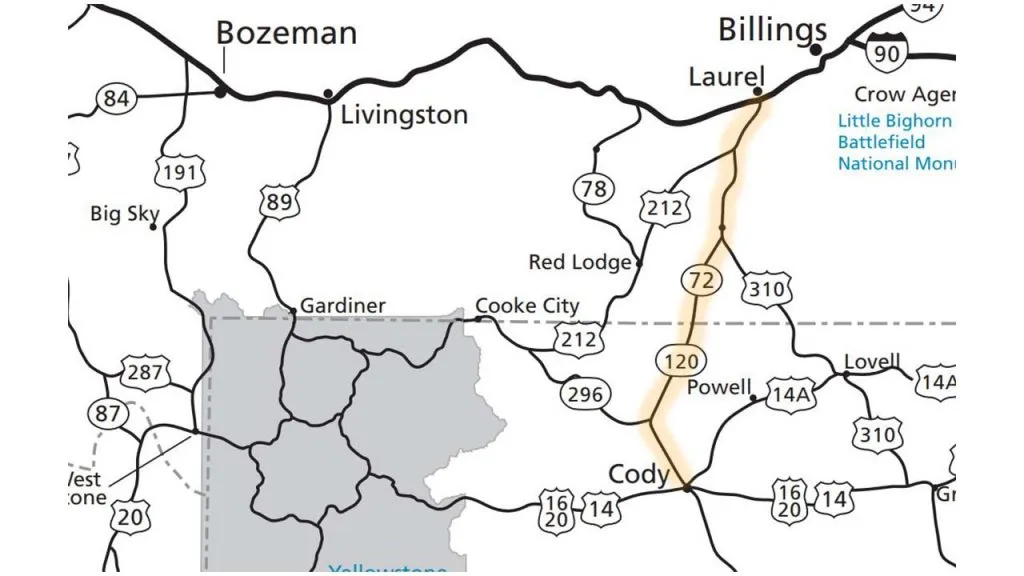 Road Conditions
Getting to Cody
Highways that lead to Cody are generally in good condition in the summer months. If you're an early or late visitor (May or October), snow can sometimes close roads.
Coming south on I-90 (from Montana), you should expect mostly flat roads with minimal grade changes or curves.
Coming over from the Wyoming side of I-90, however, may be sketchy depending on the time of year. You'll pass through the Bighorn Mountains, which, by virtue of being a mountain pass, is quite steep with a lot of tight turns.
Getting to the Park from Cody
Finally, the drive from Cody to the east gate itself is pretty relaxed. It's curvy, but the only dangers you need to watch out for are falling rocks on the roadway.
Yes, those "falling rocks" signs do actually mean something here. Rocks on the road are uncommon, but I've had to dodge a few of them over the years.
When you get into the park itself, you'll drive up Sylvan Pass, a very curvy and steep mountain pass. It's not inherently dangerous, but you do have to go slow and keep your wits about you. May be frightening for those with a fear of heights.
Buffalo Bill Scenic Byway
This Buffalo Bill Scenic Byway is the fancy name given to the road that starts in Cody and leads into the park proper, Highway 14/16/20 (also known as the N Fork Hwy).
Towering rock formations, the massive Buffalo Bill Reservoir and the meandering Shoshone River make this drive alone worth a visit to the east entrance.
Teddy Roosevelt named this the, "fifty most scenic miles in America," and it's not hard to see why. Seriously, some of the rock spires are mesmerizing, getting larger and larger the further you get from town.
Places to Stay in Cody
Lodging & Hotels
The town of Cody, along with the road to the east gate, has plenty of lodging options for all budgets.
There's a lot of hotels I like, but to keep this short I'll only suggest a few (in town and near the gate).
Hotels in Cody Itself
In Cody itself, my high budget/treat-yo-self pick would be the Chamberlin Inn. It's expensive, usually around $350+ a night, but the historic charm and amenities are unmatched. It's also right in downtown.
For those who can't shell out an insane amount on a hotel, then I'd suggest the Carter Mountain Motel. It doesn't look fancy and it won't win any awards for decor, but it's affordable ($120-$160 during peak season) and has a great record for cleanliness.
In that same category, we have both Western Rose and Cody Cowboy Village. Both are reasonably priced, generally around $170, and offer clean, if understated, rooms.
For those looking to delve into history, stay at the Irma Hotel. Buffalo Bill had it built in the early 1900s and named it after his daughter, Irma. He entertaining grand guests and often stayed there himself. There's a lot of very cool history at this old hotel, and it's not even that expensive.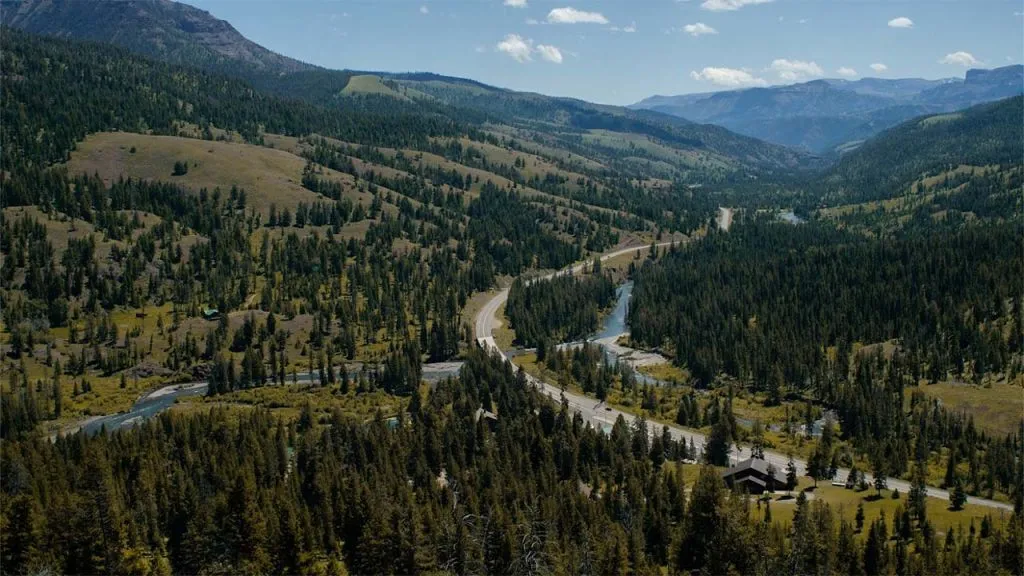 On the Road to the Park
Now, let's look along the N Fork Hwy on the way to the park itself. Although there's mostly high-end dude ranches and spa-filled lodges, there are also a few reasonably priced places for us simple folk.
Wapiti Lodge, about 20 minutes outside of town, usually runs around $190. This is a bit pricier than in Cody itself, but you're paying for location and epic views.
For location, however, you can't beat Pahaska Tepee. I am, without going to into detail… very well acquainted with Pahaska. If I'm being 100% transparent, it's not the cleanest hotel you'll stay in. Rooms are old, outdated, and their housekeeping team changes by the year.
However, Pahaska is the closest lodge to the east gate, making the location perfect. As a bonus, free tours of Buffalo Bill's original 1904 hunting lodge are offered. When I was there, the tour guide called himself "the modern Buffalo Bill" and looked shockingly like the real deal.
I'd book at Pahaska Tepee if you don't particularly care about amenities (or perfect cleanliness) and just want to get as close to the park as possible. Prices start at around $200.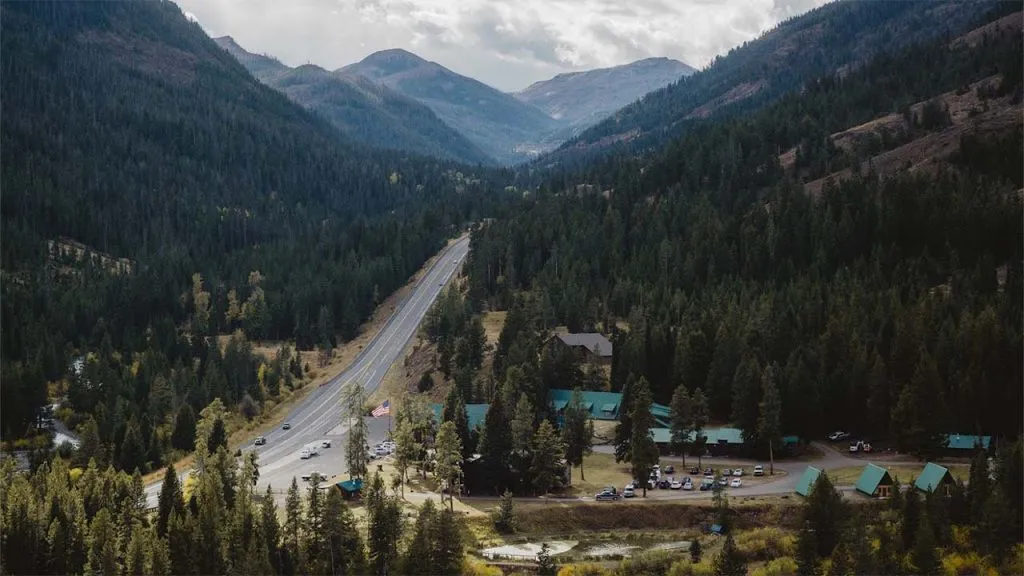 Camping (Free & Paid)
As for camping, there's a wealth of cheap campsites outside the east gate. They're maintained by the US Forest Service and are easily bookable through recreation.gov. The ones closer to the gate are generally booked quite far in advance, but you may get lucky!
In town, there's a few RV parks. I've stayed at Ponderosa a few times and really liked it, though they're prone to shutting off the water at random times. The KOA east of the airport is always a good pick as well.
Otherwise, there's a bit of free camping around Cody, especially around "Spirit Mountain Road" on the west side of town. More details in my aforementioned free camping guide.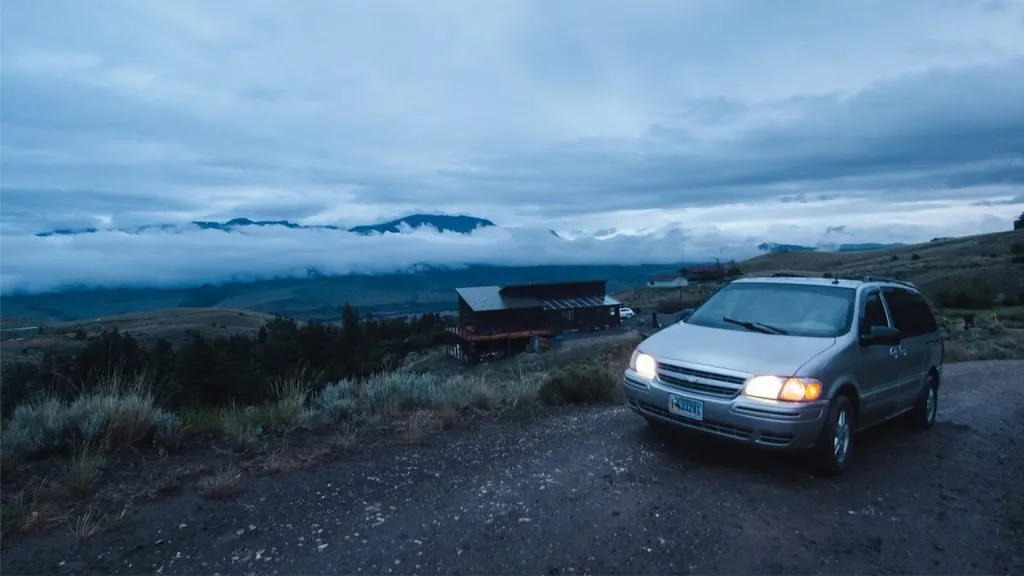 Proximity to Park Attractions
Proximity to the park is where the east entrance falls short. The town of Cody is an hour from the actual gate, and then the gate itself is about 45 minutes away from the first junction (at Lake Hotel). If you're trying to get to Old Faithful, for example, it can be almost 2 hours from the gate (or 3 from Cody).
I'd argue this is the biggest reason why lodging is so cheap in Cody, as it's so far away from anything that people want to see. Hower, if you're traveling from the east (I-90 for example), it's worth using Cody for a day as a jumping-off point for the rest of your adventures.
Additionally, as I mentioned earlier, the drive into the park is incredibly beautiful.
Popularity & Crowds
Cody, despite being so far away from the park itself, is quite popular. While not quite as busy as the west or the north entrance, it still sees plenty of tourists.
That being said, there's still plenty of normal people (locals) who live here, so you don't necessarily get the vibe that its "over touristed" like you might in West Yellowstone or Gardiner.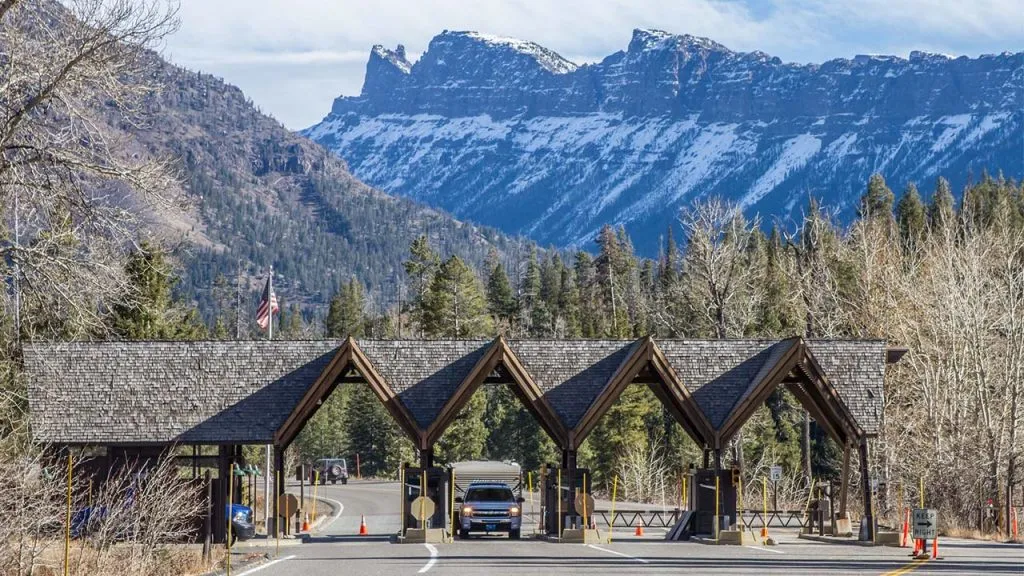 ---
Groceries & Restaurants
Grocery Stores
Unlike the previous three entrances, Cody is a large town with everything you'd find in a normal, American town.
Walmart is right on the west side of town, offering the same prices it does anywhere else. It's a Walmart.
Albertsons, a Kroger brand in disguise, is on the east side of town. A bit less busy than Walmart, and you don't have to step foot in a Walmart which is always a plus.
Finally, there's a nice place called Mountain High Health Foods. It's a fancy local Whole Foods type place (minus Amazon). Really great place to pick up any sort of eco-friendly products or specialty foods.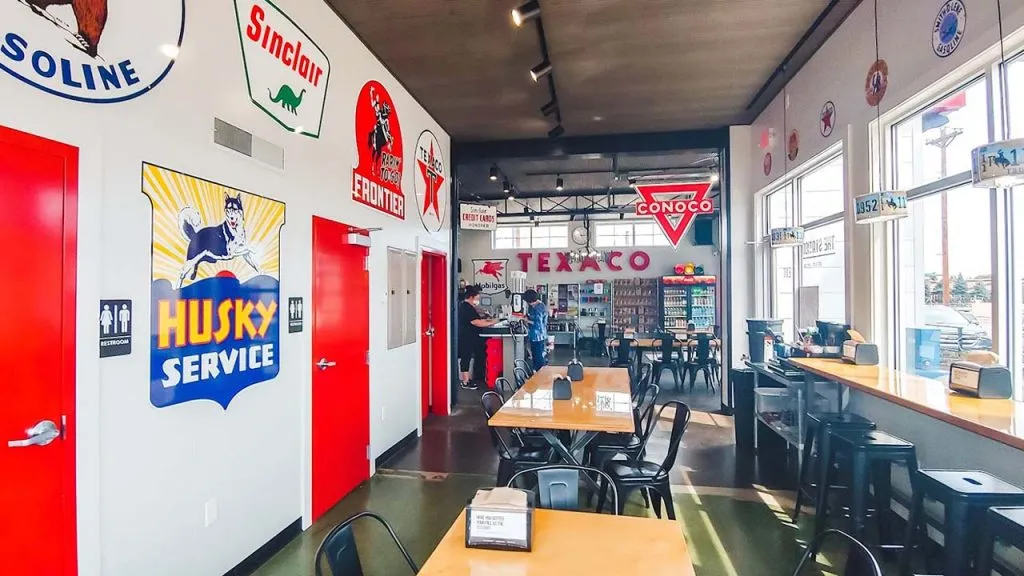 Restaurants in Cody
Cody has a host of great restaurants, many of which I've tried. Below is a list of my absolute favorites, and I'll try to give a general idea of the pricing as well.
Breakfast in Cody
The Station
For breakfast (or lunch, honestly), you can't beat The Station.
The restaurant, hence the name, is based out of a renovated gas station and serves crepes along with other breakfast foods. Get the Elvis crepe or the Turkeygurkin sandwich.
Crepes will run you anywhere from $5 ("plain") while sandwiches will run around $12.. They've also got the best smoothies in town (around $5).
The Breadboard
Another option is The Breadboard. It's a small drive-through restaurant situated in a parking lot. No seating, just a tiny shack that you order from.
Their sandwiches are amazing and the service is fantastic. Highly recommend the breakfast bagel deluxe (with bacon and scrambled eggs).
You can expect to pay anywhere from $5 (basic breakfast sandwich) to $10 (for a sub sandwich). They even offer 6 foot (yes, 6 foot) subs for $60+.
Heritage Bakery
Honorable mention to Heritage Bakery. While this wouldn't be my go to (it's expensive), the atmosphere and the people running it were amazing. I chatted with the owner for at least an hour about life in Cody, the restaurant, food, anything.
A small slice of quiche will run you almost $10 and the fresh-baked goods are quite pricey, but it's worth going at least once for the great vibes. Picture of the cute dining room included below.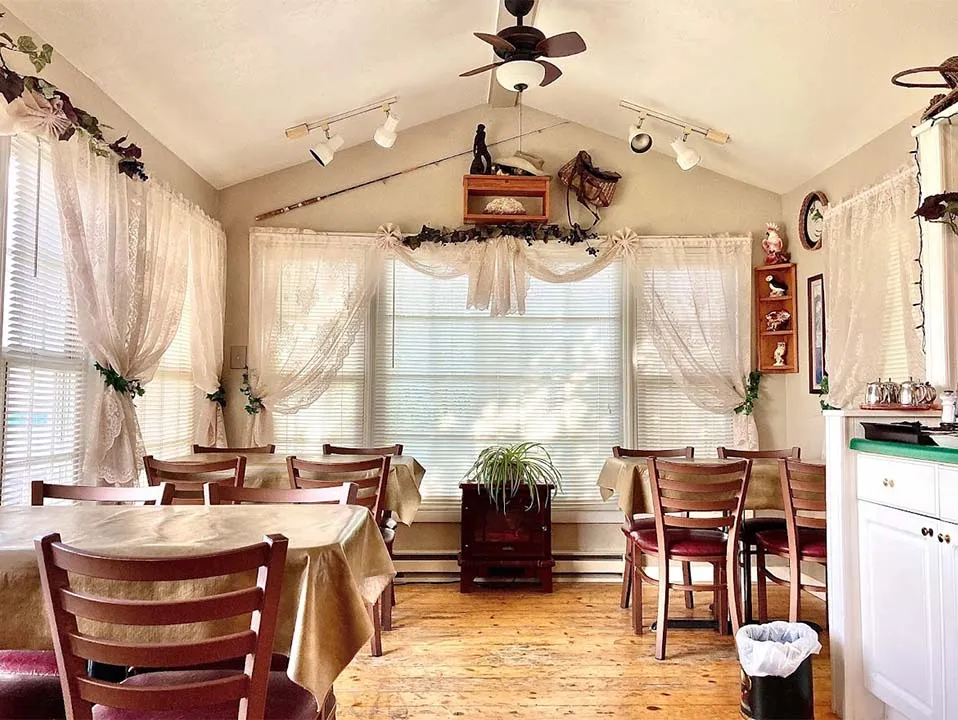 Lunch/Casual Dining in Cody
Fat Racks BBQ
If you're a BBQ fan, you gotta check out Fat Racks. Food is served out of a bright red food truck and it's all outside dining.
Though the menu doesn't have many options, the few dishes they serve they do damn well.
A beef brisket sandwich runs about $13 while pulled pork nachos are around $12.
Michael's Tacos
You wouldn't expect to find an amazing Mexican joint in middle-of-nowhere Wyoming but here it is!
Portions are massive, prices are dirt cheap, and service is awesome.
Their "big burrito" (accurate name) runs about $12 while the fajitas (what I had in the pic below) will run you around $15.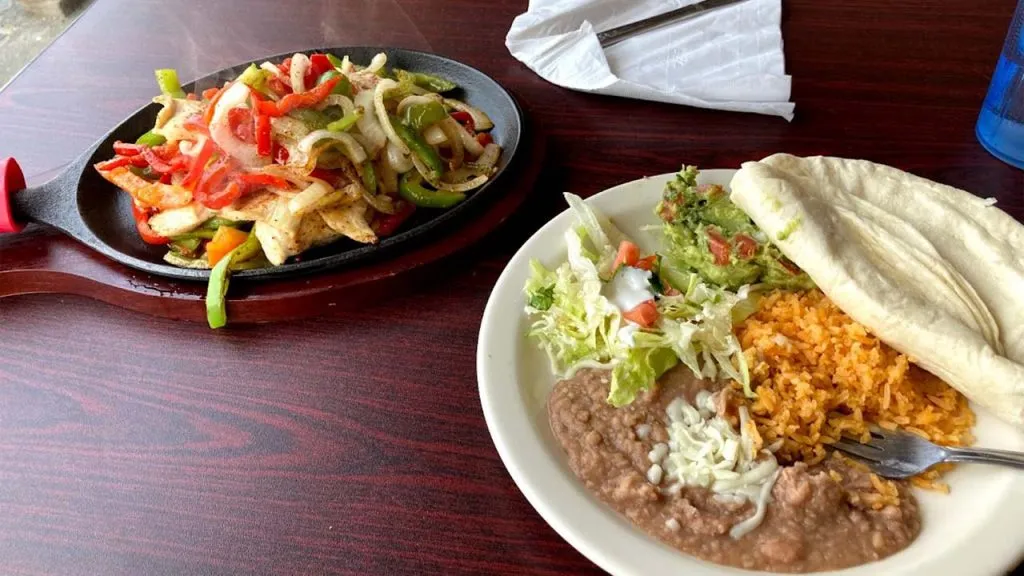 Fancy Dinners in Cody
Proud Cut Saloon
If you're looking for a nice place to sit down and have a big meal, I'd suggest Proud Cut Saloon first and foremost. Atmosphere is great and the food is solid.
Prime rib (20oz clydesdale) runs around $33 and lighter stuff, like salad, will cost around $15. Definitely a bit on the pricier end, but worth if you want good food and great vibes.
Shiki
Looking for sushi despite being hundreds of miles from any coast? Shiki has got you covered.
As a sushi fanatic, it's certainly not as great as offerings in larger cities, but for a small town in the middle of nowhere it's pretty damn good.
Prices can range anywhere from $10-$15 for 8 rolls. I enjoyed the jalapeno popper rolls the most (don't judge).
Food Near the East Entrance Itself
If you've decided to stay outside of town (closer to the park gate), there's still some REALLY great food options closer to the park.
Cutthroat Ranch
Despite the rather intimidating name, Yellowstone Cutthroat Ranch has EPIC food. I went there on a whim after being invited by a coworker at my east gate job. It's about halfway between Cody and the east entrance itself.
The atmosphere is very stereotypically western (wood, taxidermy, etc.) and the food is incredible.
I unfortunately don't remember the prices very well, but I think my burger (one of the best I've ever had) set me back about $17. Well worth it.
Shoshone Lodge
Located only 3 miles from the east gate itself, Shoshone Lodge is an AMAZING option for breakfast OR dinner (also a great place to stay).
You'll pay a bit of a premium being out in the middle of nowhere, but it's well worth it.
The huckleberry burger is my favorite (for dinner) and their french toast is honestly just fabulous.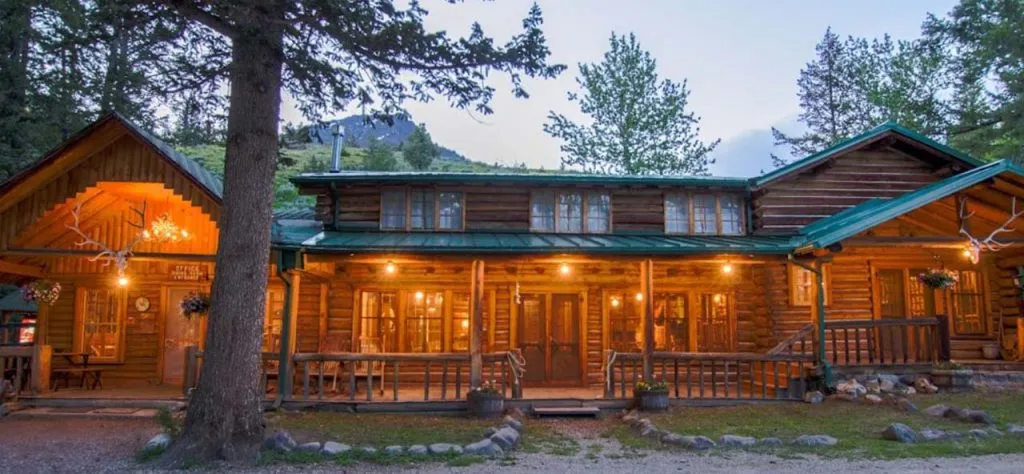 Things to Do in Cody
Unlike Yellowstone's other entrances, there's so much to do in Cody itself!
Museums
Buffalo Bill Dam Museum
Right outside the town is the Buffalo Bill Dam museum.
It's a lot more interesting then it sounds and I'd highly recommend checking it out.
The sense of scale is unreal and the museum runs through the dam's long (and oftentimes troubled) history. As a bonus, it's free!
Old Trail Town
Next up, the Old Trail Town is a collection of ghost-town relics and recreated buildings that mimic Buffalo Bill's namesake town as it existed in his time.
I fully expected a gimmicky tourist trap, but it was actually pretty neat! There's some seriously fascinating history from the late 1800s/early 1900s, and some of the buildings can be entered for an up-close look.
Tickets are $10 for adults and $5 for kids.
Buffalo Bill Center of the West
Finally, the crowning jewel of Cody: the Buffalo Bill Center of the West. I had my doubts when first stepping into it, but I ended up spending, no joke, two full days exploring it inside and out.
There's 5 museums packed under one roof. The first is the namesake Buffalo Bill Museum, chronicling the showman's life and his journey of creating the concept and mythos of the iconic American West.
Next, the Plains Indian Museum delves deep into Native American life, offering a view of artifacts, stories, and famous people. Features an art gallery with works from modern Native artists.
The Natural History Museum is a partially-interactive section that's more geared for kids, but it covers Yellowstone's natural history and wildlife. You can touch pelts and smell sulfur pits.
The Western Art Museum section is stunning. Hundreds of paintings, from (literally) unknown artists to Remington and Thomas Moran (my favorite western artist). One of the coolest art museums I've been to.
Finally, the Firearms Museum. I'm not a gun guy, but this section pulled me in. Over 10,000 artifacts, most perfectly maintained or restored. They even have the musket that, they claim, fired the first shot in the Revolutionary War.
The Buffalo Bill Center of the West alone is worth stopping in Cody for a day. I did not think I'd get so engrossed in a museum, it was amazing.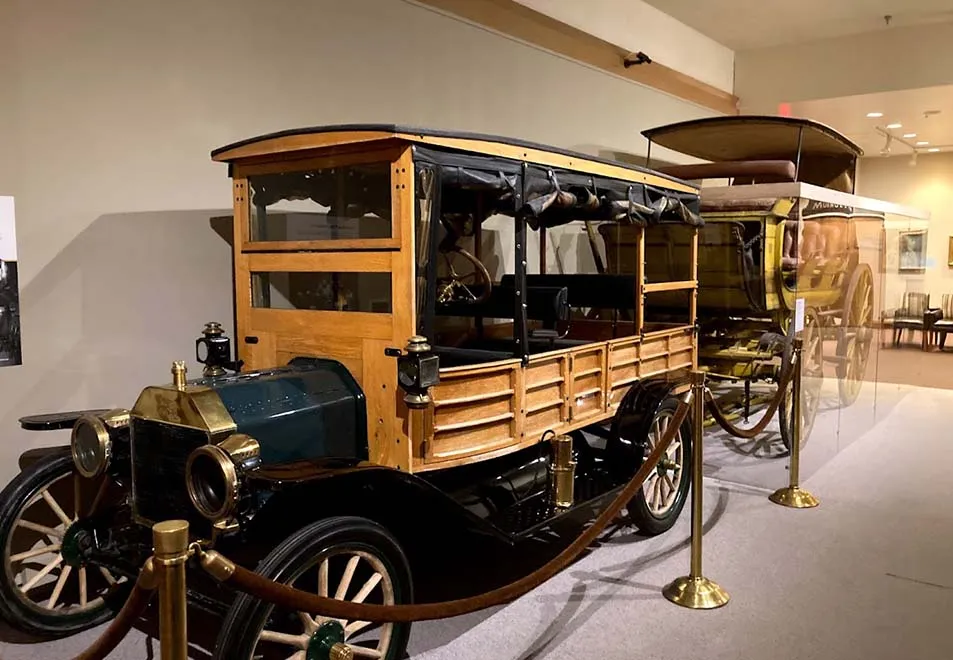 Other
The Iconic Cody Rodeo
The self proclaimed, "Rodeo Capital of the World", makes the Cody rodeo an iconic spot to visit.
It's very stereotypically "yee-haw", but I'd suggest checking it out as it's one hell of a time. Lots of noise, lots of chaos, and a LOT of cowboy hats.
Trolley Tours
I'll admit, this one is a bit goofy and usually these sorts of tours are not really my thing. However, the trolley tours delve into history and could also be a fun option for families with kids.
It's $28 for adults and $16 for kids. The trolley will take you around town and the surrounding area and point out historically relevant locations, facts about the town, etc.
Conclusion
Whew, that was extremely long. Hopefully that told you everything you ever needed to know (and more) about Yellowstone's east entrance.
Cody, despite being pretty far from park attractions, is still an awesome place to stay for cheap lodging, great restaurants, the incredible Buffalo Bill museum, and scenic drives.
Like I said, I worked outside the east gate for a year, so I'd be willing to answer any questions, feel free to drop them in the comments below. Otherwise, if you're looking for info on other entrances, check out my main Yellowstone guide. Thanks for reading, folks. 🙂
If you loved this article, feel free to subscribe to my email list to keep up on my future adventures and travel guides! <3