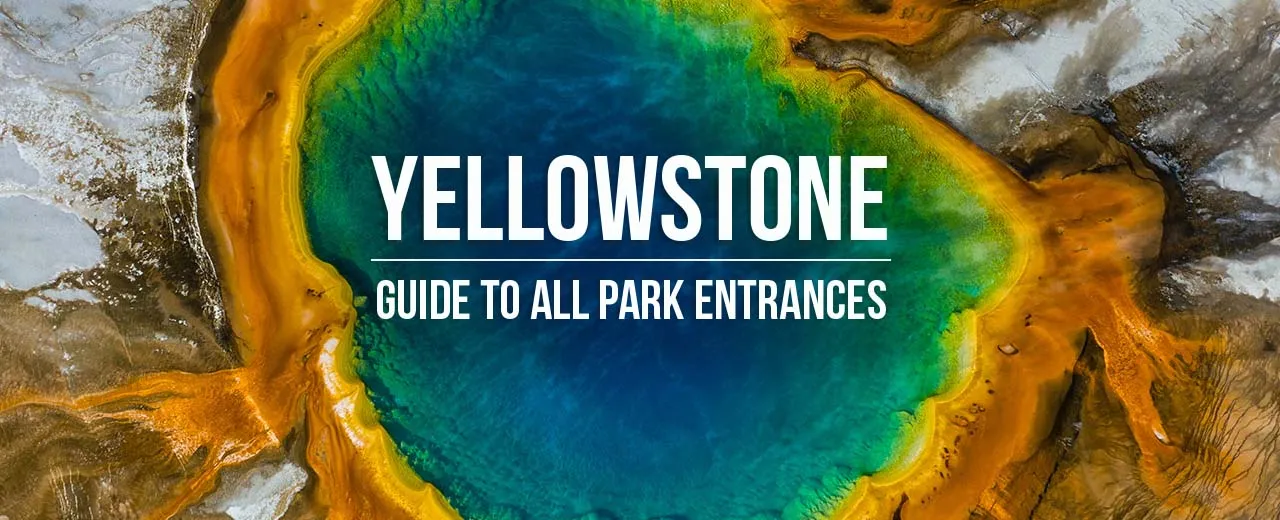 First time visiting Yellowstone and you're not sure which entrance to take? While there isn't necessarily a "best" entrance per se, they all have their strengths and weaknesses.
When it comes down to it, a big part of it really just depends on which direction you're driving in from and what you're looking to see or do.
After working in and around the park for two years, I'd like to share my insight and information on each respective town/entrance. Think of this as a sort of Yellowstone travel guide, but mostly for the different entrances and gateway towns.
This article is MASSIVE and detailed, so feel free to use the table of contents below to skip through to whatever info you need.
I've written separate articles for each entrance that go into EVEN MORE detail, so check those out as well, I'll link them below.
West Entrance Guide
North Entrance Guide
Northeast Entrance Guide
East Entrance Guide
South Entrance Guide
Anyways, let's jump this Yellowstone mega guide!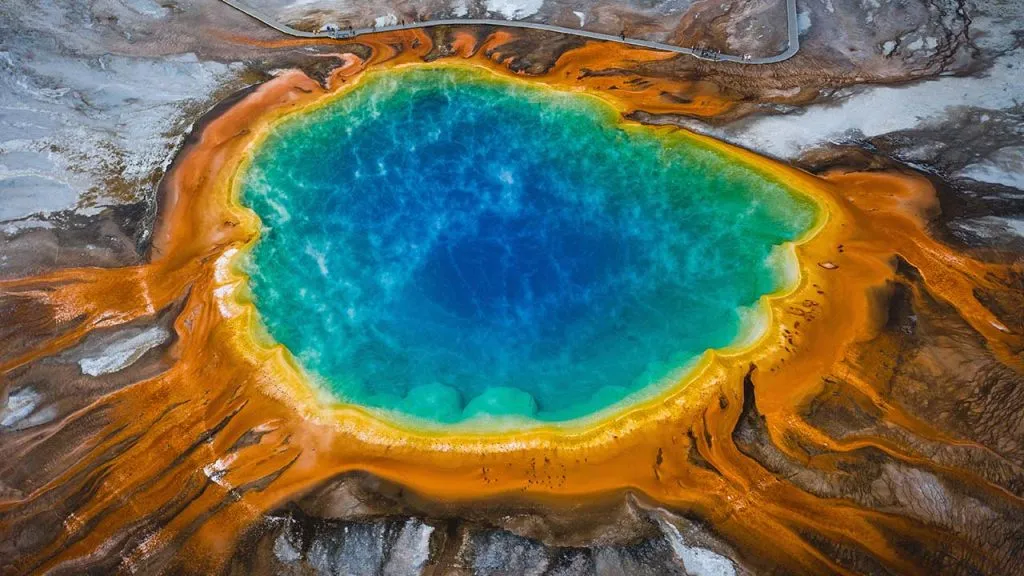 The Basics
Why should you visit Yellowstone?
If you're reading this article, I suspect you're likely already pining to visit Yellowstone. If you're still on the fence, just scroll through this post, look at all the gorgeous pictures, and then scroll back up here to continue reading after you've been convinced to visit! 🙂
For real though, Yellowstone is an incredible place. Gigantic rainbow colored hot springs, hundreds of geysers of all shapes and sizes, gorgeous mountains, and wildlife abound.
It's also such a dynamic place. If you want to drive around and only see the touristy hotspots, like Old Faithful, you can.
On the other hand, if you're the type, like myself, that enjoys getting off the beaten path, there's nearly 900 miles of hiking trails to explore. Some are simple jaunts through the woods, some are multi-day mountain summits.
Did I mention the history? The park, not to mention the nearby towns, is steeped in rich history filled with tales of daring adventurers, the rise of the conservation movement, and even the exploits of early railroad companies.
It's a pretty special place.
What's the best time to visit Yellowstone?
As for the best time to visit, that's a subjective question. It should be noted that summer is an insane season, especially in recent years.
In peak season (late June-late August), you can expect hotels and campgrounds to be fully booked (with marked up prices), restaurants to be packed to the brim, and (literally) hours of traffic backups.
If you're looking to travel on a budget and/or avoid crowds, the off-season is the best time to go. I consider this to be May, early June, late September, and October.
Tourist crowds are fairly thin, some hotels may still be running special deals, and you won't get stuck in a constant traffic jam whenever a bison appears.
That being said, the off-season is chilly. Temperatures can regularly drop to the 40s in the day, and into the 20s at night.
Snow can close down various roads in the park, completely cutting off access to certain entrances. The official Yellowstone roads page is a great resource to checking road conditions and closures.
Take it from me, I've gotten stuck outside the east entrance a few times. Some services (visitor centers, restaurants) in the park itself may be closed or have limited hours during the off-season as well.
Still though, if you're willing to put up with some cool temperatures and potential inconveniences, the lighter crowds and lower prices are worth it.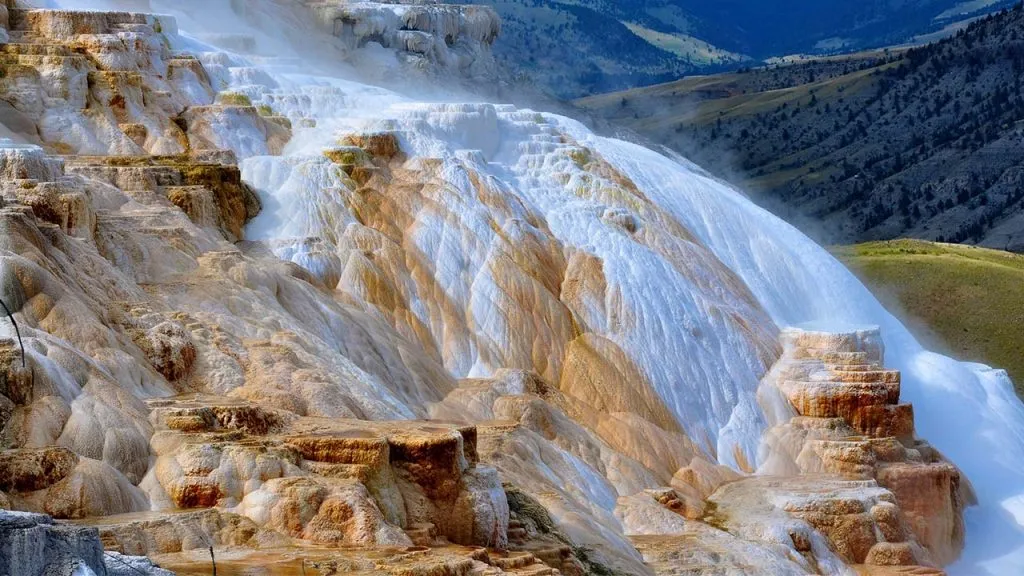 Why does the entrance you take matter?
Yellowstone is a massive park. Seriously, it's bigger than the entire state of Rhode Island. Driving between different entrance gates can take upwards of 2-3 hours, so where you base yourself out of makes a huge difference in your experience of the park.
Extreme drive times aside, each entrance has it's own character, unique geography, attractions, and proximity to the park.
Additionally, lodging availability and budgets vary wildly between some of the entrances (it's often nearly impossible to get lodging inside the park itself).
First up, we'll start with the west side. Again, if you just want a quick TLDR, there's a summary section at the bottom of this post. Let's roll!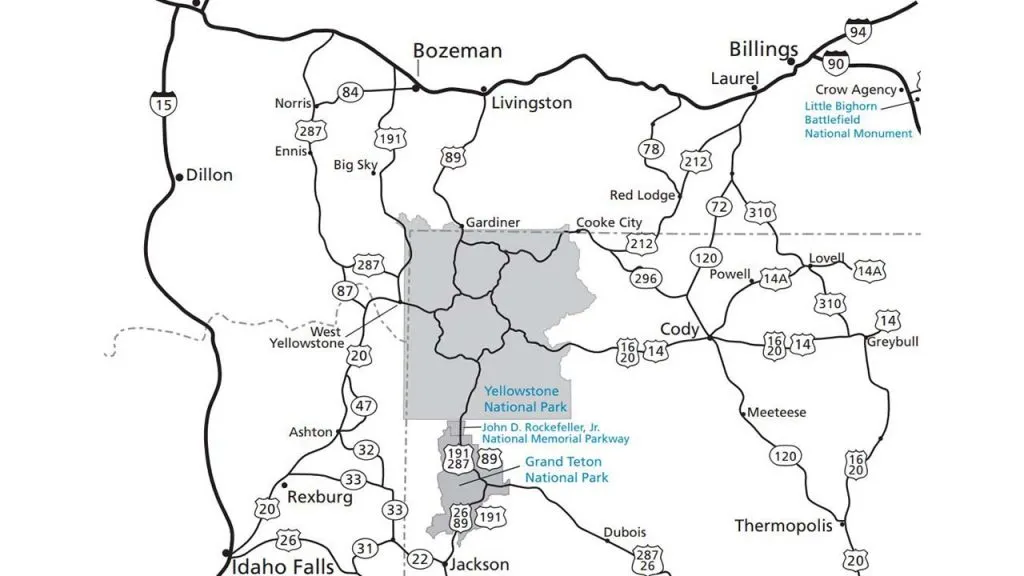 ---
West Entrance (West Yellowstone, MT)
The town of West Yellowstone is the western gateway into Yellowstone. Historically, it's been the most busy entrance, and that still rings true today.
Luckily, as a result, it's rife with affordable lodging, plenty of options for food, and features the closest airport to the park itself.
In this section, I'll go over some of the basics of the west entrance, but I'd suggest digging into my main west entrance guide if you want ALL the juicy details (it'll teach you more than you'll ever need to know).
Where is it?
West Yellowstone sits, as you'd expect, on the west side of Yellowstone. It's about 2 hours away from I-15 (Idaho Falls, ID) and roughly 1.5 hours from I-90 (via Bozeman, MT).
Road conditions are usually good. Both major highways coming from either Idaho or Montana are largely flat with minor curvy bits. While some parts may feel dicey to people used to flat land (I'm looking at you, fellow midwest natives), there's no steep drop-offs or deadly hairpin turns.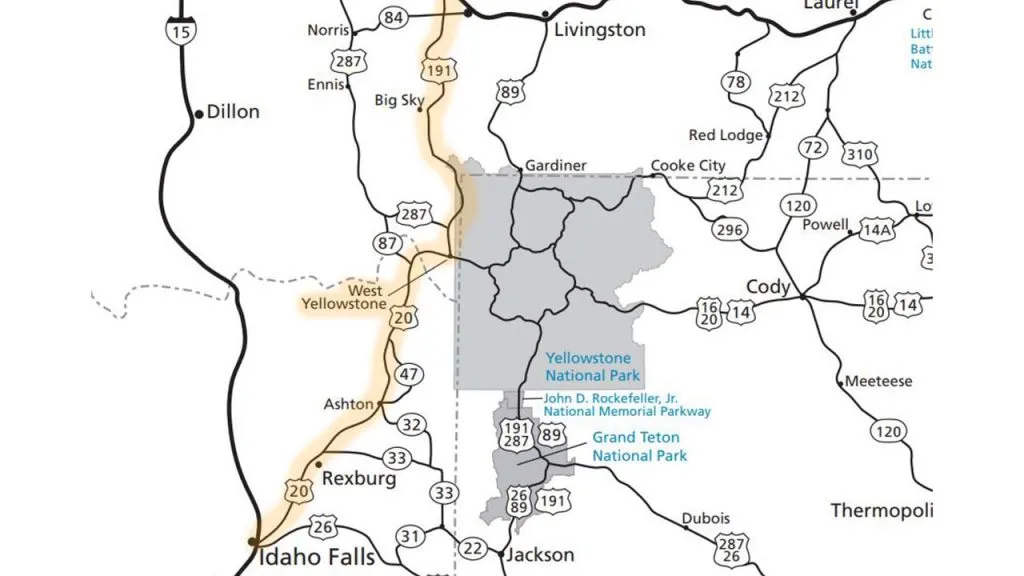 Places to Stay
Lodging & Hotels
Lodging in West Yellowstone is very versatile and often affordable. While a lot of the older motels are nasty and run down, there's still a LOT of really nice places that won't break the bank.
I'd really suggest digging into my main west entrance guide where I go much more in-depth on specific hotels. Otherwise, consider checking out my Yellowstone on a Budget guide if you're looking for the cheapest places (without sacrificing cleanliness).
For the record, I'm not sponsored or paid by any of the hotels/campgrounds I mention in these article, recommendations are just based off my personal experience.
Camping (Free & Paid)
When I'm out adventuring and exploring our beautiful National Parks, camping is generally my go-to (this is a website on budget travel after all).
The town of West Yellowstone itself has a few RV parks, but there's also a wealth of free camping as well. Consider checking out my free camping guide to see some of the spots I've personally boondocked at (primitive camping).
If you're the camper that must have a toilet and a shower, I go into a LOT more detail on specific RV parks (with amenities) in my previously mentioned west entrance guide.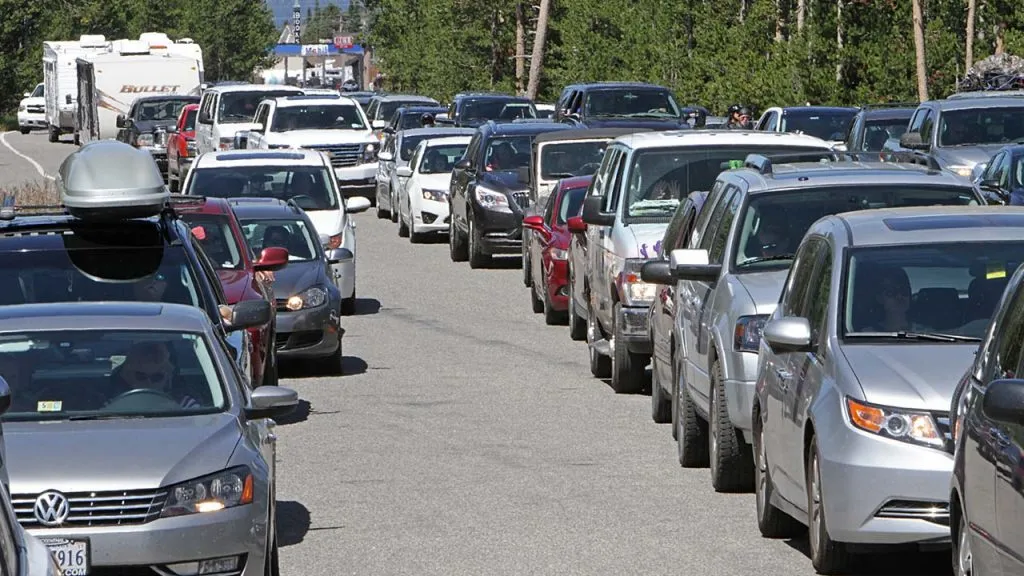 Popularity & Proximity to Attractions
The main selling point of the west entrance, in my opinion, is the proximity to Yellowstone's major attractions.
The town is only a 45 minute drive to Old Faithful along with many of the other gorgeous geysers, fuming fumaroles, and beautiful hot springs.
Avid swimmers will be happy to know that the awesome Firehole River swimming area is only about a 30 minute drive from town as well!
Unfourtunately, due to all the great reasons I just listed, West Yellowstone tends to be the most busy entrance.
I never found the town itself to feel overcrowded, but the entrance gate itself was often complete chaos with wait times up to an hour to get in.
Food & Things to Do
As for food and things to do, West Yellowstone has plenty of options ranging from cheap to expensive. If I went into them all here, this article would be stupidly long, so once again I'd suggest checking out my main west entrance guide.
There's a few grocery stores and, since the town is well connected to major highways, you won't pay as much of a "tourist tax" to get the basics.
Museums
The west entrance also boasts a few neat museums. The Grizzly & Wolf Center is an interactive museum offering information of, you guessed it, grizzlies and wolves.
The "Museum of the Yellowstone" is a sweet museum built in an old train station that covers the history of the town, railroads, and past methods of travels.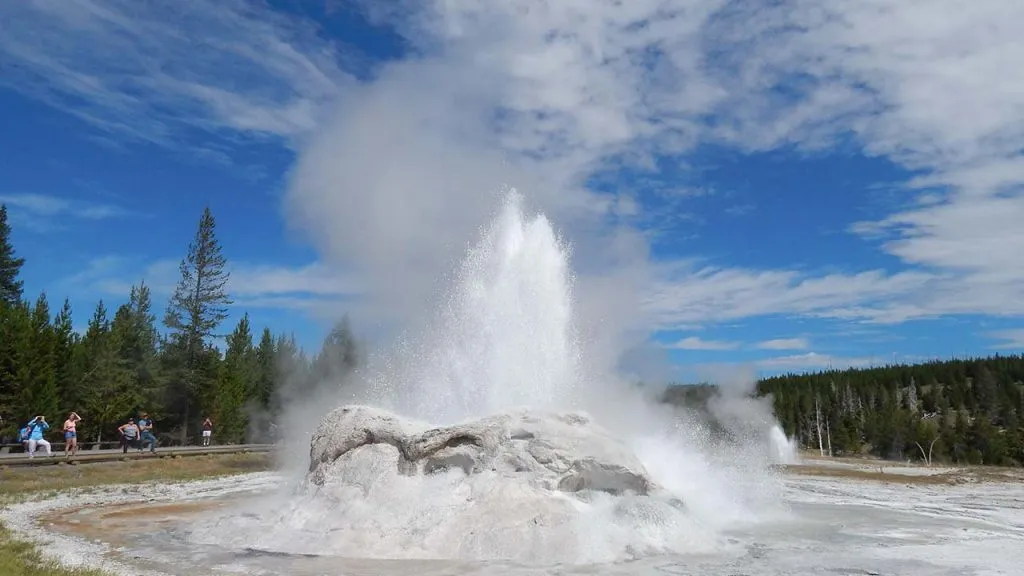 ---
North Entrance (Gardiner, MT)
The north entrance to Yellowstone is situated near the town of Gardiner, MT, a small historic village that straddles two sides of a massive river.
It was originally a small hunting camp, but quickly grew to accommodate soldiers and the ever-growing number of tourists.
Below I'll give a quick writeup about important things such as lodging, food, etc. but make sure to check out my main north entrance guide as it goes into vastly, vastly more detail than I have room for here.
Where is it?
Gardiner, MT is located along Highway 89, a short one hour drive to I-90 (via Livingston, MT).
The road to Gardiner is very calm, snaking gently through the large valley without any major twists or scary drop-offs.
Places to Stay
Lodging & Hotels
Gardiner is, despite being a small town, quite well appointed for tourists, offering anything from cheap motels to extravagant river-view vistas.
To avoid this article getting to long, I'll point you over to my main north entrance guide once again, as I go into vastly more detail there.
It's pretty hard to go wrong with lodging in Gardiner. Even the Super 8 has decent reviews for cleanliness!
Camping (Free & Paid)
All the great hotels aside, where Gardiner really shines is the wealth of free camping in the foothills above the town.
I've spent quite a few nights up in the hills near Gardiner, paying absolutely nothing for views that the hotels in town couldn't hope to offer.
I'd suggest checking out my free camping guide as I've put together a pretty cohesive list of some of my favorite free spots.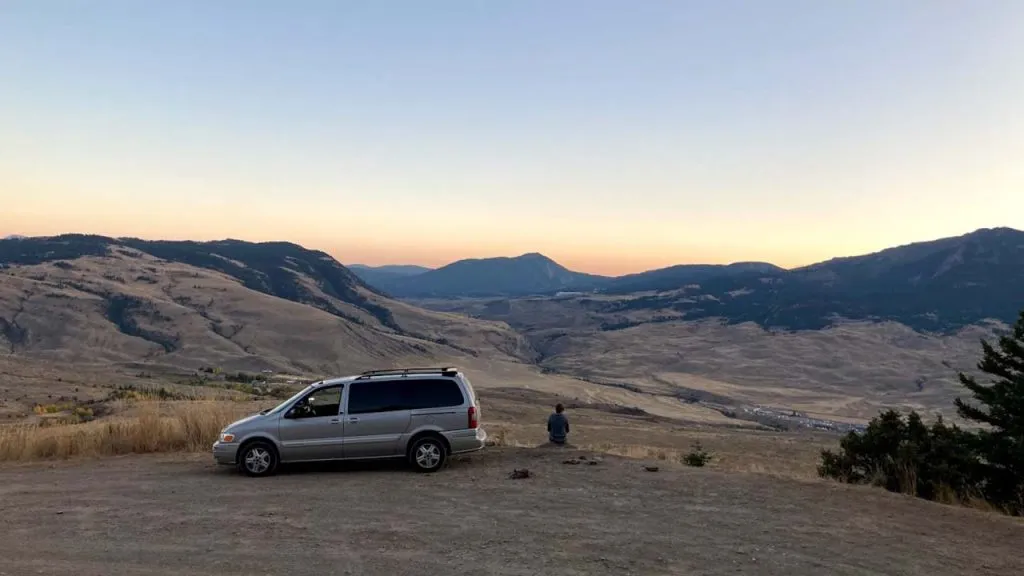 Proximity to Park Attractions
The west entrance is a great place to stay if you're looking for easy access to hot springs, waterfalls, and some of the park's best hiking.
The historic and gorgeous Mammoth Hot Springs is right over the park border, there's plenty of incredible waterfalls close-by, and plenty of great hiking
Particular hikes I'd suggest are Bunsen Peak and, if you're in-shape and experienced, the 20 mile Electric Peak. Tough, but incredible. I list a few more of my favorite north entrance trails here.
Just like the west entrance, the north entrance suffers from similar overcrowding issues. Get into the park early (by 7am) to avoid entrance gate lines.
Food & Things to Do
Gardiner features a couple grocery stores (reasonably priced) along with some excellent restaurants. I list some of my favorite Gardiner restaurants here, but if you're looking for a quick suggestion, I'd recommend either Mountain Tacos or Yellowstone Pizza Company.
As for things to do, there's some white water rafting companies and the museum in Mammoth Hot Springs is super dope. Make sure to check out the Roosevelt Arch! It was the original park entrance in 1903 and a good reminder of our national park's rich history.
In the fall, the elk rut starts. It's always a ton of fun to watch elk beating the hell out of each other in the streets! (remember to stay at least 25 yards away from elk).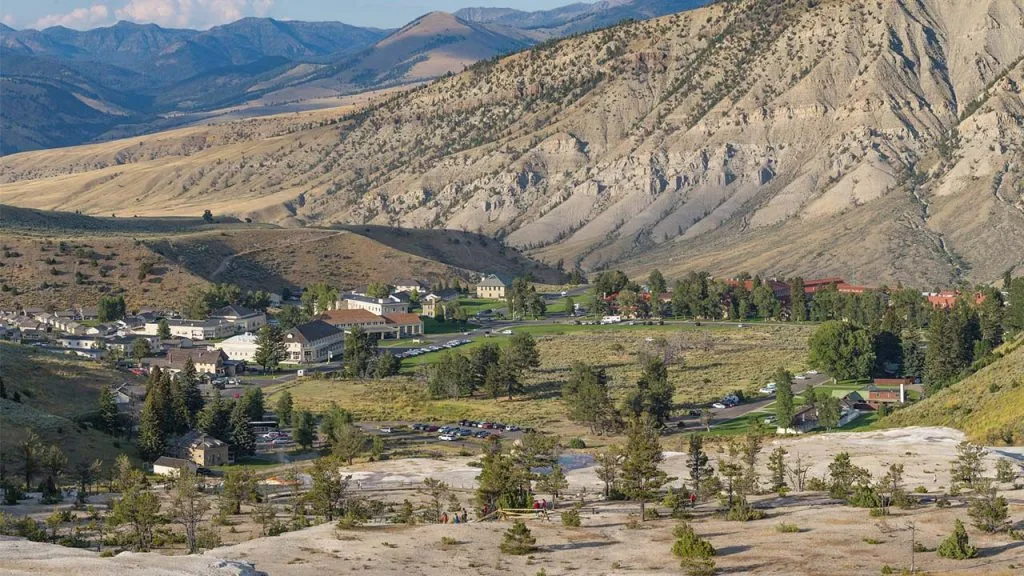 ---
Northeast Entrance (Cooke City, MT)
Cooke City, the gateway town for the northeast entrance is an old mining village that still holds some of that rustic, isolated old west vibe.
For me, the northeast entrance is less of a gateway into the park and more of a jumping-off point for other Yellowstone region adventures, such as the Beartooth Highway.
It actually offers a lot, despite being far away from most park attractions. Below will be a quick write-up/summary, but make sure to check out my main northeast entrance guide if you're interested in checking out this remote section of the park!
Where is it?
Curvy Roads & Isolation
Cooke City is located on Highway 212, over 3 hours away from any sort of interstate. As a result, it's incredibly isolated, and is actually more easily accessible as a day trip from inside the park.
Getting to the northeast entrance through the park itself is easy, the roads are well maintained and aren't dangerous.
Otherwise, the two other highways are quite intense. Highway 296, coming from Cody, WY is very steep and very curvy.
Take the Beartooth Highway
Highway 212, called the Beartooth Highway, is an epic road and easily the scariest place I have ever driven in my entire life. Starting at Red Lodge, MT (accessible from I-90), the road snakes it's way over an 11000 foot mountain pass, offering stark views in every direction.
It's often closed due to snow, but I'd highly recommend taking the drive if possible. Just don't be afraid of heights…
If you'd like to read more about the Beartooth Highway (which you should!), check out my main article on the northeast entrance where I go into more detail. It's well worth a detour from the park itself.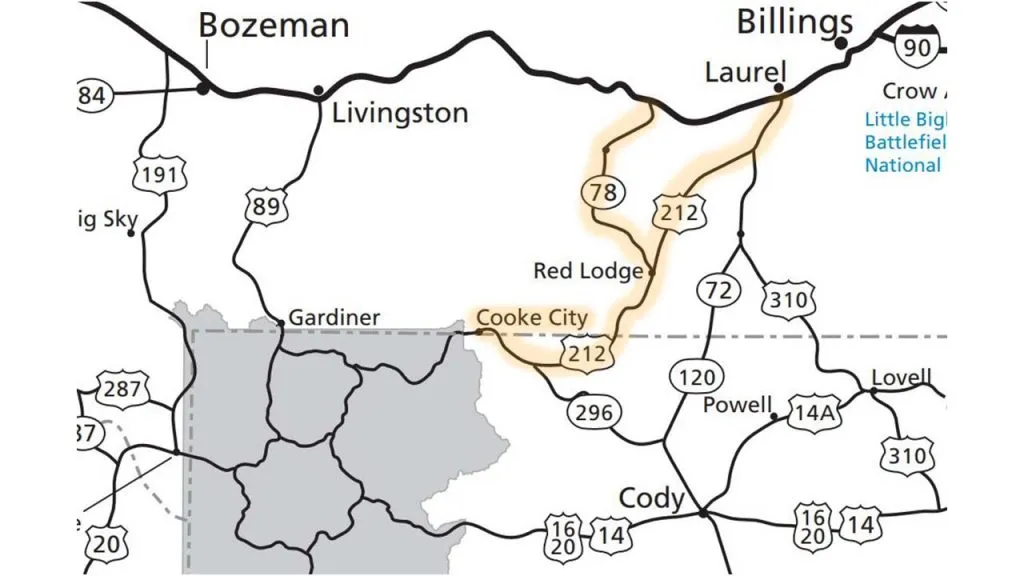 Places to Stay
If crazy roads and isolation are your thing, I'd like to point out there's very limited lodging at the northeast entrance. My main Cooke City guide goes into more detail, but all I'll say is this: don't be tempted by the low prices at Soda Butte Lodge.
As for camping, the northeast entrance is a haven for cheap and free campsites. There's a few paid spots near town, but where it really shines is the dozens of completely free sites along the Beartooth Highway.
Feel free to check out my free camping guide as I point out some of my absolute favorite spots and how to find your own. 🙂
Popularity & Proximity to Attractions
The northeast entrance, although very far from the geysers and other major attractions, is great for seeing wildlife.
Lamar Valley, an area known for bison and wolves, is less than 30 minutes away.
Otherwise, as I mentioned, the northeast entrance is better as a jumping off point for exploring the Beartooth Highway and other Yellowstone ecosystems that aren't in the park itself.
Additionally, it's great for escaping crowds. You'll find very little traffic in Cooke City and the few restaurants and hotels that exist are generally less busy than other towns. If you want to disappear into nature for a while, this is the place to go.
Food & Stuff to Do (in town)
Although a tiny town, Cooke City has a few grocery stores. You'll be paying the tourist tax (price markups) here much more than any other entrance, however.
There's a couple neat restaurants and things to do, so I'd suggest checking out my more detailed northeast entrance guide.
Like I said though, Cooke City is best used as a home base for wildlife watching and adventures into the Beartooth Mountains.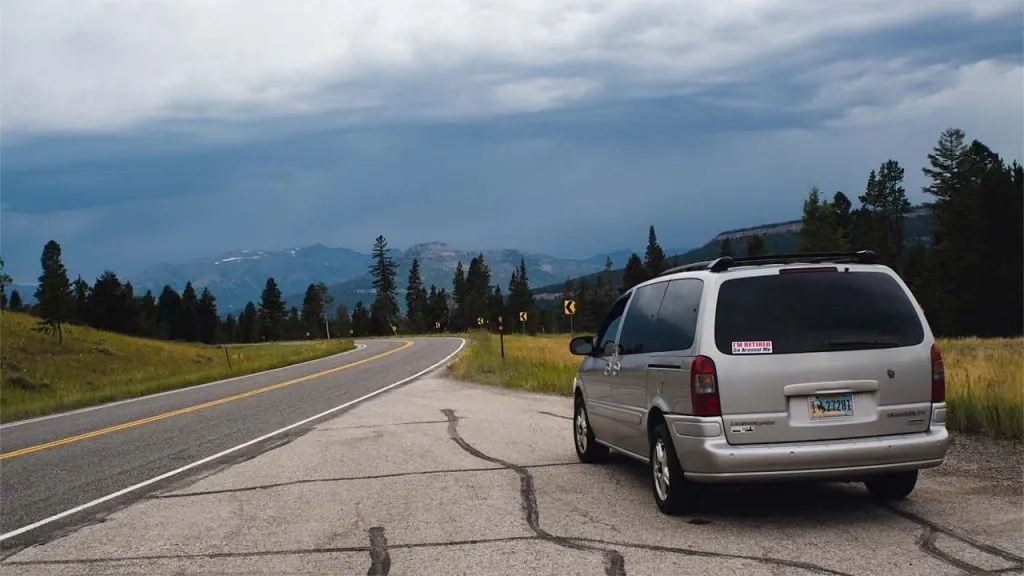 ---
East Entrance (Cody, WY)
Next up, we'll be diving into Cody, WY, the gateway town for the east entrance. This one is a little weird as the town of Cody is about an hour away from the gate itself.
Cody, founded by the legendary Buffalo Bill Cody, is a larger town that has everything you'd ever need.
I spent an entire summer working at the east gate, so Cody is the town I'm most familiar with. I could probably write an entire book on the east entrance at this point, so this is more of a consolidated write-up/summary.
If you want to learn more than you'd ever need to know, check out my gigantic east entrance guide.
Where is it?
Cody is about 1.5 hours from I-90 (via Laurel, MT) but much further from any other interstate. Still, it sits at the corner of two classic US highways, 14 and 120.
The roads around and to Cody are usually in great condition in the summer months. Coming from I-90, the highway should be mostly flat with minimal curves.
Going towards the park itself, the Buffalo Bill Scenic Byway (east entrance road) is a bit curvy, but still flat. Teddy Roosevelt coined it as the "most scenic fifty miles in America".
When you get into the park itself, you'll drive up Sylvan Pass, a very curvy and steep mountain pass. It's not inherently dangerous, but you do have to go slow and keep your wits about you. May be frightening for those with a fear of heights.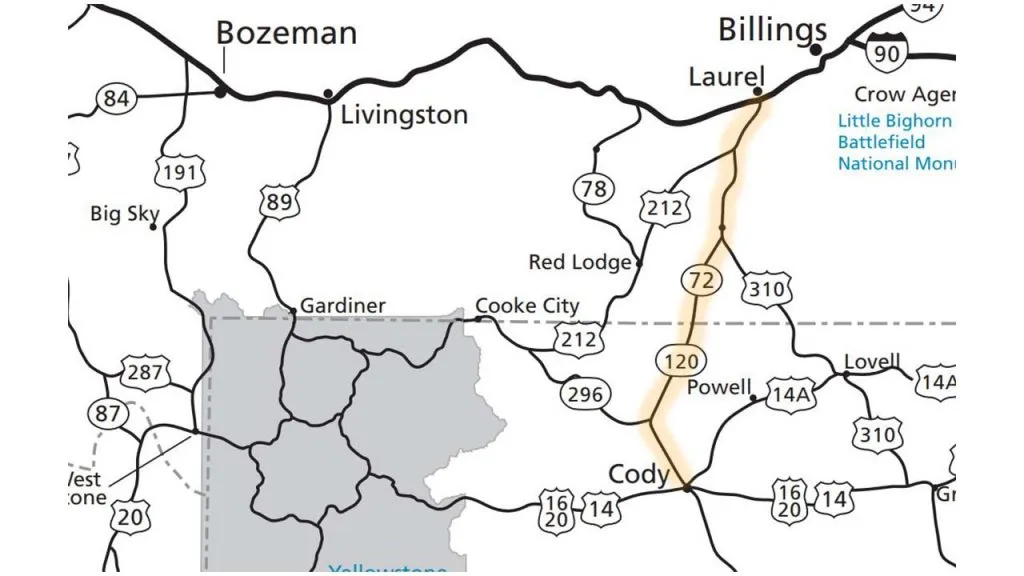 Places to Stay
Cody, again, is a large town by Wyoming standards. As a result, there's SO MUCH lodging, both affordable and upscale.
Listing all the hotels would make this post way to long, so I'll send you over to my main east gate post again, where I've written about my favorites (including one that I've worked at). There's plentiful lodging both in town and on the road to the park itself.
As for camping, there's plenty of cheap sites along the road to the park, generally running around $20-30 and reserved through recreation.gov.
In town there are a few nice RV parks (Ponderosa is my favorite) and there's also a bit of free camping outside of town.
Popularity & Proximity
Admittedly, proximity to the park is where Cody falls short, as the east entrance gate is about an hour away. From there, Old Faithful and other major attractions can be up to 2 additional hours of driving.
Still, Cody offers great access to the beautiful Buffalo Bill Scenic Byway (again, east entrance road) along with the Beartooth Highway (near the northeast entrance).
As a result, Cody tends to be a little less busy than some of the other gateway towns.
Food & Stores
Unlike the other entrances, Cody has a Walmart along with some other typical grocery stores, meaning you'll be paying normal prices for groceries!
Additionally, there's so many restaurants. Like, seriously tons of them.
The Station, a gas station converted to crepe restaurant, is my absolute favorite, but make sure to check out my (rather big) list of my favorite restaurants in Cody.
For those looking to do some shopping, you'll find no shortage of typical western stores lining the downtown strip, offering crazy boots, cowboy hats, and all sorts of Made-in-China knickknacks.
Things to Do in Town
An iconic Cody event is the rodeo. It's very stereotypically yee-haw, but if you want an authentic western experience, check it out.
Otherwise, the Buffalo Bill Center of the West is the crowning jewel of the town.
Seriously, I didn't expect much going into it, but it's a massive complex with 5 (FIVE) different museums under one roof. Native American history, western art, a gigantic gun collection, Yellowstone's ecology, everything western is housed in this building.
Absolutely stellar, literally worth spending a day (or two!) in Cody exclusively for the museum, it's just top tier!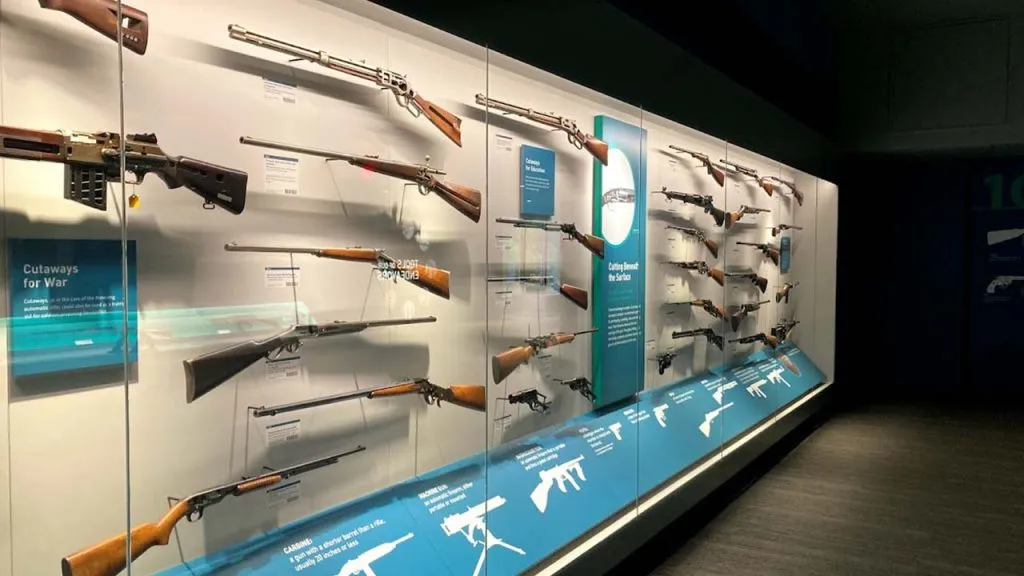 ---
South Entrance (Jackson, WY)
Next up, we have the south entrance. This one is a little weird in the fact that it's incredibly isolated and technically has no amenities.
Instead, you'll be passing through the neighboring Grand Teton National Park, an incredible place filled with massive mountains.
The gateway town itself will be Jackson, WY, about an hour away from the gate and quite an expensive place. My south entrance guide goes into more detail, but eventually I'll also write a guide on Grand Teton itself. Expect this section to be a little short for that reason.
Where is it?
Again, the south gate itself is kinda in the middle of nowhere. To get there, you'd drive north through the (wonderful) Grand Teton National Park.
Jackson, and Grand Teton itself, are accessible from I-15 (Idaho Falls) along with a couple classic two-lane US highways.
Once you get to Jackson Hole (the valley), road conditions are pretty good, staying mostly flat with a bit of curves as the road winds it's way past the monolithic Teton Range.
However, after you reach the south entrance, the road snakes it's way along a very, very steep canyon with minimal guardrails. If you have a fear of heights, be prepared.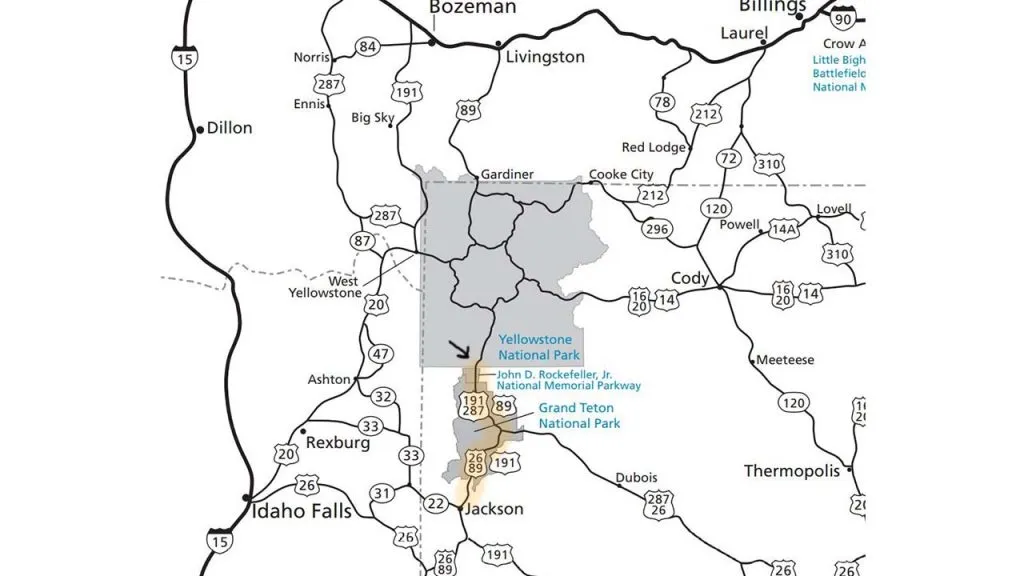 Places to Stay
Like I said, I'll go into more detail in a future Grand Teton guide, but I'll give a few suggestions here and in my bigger south entrance guide.
Flagg Ranch is right on the border, but it's often fully booked. Otherwise, try Jackson Lake Lodge or Signal Mountain (my favorite). If those are booked as well, you'll have to go towards the town of Jackson. Expect to pay a pretty penny.
As for camping, there's a few campgrounds along the road between the gate and Jackson. If those are booked, you're mostly out of luck, but there is some free dispersed camping if you keep driving east at Moran Junction.
The south entrance really isn't a great option if you're on a budget, as most places are either going to be busy or mega expensive.
Proximity to Park Attractions
As previously stated, the south gate is a bit of a distance from most amenities, as you'll likely be staying in Jackson, WY.
Additionally, expect horrible crowds. I experienced multi-mile backups pretty much every time I went to Jackson, it was insane.
Frankly, if you're looking to just go to Yellowstone exclusively, skip the south entrance. However, if you've already bundled in a trip to Grand Teton (which you should!) then the south entrance is great.
Food & Stuff to Do
A redeeming point for Jackson, however, is that it has plenty of great restaurants and grocery stores.
Some of the restaurants are incredibly expensive, but there's a lot of great options too. I've tried a lot of different places as I worked in the Tetons for a season. Check out my south entrance list again, but keep an eye out for my future complete Grand Teton guide. 🙂
For museum lovers, there's a sweet place called the National Museum of Wildlife Art right outside of town. Otherwise, there's plenty of art galleries that feature gorgeous photographs in town.
Otherwise, take my advice: get out of Jackson and explore Grand Teton! The mountains are insane, the lakes are gorgeous (and swimmable), plenty of wildlife. Personally, I enjoy the Tetons more than Yellowstone. Check 'em out!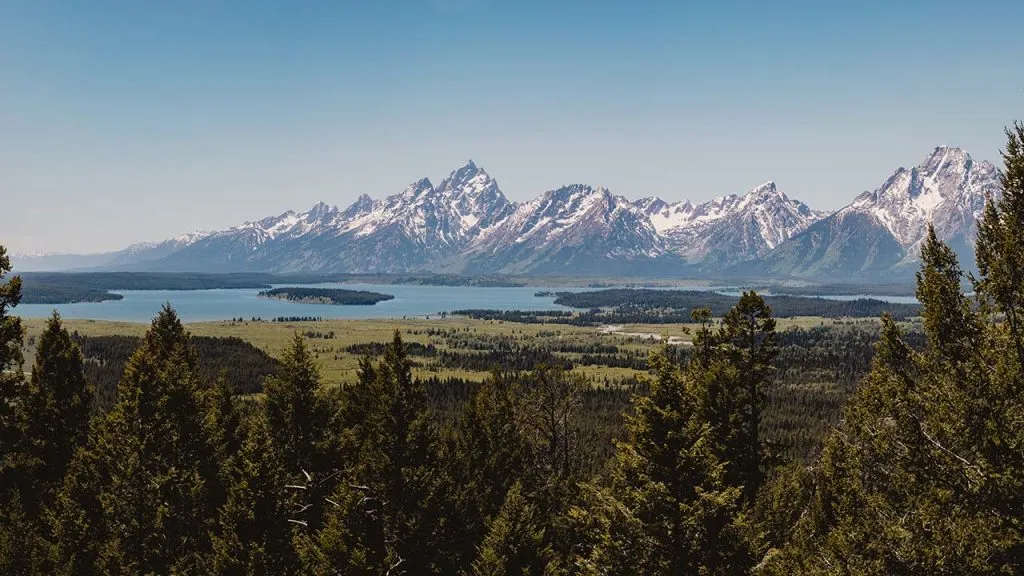 ---
Summary of Each Entrance
Whew, so that was a lot of words. I'll do my best here to sum up, in one or two paragraphs, the strengths and weaknesses of each entrance to Yellowstone. Don't forget to check out my articles on specific entrances if you want more deets.
West Entrance Summary
The west entrance is serviced by the gateway town of West Yellowstone, MT. A town with its roots firmly entrenched in tourism, there's plenty of budget lodging options and things to do and eat. It's also within a two hour drive of two interstates, making it easily accessible.
Although busy, proximity to the park's thermal features (geysers, hot springs, etc.) simply cannot be beat, making it a great starting point if you want to drive as little as possible.
North Entrance Summary
The north entrance is also easily reachable from the interstate. The town of Gardiner, MT straddles the mighty Yellowstone River and offers a good amount of reasonably affordable lodging and a wealth of free camping.
It's in close proximity to Mammoth Hot Springs, the park's best hikes, and a multitude of waterfalls! Second only to the west entrance in terms of proximity to park attractions.
Northeast Entrance Summary
The northeast entrance is extremely isolated. The very small town of Cooke City, MT services passing travelers, offering only a few lodging options and only a couple restaurants.
This entrance is close to Lamar Valley, making it a good jumping-off point for wolf watching. Otherwise, I'd only recommend this entrance for travelers looking to explore the nearby Beartooth Highway.
East Entrance Summary
The east entrance, although very far away from park attractions, is likely the most economical. Cody, WY features great restaurants, affordable lodging, and a world-class museum (must visit in my opinion).
This is a great entrance to choose if you like museums, because frankly, the Buffalo Bill Museum is a must-see. Additionally, the drive from the town to the park itself is stunning.
South Entrance Summary
The south entrance connects to the neighboring Grand Teton National Park. Due to the lack of amenities, the closest gateway town will be Jackson, WY. Lodging is very expensive and this places you extremely far away from Yellowstone's attractions.
However, if you're looking to visit Grand Teton (which you should!) then the south entrance is a great way to start. Spend a day (or two) in the Tetons and then transition to Yellowstone.

Safety and Responsibility
The last thing I want to touch on is safety and environmental responsibility.
Yellowstone is a vast and wild land, and it falls upon all of us as tourists to help keep it as such.
Wildlife Safety
Stay Away from Animals
The first rule is to not mess with animals. While it's ok to view them from a distance, it's important to stay (according to the National Park Service) at least 100 yards (91 meters) away from bears and wolves. Bison, elk and others should be at least 25 yards (23 meters) away.
Bison may look cute and fluffy, but they'll ruin your day.

Do you need bear spray?
When talking about my Yellowstone adventures back home, people always ask about bears. Yes, there are bears, but they're not scary as long as you use common sense.
If you're doing any sort of hiking (not on boardwalks) or camping, bear spray is essential. You may think that spending $50 on a can of super-powerful pepper spray sounds like a waste of money, but it isn't. There's a very slim chance you'd ever need to use it, but if you come face-to-face with a grizzly, it will very likely safe your life.
Additionally, when hiking, make sure to clap or make noise on occasion. Bears are afraid of humans, and will often move off the trail if they hear us.
Avoid Bear Attractants
Speaking of bears, it's incredibly important to keep the human environment free of bear attractants. Bears have an incredible sense of smell and, given the chance, will seek out human food.
When camping or cooking, it's crucial to clean up completely, use bear-proof garbage cans, and store your uneaten food in a bear canister (a big metal box) or in your (sealed) vehicle.

Environmentalism
Pack it Out
This should go without saying, but pack out anything you bring in. Don't leave trash on the trail, even if it's just food scraps. As an example, even a banana peel takes 2 years to fully decompose, and, in that time, an animal could develop a taste for it (more on that in a minute).
Leave only footprints and take only pictures. Leave no trace.
Don't Habituate Animals
Going off the banana peel example, it's important to not habituate animals. If an animal develops a taste for human food, or is exposed to human interaction consistently, they'll seek out more.
There's many cases of wildlife being fed, and, when coming back to humans to get more food, hurting someone. When this happens, the rangers will put the animal down. A fed bear is a dead bear.
BYOB (Bring your own Bottle)
Lastly, bring your own bottle. Environmental aspects aside, single-use plastic bottles take up so much space and they're just another cost to consider. There's plenty of water stations in the park, and even restaurants in the gateway towns would be happy to refill for you.
I personally love my 32oz HydroFlask, but you can't beat a classic Nalgene.
Random Final Notes (and FAQ)
Where to fly into for Yellowstone?
There are 5 (major) options for airports in the Yellowstone area.
First, West Yellowstone is the best airport to fly into it as it is the closest to many of the park's major attractions. That being said, it can be expensive.
Cody and Jackson (east and south entrances) may be a little cheaper but will place you further from the park itself.
For the cheapest options, fly into either Bozeman or Idaho Falls. Bozeman is about 1.5 hours from the north entrance while Idaho Falls is about 3 hours to the south entrance.
Are dogs allowed in Yellowstone?
The short answer is yes, dogs are allowed in Yellowstone. The long answer is: not exactly. Leashed service dogs are exempt to the rules, but there's many limitations otherwise.
Per NPS (National Park Service), dogs must remain within 100 feet (30m) of roads, parking lots and campgrounds. Puppers must be leashed (6 feet or less) at all times or in a car/crate.
They're not allowed on any boardwalks, trails, or thermal areas and cannot be left unattended. You can keep your dog in your car, but only for a "short period of time" according to the official documentation.
Personally, if it's an option, I'd suggest leaving your doggo at home under the care of a friend or family member. Having a pet with you in Yellowstone limits you GREATLY and can potentially cause stress to the dog (if left in a car, surrounded by crowds, etc.).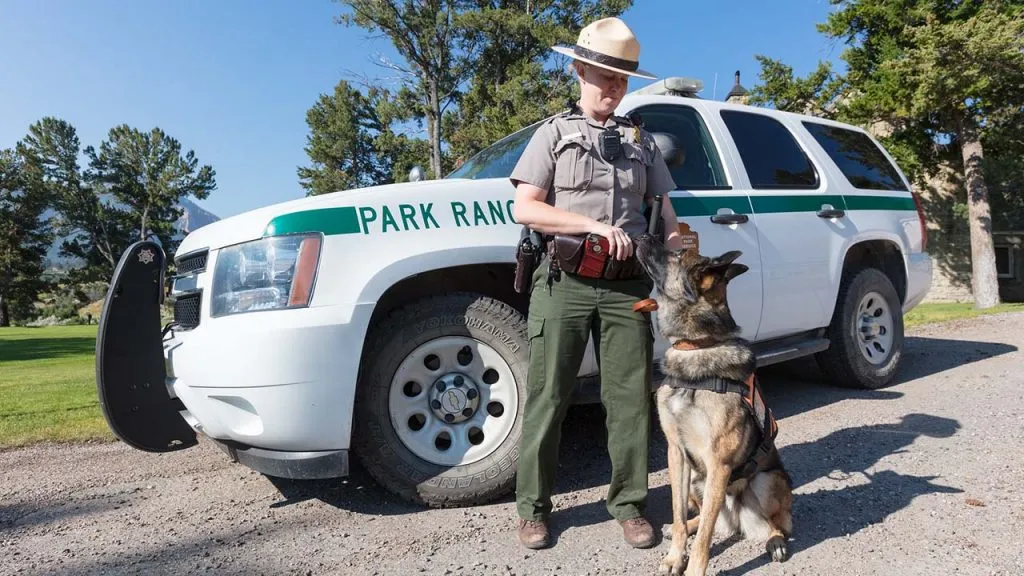 Is there cell service in Yellowstone?
If you read any other articles on the subject, they'll throw a statistic out there that about 50% of Yellowstone has cell coverage, but there's no way that's true.
In our two summers in Yellowstone, my girlfriend and I had hit-or-miss service everywhere. With Verizon, I had reliable service around Old Faithful, Canyon, Mammoth, and, to a limited degree, Lake.
She has AT&T and didn't get service anywhere besides Old Faithful, though messages would come through randomly throughout the park.
All the gateway towns, with the exception of Cooke City, are well connected with good cell service and plenty of free wi-fi.
Ironically, I've often gotten the best signal on top of mountain peaks!
Can you do Yellowstone without a car?
If flying, you may be tempted to skip the car rental. Unfortunately, Yellowstone, unlike a lot of other parks, has absolutely zero public transit.
I'd highly recommend renting/bringing a car, especially if you're only going to be visiting for a short time.
If not, hitchhiking is a (somewhat) viable option. You'll find many other tourists are friendly and willing to pick you up, though always use your gut instinct if something seems off.
Some people even bike the park! It seems like a great option, but I'd be a little scared with all the clueless drivers admiring the surroundings instead of the road.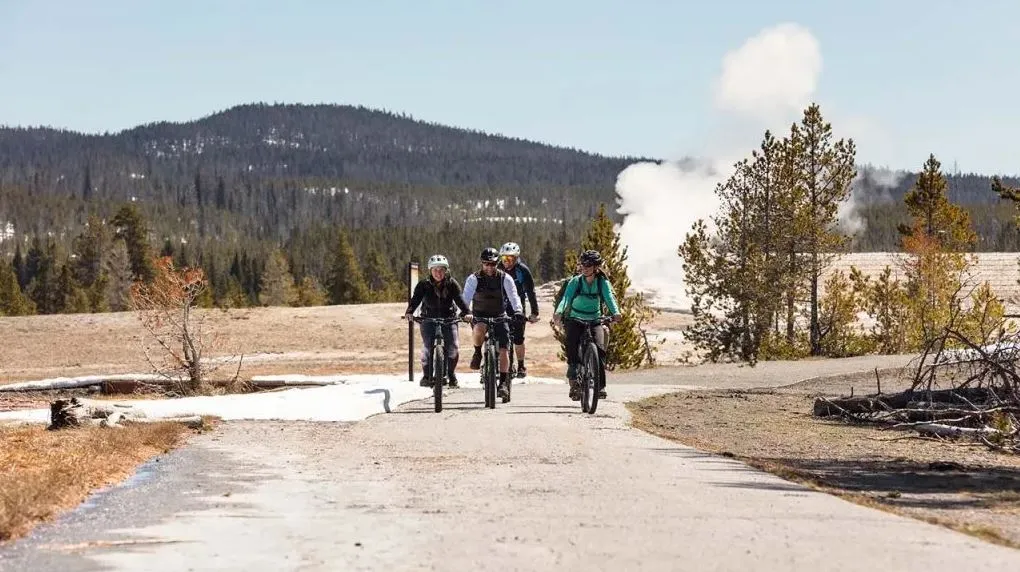 Where to get gas in/around Yellowstone?
When working outside the park, I got this question quite often actually.
In Yellowstone, you'll find plenty of gas stations ("service stations") at all the major touristy spots.
Gas is often pricey, and I'd suggest trying to fill up outside of the park first if possible. Every gateway town has plenty of gas stations.
Can you see Yellowstone in a day?
While you can certainly see a lot of major sights in Yellowstone in just a day, I'd recommend taking your time and thoroughly exploring the park.
Still, if you're looking for a one day itinerary, I actually wrote a guide specifically for that.
What's the best spot for wildlife watching in Yellowstone?
The best spot to watch wildlife in Yellowstone is, without a doubt, Lamar Valley near the northeast entrance. Plenty of bison, and you run the chance of getting to see a wolf pack!
Otherwise, Hayden Valley (between Canyon & Lake) is another great spot for bison. Expect crowds and traffic though!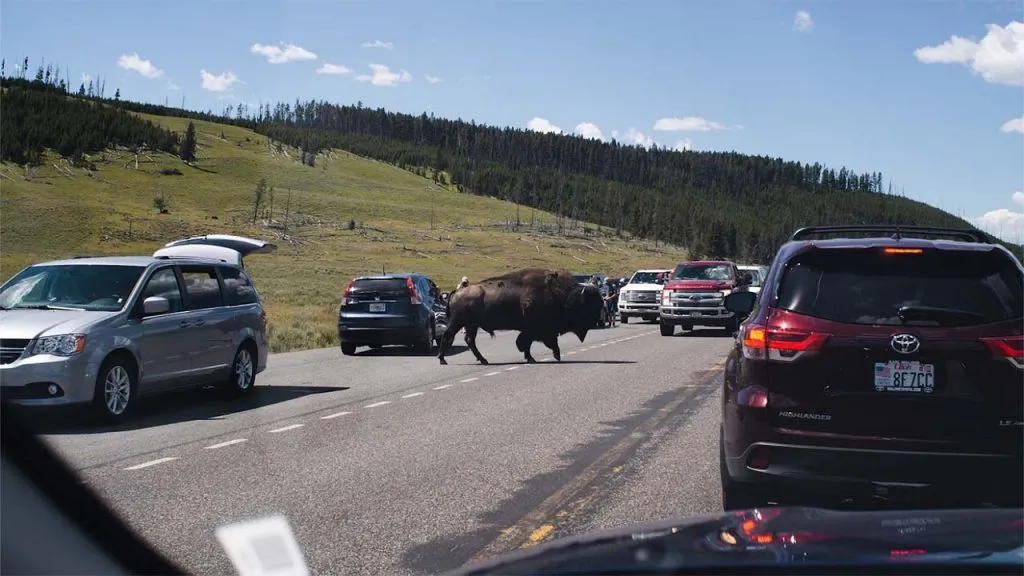 Want to avoid the crowds? Hike the backcountry!
Very few tourists ever actually leave the road or boardwalks in Yellowstone. Getting into the backcountry (longer hikes) is the absolute best way to experience the beauty and solitude of Yellowstone without having to fight through thousands of people.
I even observed this at Old Faithful. While the boardwalk/viewing area was packed to the brim, the observation overlook (only a 2 mile round-trip hike) was nearly empty. I got to experience a panoramic view of Old Faithful and the Upper Geyser Basin without any crowds.
Want to spend a summer in paradise? Work in Yellowstone!
The best way to see Yellowstone is to work there, and I don't mean as a park ranger (very hard job to get into). What I mean is working for the various companies (concessionaires) that run gas stations, hotels, restaurants, etc.
As I said, I've been a "parkie" for 4 years. My go-to resource is coolworks.com. On that site, you can find jobs at all the major national parks all across the US!
I don't have enough space to sum it all up in this post, so check out my girlfriend's article on seasonal park work. It's a wealth of knowledge!
If you don't have anything tying you down back home, I'd highly, highly recommend working at least one season in Yellowstone (or any park)! 🙂

Conclusion
If you made it this far, thanks for reading my gigantic wall of text! That all about sums it up, but feel free to ask any additional questions if you have any.
On a budget? Check out my budget guide to Yellowstone. Love swimming? Check out my top swimming spots in the park.
Thanks for reading, folks!