Picking a hiking shoe can be a VERY tough decision.
After spending a summer working and hiking in Glacier with some Walmart brand sneakers, I knew I needed to get myself a pair of dedicated hiking shoes.
So, after literal months of trying out different shoes, I eventually settled on the Merrell Moab 2. I purchased them in late 2018, and I still own them (and wear them) to this day. They are amazing.
In this review, I want to talk about the pros (and cons!) of this legendary shoe. To be frank, there's a reason the Moab 2 is one of the most popular picks for day hikers.
Let's jump into it.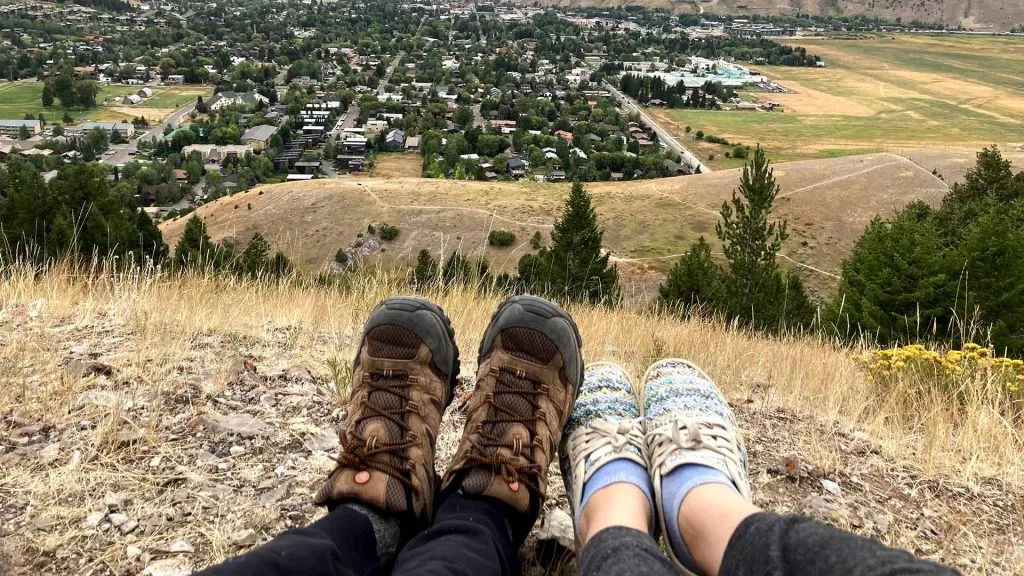 The Basics
Great for Everything
Everyday Use
So first off, I want to preface this by saying I wear these literally every single day.
No, I don't mean that I'm hiking on the daily, I mean that I wear them out and about. For errands, adventuring around the city, meeting up with friends, etc.
If a situation doesn't call for a "more fancy" type of footwear, I throw on my Merrell's.
Still Going Strong
So, despite nearly four years of daily use, these resilient shoes are still going strong.
Sure, they've accumulated dozens of micro-scratches, there's some fraying along the leather, and some of the labels have all but faded away.
Regardless, they still fit well and keep my feet comfortable, so that's a win in my book. I'll dive into more detail on longevity and durability later on in the article.
Comfort
Soft & Supportive
When I was first shopping for hiking shoes, I was worried they wouldn't be comfortable.
Unsurprisingly, I was dead wrong. Whether I'm out for a dozen-mile day hike or just walking down to the market for groceries, my feet generally feel pretty good in these shoes.
Moderate Cushioning
The Moab 2 offers what I'd consider moderate cushioning on all sides. The soles offer a feel that is equal parts soft yet still "solid".
The padding is rather thick, leaving me with a feeling of being a little taller when I initially put them on. Initially, it felt quite odd compared to my previous shoes, but I adapted quickly.
As for the tongue, it's heavily padded, allowing you to lace up nice and tight without feeling discomfort from the laces.
Arch Support
Arch support was another strong characteristic. Maybe my previous shoes were just garbage-tier quality (well, they were from Walmart), but I found the Moab's to really "mold" to my foot arch.
The support left my feet feeling comfortable but still firmly planted and I didn't suffer from my feet sliding around while walking.
Made for Day Hikes
Now, I will be honest, I don't think these shoes are suited for extremely long distances.
A day hike is perfectly fine, but for prolonged trips, feet pain may eventually creep in.
After doing a few 15 mile trails, my feet would suffer from quite a bit of aching. I don't think I'd want attempt a multi-day backpacking trip with these.
Zero Blisters
Despite the aforementioned foot aches after very long hikes, I never had a single issue with blisters.
Literally nothing. In the summer, I frequently crush a few dozen miles a week in the mountains, and I never have any blisters at all.
Either I'm really lucky or these shoes are just that well built.
Weight
As for weight, it's not a factor that I even considered when purchasing these, but I've since been enlightened as to why weight is important.
Not a Trailrunner
If you're looking for trailrunners, the Moab 2 isn't the pick.
I have the ventilated version, which runs around 2lbs (907g), substantially heavier than any shoe built for speed.
Lightweight but Sturdy
However, I do think these capture the perfect blend of lightweight but sturdy.
They're not egregiously heavy, but they're also not thin shoes with little underfoot protection.
You can still move fairly quickly with these Merrell's, but you won't have to sacrifice foot safety or comfort to do so.
On the Trail
All these statistics and comfort ratings are fun and all, but how do they perform in real world situations?
Pretty well, with some caveats.
Stability/Traction
Besides comfort, stability and traction are incredibly important things to consider when you're trying to crush a huge mountain trail.
In ideal conditions, the Merrell Moab 2 performs fantastically. When the weather turns nasty, though, they can slip up (pun intended) in certain situations.
Rough Terrain Handling
Scrambling
For scrambling, I found my shoes to generally perform quite well.
So long as the rocks/pebbles were dry, the grippy tread held on with ease.
Creeks & Wet Rocks
Wet rocks can be a bit more sketchy, however. When hiking in rain or through creeks, I felt like I still held decent traction so long as I moved slowly and cautiously.
Like I mentioned prior, I don't have much frame of reference as these are my only dedicated pair of hiking shoes. Still, I (knock on wood), haven't had any major slip ups in wet conditions.
Mud
Mud handling is similar. When working in Grand Teton in 2021, I hiked a lot during snowmelt season. In some cases, trails were 75% mud and 25% dirt.
My most intense test of mud performance was when my hiking buddy and I got caught in a freak thunderstorm out in Bridger National Forest.
One minute the skies were clear, and then the next it had started raining buckets. The trail turned into a glorified slip-n-slide and lightning had started striking the mountainside less than a mile away.
It was one of the scariest situations of my life, but somehow my shoes managed to get me down the mountain safely.
Snow & Slush
Snowfields
Snow performance is where this shoe falls short. Don't get me wrong, it's still quite impressive, but it fails in hard-packed snow.
A few years ago, I was hiking in Glacier. Trying to beat the summer crowds to Hidden Lake, some friends and I decided to try to traverse the (thankfully very shallow) snowfield.
These shoes just simply could not hold traction. We made it eventually, but it was slooooow-going. Looking back, I was an idiot and should have used crampons or, at the very least, traction poles.
Slush
On the flipside, wet and watery snow is a bit of a different story.
I tend to spend my winters back home in Wisconsin, so I'm all to familiar with slushy sidewalks and driveways.
Performance in light snow and slush is excellent. I rarely lose traction so long as I'm not running or making weird moves.
Descents & Downhill
Going downhill is another potential weak point of the Merrell Moab 2. In steep descents, I found myself slipping and sliding.
Maybe I'm just clumsy, but these shoes don't have any features to assist in descents.
From what I understand, some competitors like the Salomon X Ultra 3 have angled tread near the front that helps "latch on" to the ground when going down.
Regardless, take your time on downhill sections and you generally won't have any major issues.
Ankle Support
Speaking of taking your time, let's talk about ankle support.
The shoe is built in a way that helps with stability in rocky/uneven situations, which in theory reduces the chance of a rolled ankle.
I had a few ankle-related mishaps, but luckily never ran into any issues that put me out of commission. So… that's a win, I guess!
Ventilation
Next up, let's talk about sweaty feet. The Moab 2 comes in either "ventilated" or waterproof. I opted for the ventilated version. Does it work?
Quick Drying
Oh yes, it works. I rarely have issues with sweaty feet unless it horrifically hot outside.
I tend to wear quick drying merino socks (love Darn Tough), so I'm able to get to the end of a hike and still smell decently ok.
Not Waterproof
As for waterproofing, you might expect the "ventilated" version to have zero waterproofing at all, and you'd be right.
These shoes can handle about an inch of water until they get flooded. This has been a bit of an issue in winter, but has honestly been a blessing in disguise for hot summer hikes.
Coupled with my quick dry merino socks, sometimes I'll dip my foot in a creek if I need to cool down. My feet will be dry within 15 minutes, and I'll feel nice and refreshed.
Durability/Longevity
Onto durability. I try to only buy things that last a long time, as it reduces the impact on both the climate and my wallet.
Thus far, my pair of Merrell's have exceeded my expectations for durability.
Insoles
On the inside of the shoe, the insoles are still in pretty good shape.
The logo is completely faded away, and a lot of the material is wearing down.
Cosmetic flaws aside (who looks at the inside of a shoe, anyway?), the insoles are still going strong.
Outsole/Tread
The outsole/tread is also looking pretty good. It's scratched in a thousand different spots, but the tread still works almost as well as the day I bought them.
Placing them side-by-side my girlfriend's shoes (she bought hers two years after mine), we see very, very little wear on the bottom of the shoe. Impressive stuff.
Cushioning
Cushioning is definitely the part of the shoe that's taken the biggest hit over the years.
Don't get me wrong, my shoes are still quite comfortable, but they've lost a bit of that softness over the years. Jumping off stuff is a bit harder on my feet than it used to be when the shoes were new.
I find it hard to complain though, as I still wear them daily and my feet feel great.
Overall
Overall, I'm blown away by how the Merrell Moab 2 has held up over the past four years.
Even cosmetically, it's still looking pretty nice. The leather is a bit faded and the tread could use a good polishing, but they still look great.
If Merrell continues with this kind of longevity, I likely won't hesitate to buy another pair when it finally comes time for an upgrade.
Fit/Sizing
Finally, let's talk about fit and sizing.
Try Different Sizes
I tend to wear Men's 10, so I initially ordered my Moab 2 from Amazon in that size. Upon opening the package, they were extremely tight so I sent them back, feeling disparaged.
Eventually I just went to my local REI and tried on all the different sizes, deciding on a size 10.5.
Although I had to go up a size to get mine to fit, my girlfriend had a seamless experience when she purchased them two years after me. She ordered her usual shoe size and they fit perfectly on the first try. Your mileage may vary.
Break-in
These shoes definitely have a break-in period. For the first few days, I felt as if they were quite stiff and almost considered bringing them back to REI.
Thankfully, I stuck with it and my feet adapted.
Socks Matter
On that subject, socks definitely matter. I tend to wear VERY thick socks (merino) and my feet feel amazing in these shoes.
Occasionally, when I forget to do laundry, I'll throw on a pair of crappy old thin socks and the shoes just feel wrong.
Perhaps it's because I'm so used to how they feel in thick socks, but I figured it was worth mentioning.
Final Thoughts
Worth the purchase?
If you haven't been able to tell, I really like these shoes. So if you're asking yourself, "are they worth the purchase?", I'd enthusiastically say yes.
The Merrell Moab 2 offer a nice blend of comfort, stability/traction, and long term durability.
The fact that I've worn them daily for nearly four years with very few complaints is telling enough of their quality.
Where to buy?
So if you're interested in picking up your own, you'll be happy to know that they've actually gotten quite cheap.
Generally, the Moab 2 can be found for around $125 (or less) in a variety of color combinations (I choose the "earth" color).
As for where to buy, Amazon generally offers the best prices but can be questionable in its quality and customer service.
I tend to shoot for REI so long as the price difference isn't to steep. I'll drop purchase links below to each for your consideration. Thanks for reading, hope you enjoy your (future) new shoes! 🙂